We Compare Pet Food Prices, You Save Money!
Boxer Food Price Comparison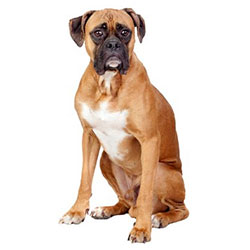 The Boxer is a medium sized dog, reaching an adult weight of up around 30kg for a male, and slightly less for females. They have a very muscular and sturdy build, are deep-chested, and have a broad, short skull with a short muzzle. The Boxer has a shorthair coat, which is shiny and smooth.

The Boxer is an active and energetic dog and requires plenty of exercise, so their diet needs to contain sufficient protein to maintain strong and lean muscles. Supplements such as glucosamine to protect the joints, and L-Carnitine and natural Taurine to keep their heart healthy are important for the Boxer's health too.

Boxer-specific dog foods are designed for the Boxer's nutritional needs, and feature a kibble with a specific size and shape designed to make it easier for the Boxer to pick up.
We compare the prices of Boxer Dog food at the leading online pet stores to find you the cheapest prices. Click below and save an average of £4.22 on Boxer Dog food!