We Compare Pet Food Prices, You Save Money!
Persian Food Price Comparison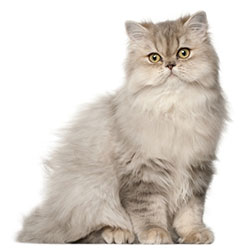 The Persian cat originated many years ago in Mesopotamia, which was later known as Persia and is now modern-day Iran. They are a medium-sized cat although with the thick fur they can appear larger than they actually are. The Persian is a long-haired breed, and has a round head, short face and nose, and small ears.

Persian cats can benefit from a food designed for their particular requirements and feeding styles. Persian-specific foods have a kibble size suited for a Persian's jaw.

Due to their long coats, Persians are especially prone to hairballs, so the foods below have an enhanced fibre content to help carry the hair through your cat's digestive system. These foods also contain ingredients such as Borage Oil to help maintain your Persian's coat, keeping it glossy and soft.
We compare the prices of Persian Cat food at the leading online pet stores to find you the cheapest prices. Click below and save an average of £3.81 on Persian Cat food!