Dear reader of my diary,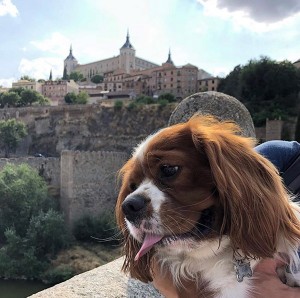 Day 1,068 and finally the humans have caved into my demands and listened to my prayers. The humans, my world, have finally stayed at home and stopped going out for unnecessary trips without me. You're probably wondering who I am and what I'm all about and why I'm on PetMoneySaver.co.uk, the pet price comparison site so get yourself comfy while I find somebody with opposable thumbs to write about me and my experience.
So, I'm Rio a three years old King Charles Cavalier Spaniel living near to Benidorm in Spain. My parents are teachers and use their holidays to take me on trips around Spain. They tell me I've visited every province of Spain now, except one which we were supposed to be visiting in Easter. They tell me we had planned to take me out of Spain for the first time too. Then lockdown happened.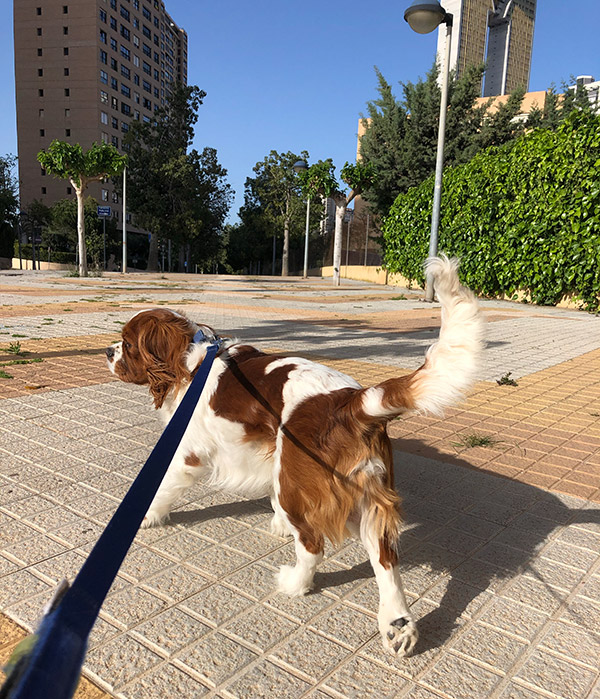 I don't see my friends in the street anymore, in fact, I don't see anybody in the street. When I do, the excitement is unreal. We're desperate to say hello to each other and we shout across the street and pull and pull on our leashes to try and drag our parents to let us say hello but it's all very cold. The humans cross the street to avoid one another and even though it's getting hotter as summer is approaching, the atmosphere has a cold chill. Nobody runs over to stroke me and say hello and I can't remember the last time we went out for breakfast or played runaround and ball with those extremely small, and a little rough, people.
We used to see lots of people, people were always in and out of our apartment. Family members and friends. Familiar smells of loved ones. But they don't come around anymore. I love the car, it's one of my favourite places to be. The excitement of leaning my head through to sit between my humans, stretching my neck so far from the back seat so that I'm in between them. We'd always go somewhere exciting, new smells, new friends and new treats to eat. We don't do that anymore.
I tried to get the humans to take me out in the car. I cried and cried the other day. Stamping my feet and huffing at the door. I try and try to communicate with these humans but sometimes they're slow to respond. One of them took me out for a walk and I pulled, pulled and pulled some more until eventually I led him to the car. I cried and jumped trying to scratch at the door. "I know buddy, but we can't", and we trudged back home.
I don't know why they used to go out without me at all, it is me who stays in front and scans the vicinity to know it's safe, but after many demands, they've stopped. They're at home, all of the time. And dear dog friends for the most part, I am loving it.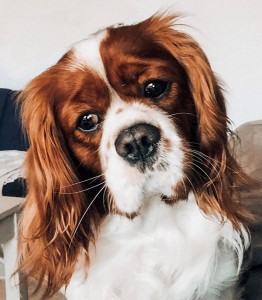 I've learnt so much since the humans stopped going out over 60 meals ago. New tricks, new sounds and I've found my bark. I've learnt how to do a demanding bark when I think the humans are going out. I've learnt to dig my feet into the ground and bark and cry at the door until at least one of my humans sticks around with me. I've not been on my own once since what the humans call "lockdown" has begun. It's been absolute bliss.
Talking of learning, I've learnt some new tricks. I've learnt to stay whilst the humans lay out treats, it's torture to sit there and wait but I'm getting so patient. Slobber dribbling down my face and my eyes as wide open as they go, but I do it and it appeases the humans.
The humans have started speaking to lots of people over FaceTime and "doing work from home", which means we hear lots of high pitched voices, it brings me comfort to sit on their knees and sigh until I fall asleep with the heat of the laptop and the reassuring strokes of my human.
They said I'm getting a little chunkier since lockdown began. I'm not able to go on the walks we used to go on and who can resist my puppy dog eyes when they're home from treats all day? They've had to stop giving me so much of their treats which makes me sad, but they say it's for my own good. No matter how much I cry and whine, sometimes they just won't give in.
I've had to go to the vets a few times since lockdown began. I quite like the vets, my human there is a great man, who always greets me with a happy face and a big cuddle. He always shouts my name when I come in and my tail always wags and I make no effort to stop it. It's not the same at the moment though, there's no other dogs in the waiting room and when I see him, he has a mask and gloves on and doesn't greet me with the same enthusiasm.
It's a weird world at the moment. Maybe one day things will be back to normal, but I hope the humans don't leave me again. I've got used to them being around all the time for cuddles when I need them or a lap to fall asleep on. We have all started watching the sunset together at night and I'm grateful to have a family to be with at this difficult time. From my family to yours, keep safe and keep well. Rio x