Last updated: August 31st, 2020
Let's face it, what better accounts to follow on social media than the wholesome daily uploads from Instagram dogs? Personally, I've grown tired of being force-fed advert after advert on social media, whether that's from an Instagram Influencer or last year's reality show star. I grew tired of seeing the same over-exposed young woman standing in front of the same cafe across London or the same monument in the next big hyped travel destination. It all felt like a drag.
Then, I moved to Instagram Famous Dogs. All was great for a while until those dogs (ok, their humans – you know, due to the whole lack of opposable thumbs and all that) started sharing more and more forced content too. No longer was my favourite Instagram dog sharing original, funny content. Instead, it was advert after advert.
Don't get me wrong. I'm not against the advert scene on Instagram. Just like every other profession, people deserve to earn money for their work. I appreciate the time spent photographing, editing, creating. It's no easy job. Trust me, I've been there. But, when every post becomes an advert, not associated with the real reason you originally followed them, it becomes… too much.
So, in turn, I switched to micro-influencers. Micro-influencers in terms of humans and dogs.
Ready to bulk up your following? Today, I'm sharing with you my Top dogs you should be following on social media. The dogs that are what I'd call micro-influencers. They have a good following. They have a social presence. But, they're relatable. They're cute and the best part? They're overlooked in such a saturated market that all content is 100% authentic!
1. Rio the Cavalier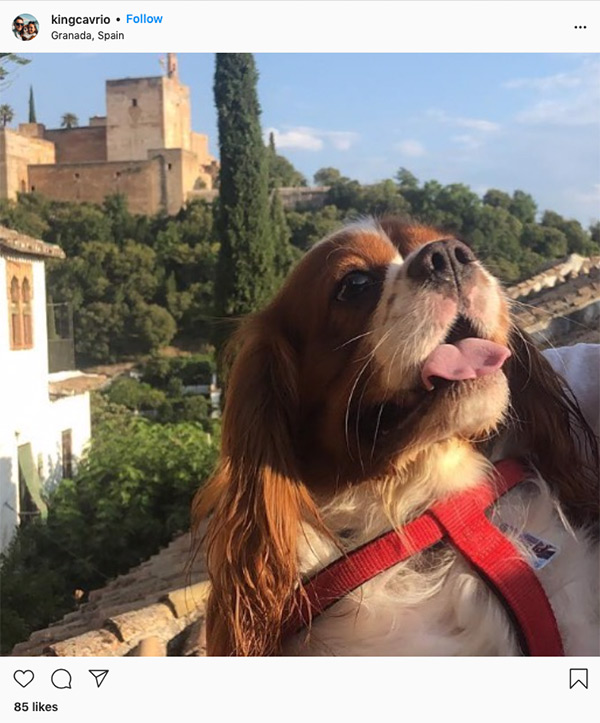 How could we start in any other way than our very own Pet Money Saver little friend, Rio? Rio is a 2-year-old Blenheim Cavalier King Charles Spaniel who loves nothing more than cuddles, treats and travels. If Rio could talk, he'd probably tell you all about his travels around Spain and how he's posed in front of nearly every monument across the country. With just under 3,500 followers on Instagram, his furry friends are always eager to know where he's off next. Follow Rio on Instagram
2. Milk the Samoyed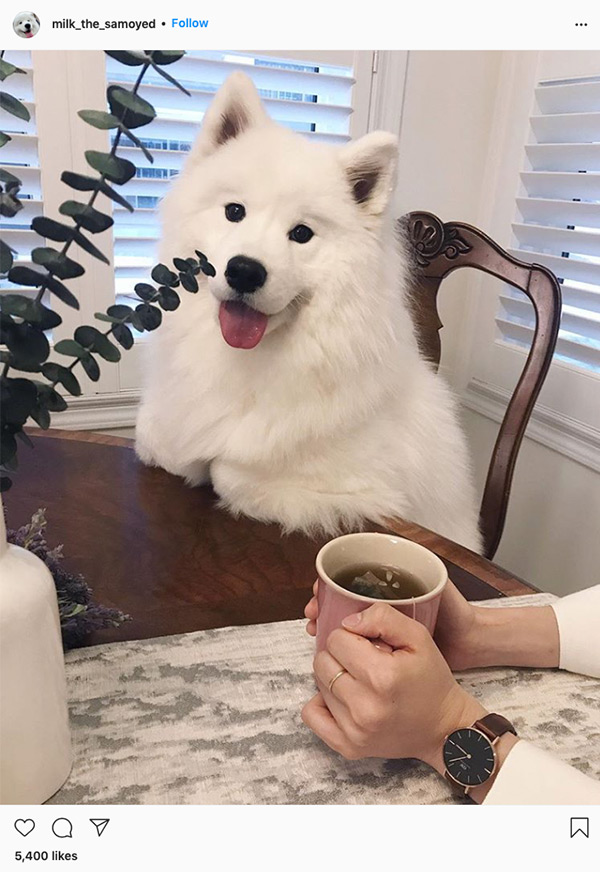 This fluffy bundle of joy is sure to brighten your Instagram and start everyday with a smile on your face. Milk is known as a fluffy snowball, and once you've taken a look at her Instagram, you'll see exactly why.
Sharing daily videos and photos to her impressive 100,000 followers, Milk based in Toronto, Canada is a 3-year-old Samoyed that you'll fall in love with. Did we mention she's also really, adorably fluffy?
3. Senia the Pug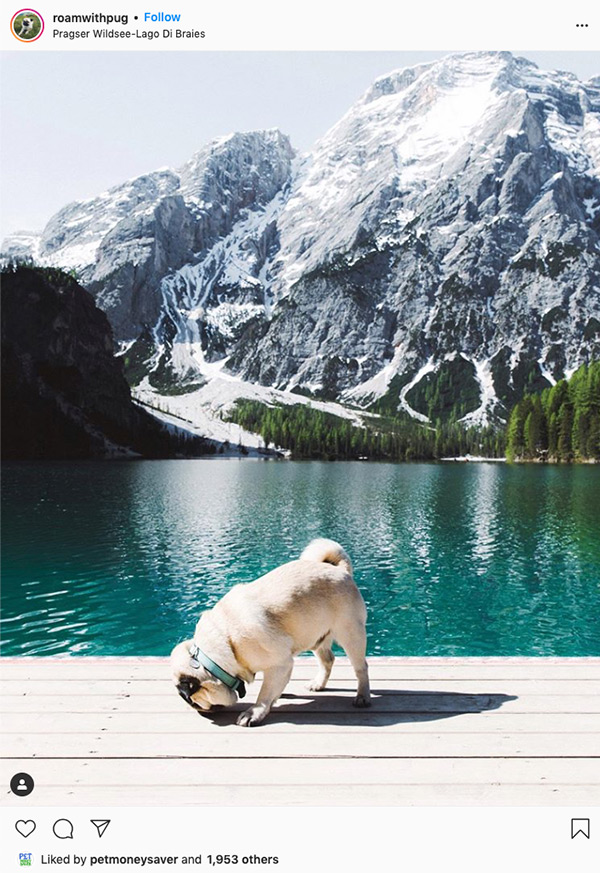 When your dog has looked adorable in 21 countries, it's no surprise that the Instagram followers have come rolling in, and if you ask us, Senia deserves thousands more! Racking up an ever-growing 23,000 followers, Senia is based in Lviv in Ukraine, but if their Instagram is anything to go by, they're always on the road! Senia will share with you beautiful imagery of their walks in some of the most idyllic spots. Whether that's across the Provence-Alpes-Cote d'Azur in France or mountains across Switzerland, they capture it all. Follow Senia on Instagram
4. Dougie the Daschund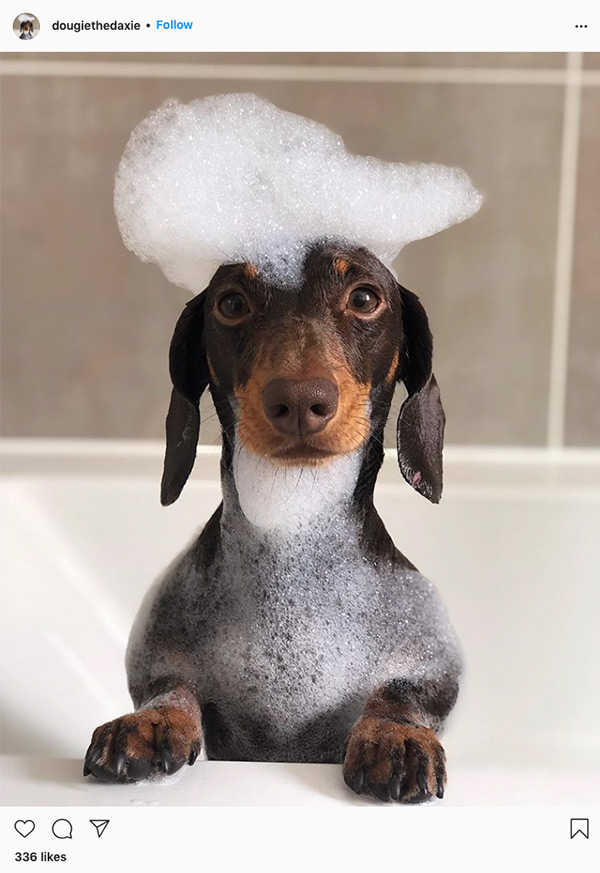 What is it about Daschunds that just look so cheeky and adorable? Well, Dougie has certainly mastered the cuteness. Their human has worked hard to create an aesthetic Instagram, with their stories looking super cute spelling out Doug and cheeky captions, you're sure to love following Doug.
Dougie has just over 1.5k followers on Instagram and I'm sure that number will only continue to grow. Doug, who's 3 in March, loves beach walks but hates the rain. Every time Doug posts, you'll find yourself saying "aww" out loud!
5. Jameson and Bailey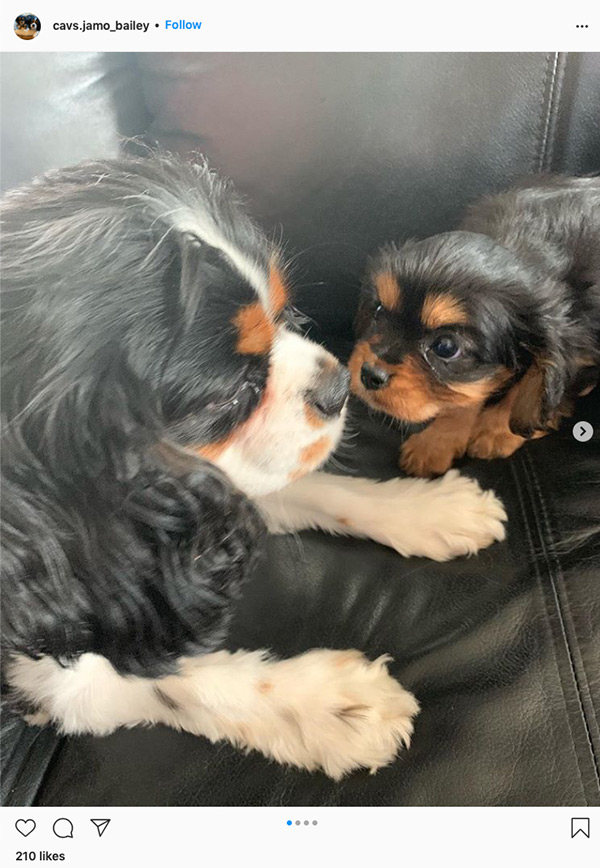 What's better than one Cavalier? TWO! With a two-year age gap, we've been following Jameson and Bailey since they were, well, just Jameson. Recently, their dog mom has taken another Cavalier under their wing and watching the two of them learning to love one another is nothing short of absolutely adorable. Jameson and Bailey have a dedicated dog mom who creates cute imagery and hilarious captions and nothing is off limits. Hey, we can't all look good all the time? But somehow, these pair manage it even when they're sharing their bad angles! With over 1,500 followers on Instagram, their followers love their imagery and I'm sure you will too! Follow Jameson and Bailey on Instagram
6. Floof and Howl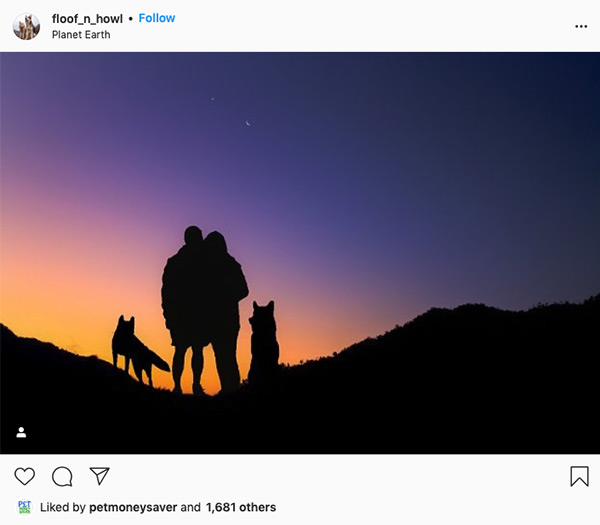 When dogs, humans and a van get together, it makes for some outstanding Instagram content and that's exactly what Floof and Howl are up to.
Floof and Howl have gorgeous imagery of their breathtaking walks which are made better by the adorable pair of huskies. They certainly have the travel bug and no doubt you'll be wanting to follow their footprints!
Follow Floof and Howl on Instagram
7. Po the Chow Chow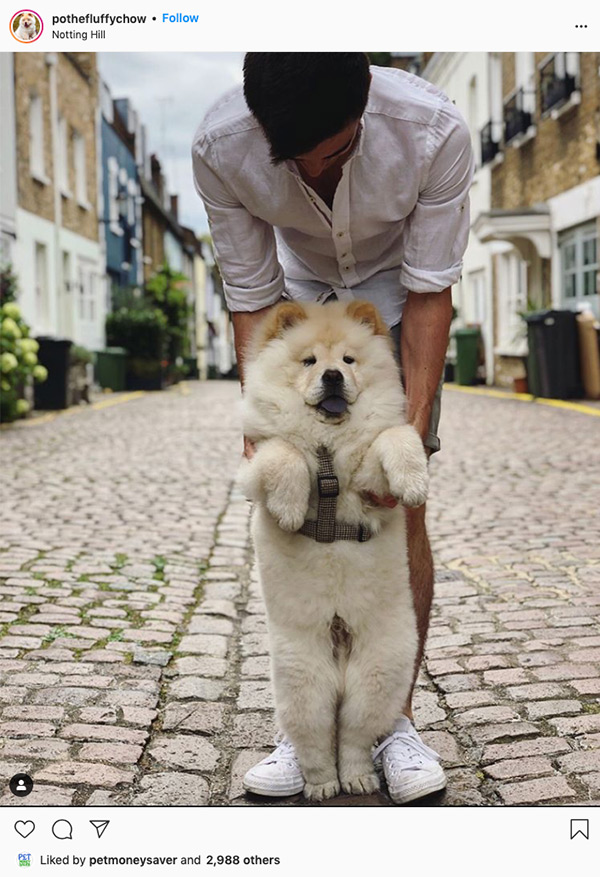 I need everybody to know that I'm in love with Po. Easily mistaken for a bear, this ball of floor is so freaking cute it makes you want to make a high-pitched eek sound every time he uploads. No? Just me? Based in London and not even a year old yet, you'll love watching Po grow up through their regular posts and frequent story uploads. The videos will make your heart melt. Follow Po on Instagram
8. Mia and Benny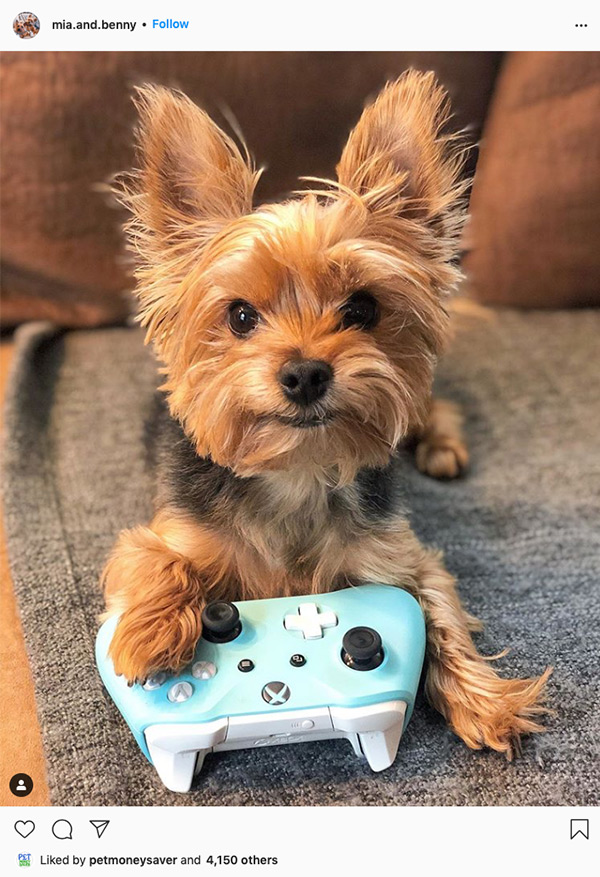 Mia and Benny are both Yorkshire Terriers of different ages, Mia who was adopted in 2016 at aged 2 and Benny who was adopted in 2018 at the age of 6.
The pair of them are just as cute as one another and are sure to brighten your Instagram feed with their playful antics and happy faces.
Follow Mia and Benny on Instagram
9. Marcel 'Le Corgi'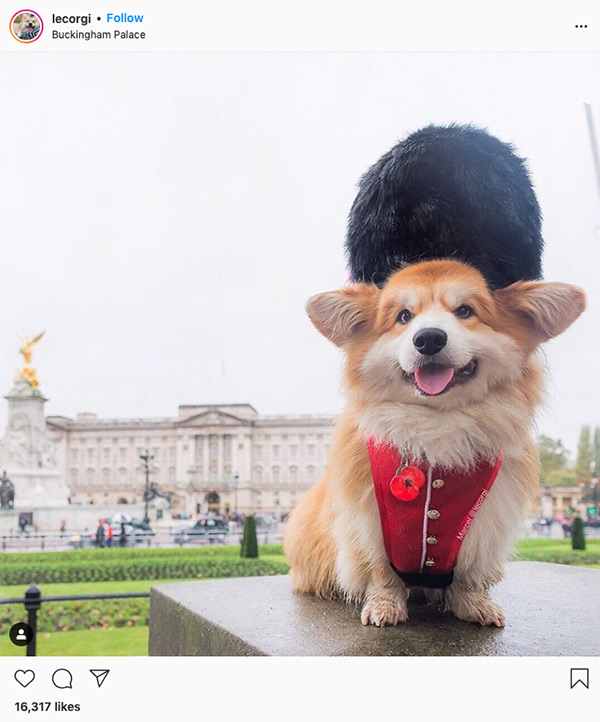 So cultured, so sophisticated, we love you Marcel. This French little Monsieur describes himself as a food and travel critic and if his photos are anything to go by, him and his help know their way around the reviewing scene.
Even when Marcel shares an ad or two, you can't even be mad, because the content is just as authentic and creative as his standard posts. You can appreciate just how much time and effort goes into creating content and Marcel, we're obsessed. We're not the only ones either, with over 138,000 Instagram followers and previous brand collaborations with the likes of Jaguar, he's kind of a big thing in London.
P.S. we'd love to boop that adorable nose of his.
Follow Marcel Le Corgi on Instagram
Article by Lauren Bate (diaryofaspanglishgirl.com)