With the current situation due to COVID-19 constantly changing, and the recent restrictions regarding social distancing and lockdown, this has had a major impact on both humans and our animals. I'm currently based in Spain, known as one of the hotspots for the coronavirus pandemic in Europe. It's here where tough restrictions were placed from the get go earlier in the year. We had a few days of recommendations, but once the announcement came through that schools were closed, and work should happen from home where possible, a lockdown came just a day later. Doors closed, shutters down, and a once bustling tourist hotspot became a ghost town. So what does that mean for our pets that rely heavily on being outside to not only do their business, but to get daily exercise? Well, after the first lockdown here's what I've found.
Many pets will find it strange that their owners are spending a lot of time at home, and not going out. Our dog has been loving it, he's been getting so much more sleep than he would usually get as he's blissfully snoozing away at our feet as we're working. Usually, the morning would be my time to take him on a long walk somewhere and indulge on a breakfast and a cup of coffee overlooking the sea. Of course, with various restrictions in place, and all bars and cafes shut, this can't happen anymore. In the U.K. similar restrictions are in place. While the initial restrictions that only allowed one outdoor exercise per day are no longer in place, it's still recommended to stay at home. This makes it harder to take your dogs for some exercise. A long walk is what a lot of dogs, and their owners, relied upon to keep them exercised and calm.
While this is an anxious time for a lot of us, it's important to keep positive and see this as an opportunity to catch up on things we have put aside. Whether that's learning a new skill, doing some home improvements, doing a spring clean or just working your way through your Disney+ watchlist. For dogs, it can be the same. Still have a young pup? Now is a good time to do some training. Have a dog that loves to play? Pick up some new toys. One that loves to run and you have the space? How about an obstacle course?
Given the lockdown status, it gives a lot of us the chance to do something that we'd love to do everyday but usually don't have all the time for. Spend time with our pets. This outbreak can be difficult, but our dog has been loving the amount of attention he's been getting. He's truly our rock during this pandemic. He's there for cuddles whenever you need him, he's happy doing whatever you're doing and he keeps brave and happy as he's blissfully unaware to the world around him.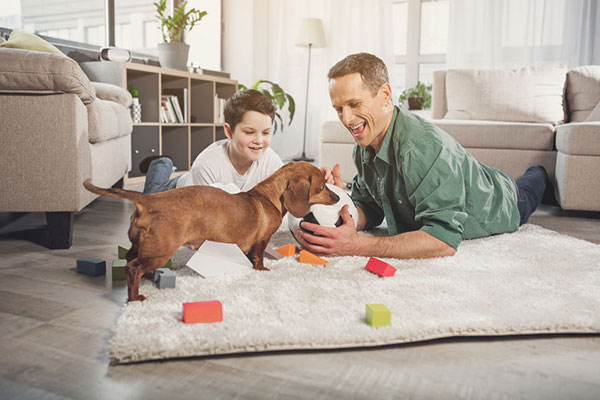 Here are some ideas about how to keep your dog occupied during lockdown:
Search Games
Try hiding some treats and toys around the apartment or the house to create a sort of scavenger hunt. He'll use his sniffer to find these rewards and wag his tail delightfully when he finds them. Be sure to only use small amounts of food as to not encourage overindulging.
Frozen Treats
Especially good if you are in a hot country like we are, or if you want to cool your dog down. After all, we don't know how long this lockdown will last. But, not only are they a cooling treat, but they can also keep dogs occupied for quite some time. Pop a treat surrounded by water and wait for it to freeze. When it comes out your dog will have great delight in challenging himself to get the treat out of the ice.
Kong Toys
Whether its a cuddly toy or a challenging toy, Kong toys are one of Rio's favourite toys. He can play with the sounds and the squeaks and his favourite game is fetch. He loves picking a toy and then bringing it to you and then chasing back after it. It's usually a Kong teddy that he brings over to be thrown, or Lady from Lady and the Tramp which is his other favourite!
Teach Basic Commands
If your dog is young then basic commands are a great thing to teach during lockdown. You have loads of time to be able to work hard into perfecting their skills and perhaps teaching some tricks you might not have thought of. If your dog is still young or eager to learn, there's always YouTube to look up some new cool tricks you can teach your pooch and put him to the test.
Tidy-up Games
If you've got a toy box for your dog, then teaching to tidy up is not only cleansing for your sanity, but also a great way to keep your dog entertained. You can train your dogs to put their toys back in their box when they've finished playing with them. Our dog loves rummaging through his toy box to pull out toys and then popping them back in his box when he's finished. It definitely helps keep the place tidier.
Teach Names
Just like when he learnt his own name, dogs love to learn names of family members and their toys. Ask your dog to go find mummy, or get the doll, or get the ball. They love zooming off and finding what you've asked for.
Chewing
Chew toys are great for keeping dogs entertained. Every morning after his breakfast, Rio sits and waits for his Dentastix to clean his teeth and gums. He really loves taking it back to his mat and playing around with the stick.
Short, Regular Walks
Having a far more regular schedule of walks gives your dog the chance to get some air, do his business and keep his exercise up. If you have your own garden then, of course, regular running around the garden works even better. If you don't, try and take your dog out for a walk once every couple of hours. Be sure to wash and sanitise your hands when you get home and don't touch your face after touching communal areas, like door knobs or buttons in a lift in the communal spaces.
TV
Rio never takes any notice of the TV, but he loves the new Lady and the Tramp movie. He sits and watches the dogs and tilts his ears when he hears them barking to each other. Of course, if this upsets your dog then perhaps try some chilling out music for them to listen to. Rio always loves watching Benji (the dog) on Yoga with Adriene, he loves copying what Benji is doing and stretching when he is!
I know we might all be feeling nervous and worried as our lives have been shifted by COVID-19 but now is a great time to spend time with our animals and remind ourselves how much they love us and rely upon us. Keep safe, be sensible and take care.
Article by Lauren Bate (diaryofaspanglishgirl.com)