We Compare Pet Food Prices, You Save Money!
Admiral Value Pet Insurance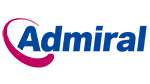 Admiral Value
The Value pet insurance policy from Admiral is a Time Limited policy that provides £2,000 of vet fees cover per condition. All the main policy benefits are illustrated in the table to the left.
Get a Quote
Excess/Contribution
There is a fixed excess of £100 per condition, per insurance period
There is an additional co-payment of 20% for pets over 6 years old
A £250 excess applies once per claim for Third Party Liability cover (dogs only).
Age Restrictions
No upper age limit, but cover for Death from illness does not apply to pets aged 9 years and older. There is also an additional excess payment of 20% for pets over 6 years old.
Other Details
The policy will pay up to a maximum of £100 towards any special diet prescribed by, and only available from, your vet as part of the treatment to dissolve bladder stones or crystals in urine.
There is no cover for treatment for behavioural illness, behavioural modification treatment or any forms of training.
There is an inner limit (within the overall vet fees limit) of £2,000 for Cruciate ligament treatment and £1,000 for MRI/CT scan costs.
Admiral introduce to Insurance Factory Ltd who arrange and administer the policy. Insurance Factory Ltd is authorised and regulated by the Financial Conduct Authority (No. 306164). The policy is underwritten by HDI Global Specialty SE UK. Third party liability (dogs only) is underwritten by Ageas Insurance Limited.
Benefit
Covered
Benefit Limits
Policy Details The amount this policy will cover for treatment per condition or year, depending on the policy type.

Time Limited policies provide 12 months of cover from the start of the incident. Maximum Benefit policies will pay out up to a set limit per condition, but once you reach this limit you can no longer claim for this condition. Lifetime policies provide cover for ongoing conditions as long as the policy is renewed each year.

Some insurers will not allow you to take out a new policy once your pet reaches a certain age.

Some insurers can arrange to pay your vet directly, rather than you having to pay the vet upfront, and then claim the fees back from the insurer.
Vet Fees Limit
£2,000 per Condition
Policy Type
Time Limited
Policy Underwriter
HDI Global Specialty SE
Covers Older Pets
Pays Vet Directly
Treatment Cover In addition to the standard vet fees cover, some policies will also cover complementary and dental treatment, and also other treatment fees too, including treating behavioural illness.

Complementary treatment includes cover for treatments such as acupuncture, homeopathy, chiropractic manipulation, hydrotherapy, osteopathy and physiotherapy. Some policies will limit the number of hydrotherapy sessions per condition.

Dental treatment is sometimes limited to treating an injury caused by an accident. It can also be on condition that your pet has a yearly dental examination carried out by a vet.

Farewell cover will pay out for the costs of putting your pet to sleep, as well as related burial or cremation costs.

Some policies will pay for food recommended by your vet in order to treat a condition.
Complementary
Up to vet fees limit
Dental Illness Cover
Injury Only
Farewell Cover
£100
Food
£100 see notes
Death or Loss Cover for death by illness or injury will pay the purchase/donation price of your pet if it dies from illness or injury. Most policies will not pay for death by illness once a pet reaches a specified age.

Lost or stolen pet cover will pay out the purchase/donation price of your pet if it is permanently lost or stolen and not recovered despite the use of the advertising and reward cover.

Some policies will cover the costs of local advertising and for offering a suitable reward for the recovery of your pet if it is lost or stolen.
Death from Illness/Injury
£750
Lost or Stolen Pet
£750
Advertising & Reward
£250
Travel and Holidays Some policies will provide cover for vet fees if your pet is injured or becomes ill during your trip abroad, if you comply with the United Kingdom Government Pet Travel Scheme, also known as PETS.

Emergency Expenses will pay for additional transport and accommodation costs should you need to make special arrangements to get your pet home, or if your pet is unable to travel until after your scheduled date of travel home.

If you have to cancel a holiday because your pet is lost, or becomes ill or is injured shortly before you are due to travel, then some policies will pay the costs of any lost travel and accommodation expenses.

Lost Health Certificate cover will pay for replacement documents if you lose and need to replace the original Pet Travel Scheme health certificate during a trip, or if your pet's microchip fails meaning a new certificate is required.

Quarantine cover will pay out for the costs of putting your pet into quarantine if your pet is unable to travel due to illness, or because of a failure of the microchip.

Some policies will pay out for a repeat of worming treatment if your return back to the UK is delayed by your carrier.
Vet Fees Abroad
£2000, 2 trips, 30 days
Emergency Expenses
Holiday Cancellation
£750
Lost Health Certificate
Quarantine Costs
Worming
Emergency Care Emergency Boarding cover will pay for your pet to be boarded in a licensed kennel or cattery if you or a member of your family has to stay in hospital (usually for more than 4 days).

Emergency Pet Minding cover will pay for someone to look after your pet if you or a member of your family has to stay in hospital (usually for more than 4 days).
Boarding Costs
£750
Pet Minder
£750
Other Benefits Accidental Damage cover will pay out if your pet damages some else's property, even if you are not legally liable for the damage.

If you have more than one pet, then insurers who offer multi-pet discounts could save you money.

Online discounts will apply to the first year of cover if you take out the policy online. While a large discount may be attractive, you should bear in mind that the policy costs will increase if you renew the policy after the first year.

Third Party Liability applies to dogs only, and will cover damages and legal costs to others that you are legally liable to pay, if your dog causes death or injury to a person, or loss or damage to their property.

As an additional benefit, some policies provide free access to Legal, or 24 hour vet advice helplines.
Accidental Damage
Multi-Pet Discount
5%
Online Discount *
Third Party Liability
£1 million
Legal Helpline
24h Vet Helpline
Compare
Do you want to see how the Admiral Value policy compares with other pet insurance policies? Select another policy below, and see how they both compare.
Compare
Please select a policy to compare