Last updated: January 7th, 2019
Owning a pet is a very rewarding experience, but there are some downsides. For anyone who has a cat or dog, you'll be familiar with the constant battle to keep your home clean from pet hair. A good way to keep on top of this is to buy a vacuum cleaner designed especially for pets and pet hair.
However how do you choose what is the best vacuum cleaner for cat or dog hair? This really depends on the type of pet vacuum cleaner you want, and also where you need to clean pet hair from. For example, dog owners may be looking for the best handheld hoover to get dog hair out of a car. Cat owners might be more interested in the best cleaner to remove cat hair from a sofa, or cat litter from a tiled bathroom floor.
There are a lot of different models available to buy from well-known manufacturers such as Hoover and Dyson, as well as less familiar names like Gtech and Shark. The aim of this article is to help you find the best vacuum cleaner for your needs, and to do this, we give an overview of what to look for, and also review some of the best pet vacuum cleaners available to buy online at the moment.
Quick Links
Types of Vacuum Cleaners
What Makes a Vacuum Cleaner Best for Pets
Things to Consider when Buying a Pet Vacuum Cleaner
Pet Vacuum Cleaner Accessories
Pet Vacuum Cleaner Reviews
Overview of Pet Vacuum Cleaners
Here is a summary of some of the best pet vacuum cleaners that we have found. Click on the name of each machine to read a more in-depth review of it.
Types of Vacuum Cleaners
The first choice is what type of pet vacuum cleaner to buy. The five main designs are canister/cylinder, handheld, robot, stick and upright. Once you've decided which style of vacuum cleaner to buy, you have a choice of corded or cordless, and also bagless or with a bag. There are also a number of pet hair vacuum accessories available that you might find useful, so it's worth looking out for these when shopping around.
Canister/Cylinder Vacuum Cleaners
Canister vacuum cleaners have a smaller body on wheels, with a long hose. These generally give you more flexibility and are more maneuverable. One downside is that they can be a bit of a handful, and the bodies can have a mind of their own, bumping into walls and furniture as you pull them along.
One benefit is that the cleaning attachment is light and easy to use to clean more difficult to reach places, such as stairs and above your head. The light weight is also a benefit if you have wooden floors, as it means it's less likely that the cleaner will damage the floor accidently.
Handheld Vacuum Cleaners
Handheld vacuum cleaners are typically a smaller, hand-held version of more traditional cleaners. Their compact size gives them a number of advantages over their full-size counterparts, but some disadvantages too.
The small size and lighter weight means they are easier to store, carry and use. This does often come at a cost though, which is their performance. It has to be said that most (but not all) hand-held vacuum cleaners are not very good at cleaning pet hair as they just don't have enough suction power or performance. A handheld vacuum for pet hair can be useful to keep dirt under control, and getting to those hard to reach places where bigger vacuum cleaners can't reach easily.
This isn't always the case though, and some models – especially the more advanced (and usually expensive) models can give a very good performance.
Most handheld vacuums are battery powered, although there are a few that are mains-powered. These are generally the most powerful, but not much good if you will need to use the vacuum cleaner away from a power socket – for example if you need to remove dog hair from a car.
Robot Vacuum Cleaners
These are the newest type of vacuum cleaner, and have been growing in popularity since they were introduced in the early 2000s. These can be scheduled to clean specified areas automatically, and return to their base station to recharge. While they won't be suitable to replace a manual vacuum cleaner in most cases, they can be a useful addition to keep dust and dirt to a minimum.
If you do buy a robot vacuum cleaner, you may also want to buy a shark costume for your cat, so you can re-enact the famous YouTube video.
Stick Vacuum Cleaners
Another type of upright vacuum cleaner is called the Stick. These have a long slim handle, and are very compact. These tend to be less powerful than other types of cleaner, but are easier to store and are handy for getting into smaller spaces.
Another useful feature of stick vacuum cleaners is that many of them convert quickly and easily into handheld cleaners.
As technology continues to improve, the performance of stick vacuum cleaners is beginning to match the more traditional upright cleaners.
Upright Vacuum Cleaners
Upright vacuum cleaners have everything contained in one tall body that you push around which makes them easier to maneuver, but they're not so flexible so less able to get into tight spaces, or under furniture. However some upright vacuum cleaners come with an extending hose too, so you can clean hard to reach places like under sofas.
This type of cleaner is more suited to cleaning carpets than wooden floors, as the heavier weight of the unit can make them more likely to scratch the floor.

What Makes a Vacuum Cleaner Best for Pets
With so many different models of vacuum cleaner available to buy, what makes these particular cleaners more suitable for pet owners? One main difference is the accessories they come with. Most pet vacuum cleaners are supplied with a motorised brush attachment (also called Turbo, or Turbine brush), which rotates and helps remove pet hair from carpets, floors and furnishings. Some (such as the Dyson version) have no brush bar for hair to wrap around and get tangled up in.
Air filtration and purification is another area where pet-specific vacuum cleaners commonly score higher than their counterparts, with some pet vacuums having scented filters to remove unpleasant pet odours, as well as allergens.
Another thing to look out for if your pet has long hair is a larger than average roller. This will help avoid the pet hairs becoming tangled in it.

Things to Consider when Buying a Pet Vacuum Cleaner
As well as the design of vacuum cleaner, there are a few other factors to consider when shopping for the best vacuum cleaner for pet hair.
Areas to Clean
It's much easier to clean pet hair from a wooden floor than it is from a deep pile carpet, so it's important to take into account where you will be vacuuming when you choose which cleaner to buy.
Some machines will perform better on certain surfaces than others. For example, a cleaner designed for carpets will have a revolving brush to help pull the dirt from between carpet fibres. These brushes however could damage the surface of a wooden floor, and can also flick more dirt out than they clean up. For wooden floors, a softer, lighter attachment without a brush would be more suited.
If you need to vacuum cat beds high up on a cat tree for example, then a hand-held vacuum or one with an extension hose would be best.
Bagged or Bagless
The traditional type of vacuum cleaner uses a bag as a filter to trap dirt and dust as the air flows through the material of the bag. It is usually cheaper to buy up front, but over time the cost of buying replacement bags will add up – although they are not particularly expensive. Performance also tends to reduce as the bags fill up. Some bagged cleaners have an indicator light to tell you when the bag is filling up.
Bagless vacuum cleaners use filters to trap dirt, which is then collected in a chamber that you can empty. These models will usually be more expensive to buy initially, but you don't need to keep buying bags as you can simply empty out the vacuum when it fills up. It's easy to tell when this needs to be done, as you can see directly into the dirt collection chamber. One downside of this type of cleaner is that the capacity tends to be smaller than bagged vacuum cleaners so you'll need to empty it more often.
Bagless cleaners are not always maintenance free either, as there are often filters that need to be cleaner or replaced.
For those of us who suffer from allergies or Athsma, a bagged vacuum is the best choice as it is by far the most hygienic to empty. A vacuum cleaner with a sealable bag will produce less mess when you empty it, whereas when you empty a bagless cleaner you tend to get a fair bit of dust and allergens being thrown back up at you.
Capacity
The size of the dirt-collecting bag or cannister can vary from less than 1/2 litre, to over 10 times that size.
The battery-powered vacuums tend to have smaller capacities than the larger mains-powered cleaners, which is due to their small and lightweight design. The only downside to this is that they will require emptying more often which is something to consider  – especially if you have pets who shed a lot of hair!
Cleaning Performance
One of the most important aspects to consider is how well the vacuum cleans, and especially how well it can remove pet hair. After all, the reason you're here is to try and find the best vacuum for pet hair, so there's no point in buying something that doesn't do the job.
A few factors can determine how well a vacuum cleaner picks up pet hair, but one of the most important is the amount of suction it has. This can be measured by several factors that the manufacturers will use in their advertising, but not all will be that useful in measuring suction. For example, the power of a vacuum cleaner motor (measured in watts) will often be advertised but it isn't that useful, as it doesn't measure how efficiently the vacuum uses that power. A well-designed vacuum with a 1200 watt motor could be better than a less efficient design with a 2400 watt motor.
Two figures that are more useful are CFM (Cubic Feet per Minute) and AW (Air Watts). CFM tells you how much air the vacuum will suck during 1 minute of use, and AW refers to the amount of power the vacuum uses to pull dirt through the nozzle. The higher the number, the more suction the vacuum provides.
The same amount of suction will also give different performance on different types of vacuum cleaner. For example, if it's fitted with a HEPA filter, it will require more suction to pull dirt through the filter which has tiny openings.
A canister vacuum will also typically need more suction than an upright, as it has to pull dirt all the way through the hose too. A good rule of thumb is that an upright should have over 100 AW, and a cylinder should have at least 200 AW. Not all manufacturers provide these numbers though, so it's always good to read reviews by people who have used them to get some real-life feedback.
Corded or Cordless
Corded vacuum cleaners plug into the mains, and although this means they are less manoeuvrable, they are usually more powerful and you don't have to worry about the battery running out half-way through a clean.
Cordless vacuum cleaners run on rechargeable battery power, and are great for convenience and mobility as you're not restricted by a power cord trailing out the back. The biggest downside is that in a lot of cases the motors aren't as powerful as their mains-powered cousins, and they usually only run for 10-20 minutes before the battery needs to be re-charged. Cordless vacuum cleaners are improving all the time though, and power and run-times are getting better and better. In fact, Dyson have recently announced that due to their confidence in their cordless cleaners, they have stopped developing new corded cleaners.
Buying a second small cordless vacuum for pet hair means you can easily keep on top of shed hair in any location without having to use your main cleaner.
HEPA Air Quality Filter
Some vacuum cleaners (pet and regular) have a feature called a HEPA filter. This stands for High-Efficiency Particulate Air, and helps filter out small particles such as pet fur and dander which can cause allergies. To be allowed to use the name "HEPA", the filters are tested to ensure that they meet minimum standards for the amount and size of particulates they remove.
All vaccum cleaners should remove visible dirt, but HEPA filters will trap particles you can't see with the naked eye.
The HEPA filter usually needs to be replaced on a regular basis, which will add to the running costs. However some vacuums like the Dyson have a lifetime filter, and others such as Hoover and Shark have washable filters.
Price
Prices for pet vacuum cleaners range from around £50 up to 8 times that amount or more for the top of the range models from well-known brands like Dyson.
Paying more doesn't always guarantee better performance, but generally speaking the more expensive models will be better at cleaning pet hair than their cheaper counterparts. They will also usually have better build quality, and/or more accessories. However quite often you may be paying for features you don't necessarily need or want with the top of the range models, so it's always worth doing a bit of research before you buy.
Weight
If you need to carry your vacuum up and down stairs, or need to clean areas above your head then going for a lightweight vacuum will make your life easier.
Some vacuum cleaners are 2-in-1 models, where you can remove the motor part from the main unit which makes it easier to carry up stairs, or harder-to-reach spots. Some stick vacuum cleaners can also easily convert into handheld cleaners.

Pet Vacuum Cleaner Accessories
Another thing to look out for are the accessories that come with the vacuum cleaner. Some of these come as standard with certain models, while others are available as an optional purchase. Depending on your requirements, some of these may be useful.
Turbo Head – these heads have powered rollers to give extra help with cleaning pet hair, and add extra suction power if you need to get into tight spots where pet hair is tightly wedged in.
Telescopic Extension – useful for cleaning hard-to-reach spots, especially if you have pets who like to climb.
Lighted/Illuminated Crevice Tool – a useful feature for cleaning in tight spots where it isn't easy to see.
Disinfection Tool – if your pets make mess other than shedding hair, a disinfection device can be useful to help clean and keep your home smelling fresh.
Grooming Kits – these enable you to use your pet vacuum cleaner to hoover the loose hair right off your pet. This is of course assuming they don't run and hide at the sight of the vacuum!
Pet Vacuum Cleaner Reviews
1. Bissell Pet Hair Eraser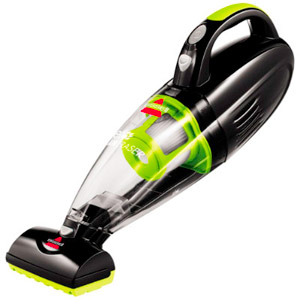 The Bissell Pet Hair Eraser is one of the smallest, lightest and cheapest pet vacuum cleaners we have looked at. While it lacks the performance and features of many of the other models in this review, you shouldn't dismiss it as it is still a very good cleaner. The small size and light weight also make it very handy to use anywhere in the house, and in your car too.
With its 14.4V NiMH battery, it will run for up to 15 minutes which is at the lower end of the scale for run-times, but still plenty of time to clean up those little spills.
As well as the typical crevice and upholstery tools, it also comes with a motorised brush which helps capture more embedded dirt and pet hair. The vacuum itself is fitted with a 2-stage filter which helps prevent clogging.
At around £70, it isn't the cheapest hand-held vacuum but it is regarded as one of the best cordless vacuums for pet hair so well worth paying a little bit extra.

Type: Handheld
Container: Bagless
Power: Battery (14.4V NiMH)
Capacity: 1.5 litre
Weight: 1.7 kg
Price: £70

2. Black+Decker DVJ325BFSP-GB Lithium-Ion Pet dustbuster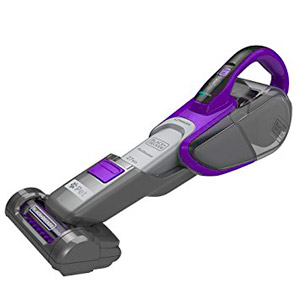 Black+Decker are well known for their hand tools including vacuum cleaners, and the DVJ325BFSP-GB Lithium-Ion Pet dustbuster is one of their cordless handheld range.
It features a detachable motorised pet brush, to pick up embedded pet hairs in carpets, and also has a scented pre-filter to freshen up your home and help remove unpleasant odours.
The 10.8V Lithium-Ion battery takes 6 hours to fully charge, and this gives 15 minutes of runtime. There are sensors that let you know when the battery becomes low, and how much charge is left.
The vacuum manages to provide 35 Air Watts of suction power, which is relatively low, however it still gives a good performance. This is helped by the cyclonic action which spins dust away from the filter, so suction isn't reduced. When the filter does start to get clogged, there is a sensor which lets you know it needs to be cleaned.
At 1.55 kg, this is the lightest vacuum cleaner in this review, and it also has one of the smallest capacities at 0.5 l. This makes it very portable, but will need to be emptied more frequently than larger capacity vacuums.

Type: Handheld
Container: Bagless
Power: Battery (10.8V Lithium-Ion
Capacity: 0.5 litre
Weight: 1.55 kg
Price: £80

3. Bosch BCH6PETGB Athlet Animal Upright Cordless Vacuum Cleaner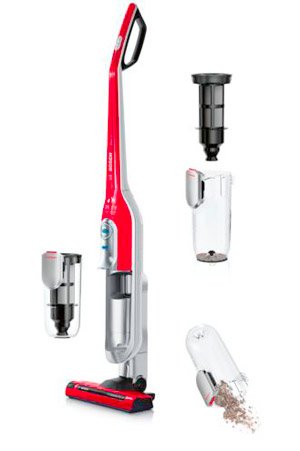 Bosch have an excellent reputation for producing good quality electrical equipment, and this Athlet Animal cordless vacuum cleaner is no exception.
This is an upright vacuum, and is powered by Lithium-Ion rechargeable batteries, which provide an excellent 60 minutes of run time, and require 6 hours to be fully charged. There are 3 power levels, so you can select the most suitable based on ease of cleaning, and the runtime you need.
To help clean pet hair, it is fitted with a Pro-Animal brush, which is an additional brush roll designed for pet hair.
The 0.9 l capacity is relatively small, but this is made up for by the light weight of the machine – at 2.9 kg, it is one of the lightest upright pet vacuums we have found. This makes it especially suitable for people who aren't able, or don't want to lug around a heavy and large machine, but still want an upright cleaner.

Type: Upright
Container: Bagless
Power: Battery (14.4V NiMH)
Capacity: 0.9 litre
Weight: 2.9 kg
Price: £220

4. Dyson Ball Animal 2 Upright Vacuum
No review of vacuum cleaners would be complete without including at least one Dyson, and this one is no exception. There are a large number of Dyson vacuums available, but the Ball Animal 2 Upright is one in particular that deserves a mention.
It is the latest design in their range of upright vacuums, and features their ball technology to make it easier to manoeuvre and steer around furniture with just a gentle twist of the handle.
As well as the standard cleaner head, it comes with a tangle-free turbine tool. This is especially useful for removing pet hair from carpets and upholstery, with no tangles to worry about. There are also extra tools for stairs, and cleaning under furniture.
One disadvantage of bagless vacuums is that they can create a lot of dust when you empty the container. This is reduced with this vacuum, as it has a more hygienic way of emptying the bin with the push of a button.
It is quite a heavy vacuum though – one of the heaviest in this review. This would make it less ideal for wooden floors, and if you need to carry it up and down stairs. Despite being mains-powered, the suction power is not particularly high – 90 AW is less than some of the other models in the Dyson range, but it still has very good cleaning performance.
If you're looking for something similar, but not quite as hefty, then they also include the Light Ball Animal, and Small Ball Animal in their range which have similar features, but smaller size and weight. There is also the Cinetic Big Ball Animal, which features their Cinetic technology meaning it doesn't require filters, so there are no dirty filters to replace or wash.

Type: Upright
Container: Bagless
Power: Mains
Capacity: 1.8 litre
Weight: 7.34 kg
Price: £300

5. Dyson V7 Trigger Handheld vacuum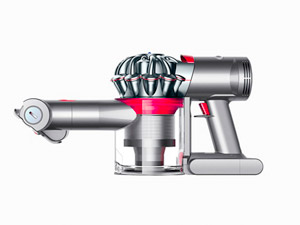 While not designed especially for pets, the V7 Trigger from Dyson warrants a mention as it is currently the top of their range of handheld vacuum cleaners. It also comes with a mini motorised brush bar, which is good for removing pet hair.
With a weight of 1.38 kg, this is the lightest handheld vacuum cleaner in our list, however due to Dyson's technology it packs the punch of a much larger machine.
There are two suction modes, and the most powerful gives an impressive 100 AW of suction power. Selecting the less powerful (21 AW) mode extends the run time by 6 minutes to a total of 30 minutes – quite impressive for such a lightweight device. A full charge takes 3.5 hours.
Although quite expensive for a handheld vacuum cleaner, this one packs a big punch for it's small size and weight and is definitely worth considering if you don't want to compromise on performance.

Type: Handheld
Container: Bagless
Power: Battery
Capacity: 0.4 litre
Weight: 1.38 kg
Price: £200

6. Dyson Cyclone V10 Animal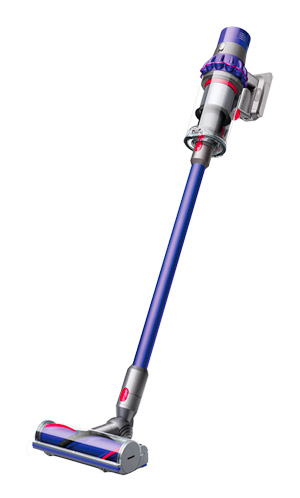 The third Dyson in our list is currently their most advanced model. The Cyclone V10 Animal is a stick vacuum, which is basically an upright vacuum that has gone on an extreme diet. Dyson claim that this model has the most powerful suction of any cordless stick vacuum in use, and they are so confident in this that they have also stopped developing mains-powered corded vacuums.
If you are familiar with their V8 range, this is similar but with improvements in several areas to beef up the motor, increase the battery size and also the bin capacity. Improvements to the motor and battery design mean it runs for up to 60 minutes, although this will be reduced if you use the more powerful of the 3 suction modes. It is charged by sitting it on a wall-mounted docking station, which also holds the tools.
As with their other Animal models, this one comes with a motorised tool designed to deal with pet hair. The fully-sealed filtration system traps 99.7% of particles as small as 0.3 microns, making it ideal for allergy sufferers. One tool that this particular model doesn't come with is the soft roller head, which is useful if you have wooden floors. To get this, you need to purchase the Absolute model, which is otherwise exactly the same as the Animal.
Other useful features include hygienic bin emptying, where one button press ejects the contents of the dirt container into your bin. Another handy feature is that it quickly converts into a handheld vacuum and back again, with just one click.
This is one of the best vacuum cleaners available at the moment, but it does come at a price – £400 is a lot to spend on a vacuum, but if you want the best then this is definitely worth considering. For those who don't want to spend that much, the V7 and V8 models are still available at a cheaper price.

Type: Stick
Container: Bagless
Power: Battery (Lithium-Ion)
Capacity: 0.76 litre
Weight: 2.68 kg
Price: £400

7. AEG CX7-45ST Animal Cordless 2-in-1 Pet Vacuum Cleaner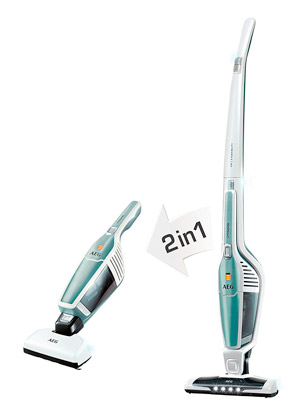 The rather catchily named AEG CX7-45ST Animal is what is known as a 2-in-1 vacuum cleaner. This is a type of upright vacuum where the suction unit can be removed from the main frame to make it easier to carry to harder-to-reach areas.
It gets it's Pet name as it includes a powerful motorised turbo nozzle, which is designed for cleaning up pet hair. This nozzle attaches to the pop-out unit, so is more useful for cleaning smaller areas such as rugs, sofas and stairs.
Another useful feature particularly of interest to pet owners is the brush cleaning technology. This removes entwined hairs on the roller with the press of a pedal on the top of the cleaning head. This vacuum cleaner is also fitted with LED headlights on the cleaning head, to make it easier to see where you are cleaning.
The Lithium-Ion battery provides up to 45 minutes of run time, and takes 4 hours to fully charge.
At 2.5kg, this is the lightest upright cleaner in the list, so is especially recommended if you are looking for a machine that is easy to carry and use.

Type: Upright
Container: Bagless
Power: Battery (Lithium-Ion)
Capacity: 0.5 litre
Weight: 2.5 kg
Price: £150

8. Gtech AirRam MK2 K9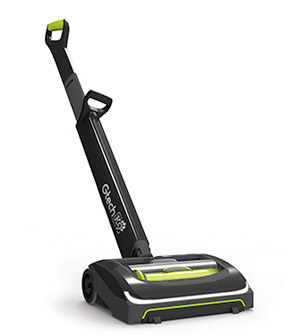 Gtech are a British company, and produce a couple of pet specific vacuum cleaners. The first one in our list is the AirRam MK 2 K9, which is a cordless upright cleaner especially designed for pets.
It has a rather simple design, with a swivelling handle which makes it easy to steer, and a cleaning head. This is fitted with a rotating brush bar, which helps pick up pet hair from carpets or hard surfaces.
It's relatively low weight, and slim design means it's easy to use and easily fits into tight spaces and under furniture. The cleaning head has a light across the front to help see when you're cleaning under furniture.
The 22V Lithium-Ion battery takes 4 hours to charge, and provides a healthy 40 minutes of run time. This cleaner is unusual in that you can remove the battery to be charged by itself, or it can be charged when attached to the cleaner.
The K9 version is similar to the standard AirRam MK 2, however the pet version is £50 more expensive. For the extra money, you get a more sturdy construction, using aluminium components, and also scented tabs that fit into the (washable) filter, which reduce unpleasant odours. Both versions are very highly rated, and should be in your shortlist if you want a lightweight and easy to use upright vacuum.

Type: Upright
Container: Bagless
Power: Battery (Lithium-Ion 22V, 2000 mAh)
Capacity: 0.4 litre
Weight: 3.3 kg
Price: £250

9. Gtech Multi MK2 K9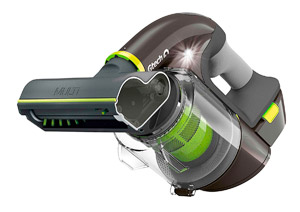 The second vacuum cleaner on our list from Gtech is the Multi MK2 K9 handheld vacuum.
Like the AirRam, the K9 version of the Multi uses aluminium components to give a stronger build, and improve performance for cleaning up pet hair.
This cleaner comes with a rotating brush head, which is ideal for picking up pet hair. Like it's upright cousin, it also has scented tabs that fit into the filter, helping to reduce unpleasant odours.
With a very low weight of 1.5 kg, and 20 minutes of run time from a 4 hour charge, this is a great option if you're looking for a cleaner to remove pet hair from a car or caravan, as well as inside your home.
It's also worth pointing out that the Gtech Power Floor K9 is basically a Multi MK2 K9 with a longer nozzle and different head attachment to make it a stick vacuum, so gives you the best of both worlds, but for a higher cost.

Type: Handheld
Container: Bagless
Power: Battery (Lithium-Ion 22V, 2000 mAh)
Capacity: 0.8 litre
Weight: 1.5 kg
Price: £170

10. Hoover FD22BCPET Freedom Pets Lithium 2 in 1 Cordless Stick Vacuum

For a lot of people, Hoover is the company most closely associated with vacuum cleaners, so no list would be complete without at least one Hoover. The Freedom Pets Cordless Stick Vacuum is a very lightweight stick vacuum, and a worthy addition to our list.
This vacuum weighs just 2.2 kg, which is the lightest stick vacuum in our list, and makes it very easy to carry and use. Another feature that helps make it easy to use is the continuous power mode, which locks the button in place – no more aching fingers from holding it down!
It comes with a Pets turbo brush for helping remove  stubborn pet hair. This can be attached to the unit itself as a handheld device, or at the end of the long-reach pole.
The 22V Lithium-Ion battery gives a decent 25 minutes of run time, and takes 6 hours to fully charge.
When not in use, the cleaner and tools can be stored on a handy wall mount, making it easy to keep it out the way.
At around £120, this is one of the cheapest cleaners in our list, and the cheapest stick vacuum. If you're looking for a lightweight, easy to use Hoover for pet hair that won't break the bank then this has a lot going for it.

Type: Stick
Container: Bagless
Power: Battery (22V Lithium-Ion)
Capacity: 0.7 litre
Weight: 2.2 kg
Price: £120

11. Hoover TH31BO02 Breeze Evo Pets Upright Vacuum Cleaner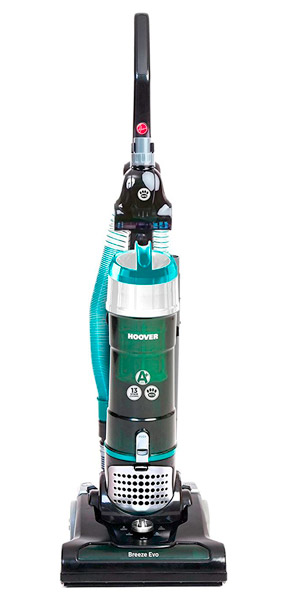 The Hoover Breeze Evo Pets is the second Hoover in our list, and this model is the more traditional upright design.
Given the low price, it packs a lot of features in making it great value.
It has a relatively large 3 l capacity, and a 7 m long power cord which will mean less stopping to plug in different wall sockets. The 4.5 m long stretch hose is enough to clean a typical stair case in one go too.
As well as the usual range of accessories, the cleaner also comes with a turbo pet brush. This attaches to the end of the hose, and the suction causes the brush to rotate, helping to clean any loose pet hairs. The one downside of this is that if you need to hoover up pet hair, you need to use the hose rather than the main cleaning head.
The 350 W power of the motor isn't as strong as some of its competitors, however given it is around half the price of the next cheapest upright vacuum in our review, this is a decent choice if you're on a budget.

Type: Upright
Container: Bagless
Power: Mains
Capacity: 3 litre
Weight: 5.3 kg
Price: £80

12. ILIFE V3s Pro Robotic Vacuum Cleaner for Pet Hair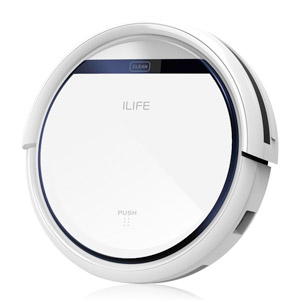 Robot vacuum cleaners can be quite expensive, but the ILIFE V3S Pro is good value, and the cheapest robot vacuum cleaner in our list.
This vacuum is best-suited for hard floors, without any obstacles to impede its progress, but can also handle short-pile carpets and rugs – although it can struggle to climb on top of bigger rugs. It is ideal for pet owners as there is nothing to become tangled with pet hair, and it is also fitted with a HEPA filter.
It will clean for up to 2 hours on one charge, and will automatically dock to recharge when the battery runs low. A full re-charge takes up to 5 hours, after which the cleaner will resume it's cleaning schedule. The dirt container is quite small though – at just 0.3 litres, it will need to be emptied frequently. The HEPA filter is also recommended to be replaced every month, and these are available here.
You can schedule the ILIFE V3s to clean when you're not at home, and it's fitted with various sensors to prevent it from falling down stairs, or bumping into things.
If you have pets and large clear rooms with hard floors, then this is an excellent way to keep on top of pet hair. The best thing is that it cleans by itself, leaving you free to do other things.

Type: Robot
Container: Bagless
Power: Battery (Lithium-Ion, 2600 mah)
Capacity: 0.3 litre
Weight: 2.1 kg
Price: £160

13. Miele Blizzard CX1 Cat&Dog PowerLine – SKCF3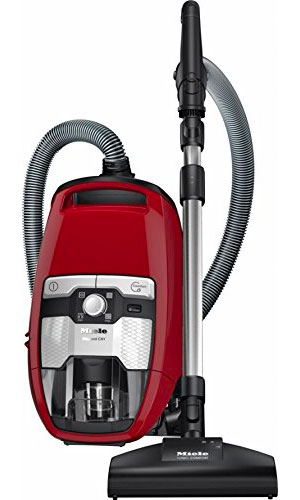 The Blizzard CX1 Cat&Dog differs from most of the more traditional Miele range as it is bagless. It uses their vortex technology.
This gives very good and efficient cleaning with the EcoTeQ Plus cleaning head, and the HEPA AirClean lifetime filter provides excellent air hygiene.
This cleaner has some really useful features to make using it easy and safe to use. The Park System means you can hook the cleaning head onto the side of the vacuum cleaner, leaving the suction tube in a secure and safe position – no more tripping up over long hoses! The unit is also fitted with 4 castor wheels, making it stable and easy to pull around.
It also has an innovative dust separation feature where coarse dirt and fine dust are emptied separately without unsettling the dust. It is easily emptied too – at the touch of a button the container conveniently empties downwards into your bin. Smart sensors measure the air throughput of the fine dust filter and, if required, automatically activate the ComfortClean self-cleaning function.
A 6.5m long power cord helps give a total reach of 10m which is more than enough for most rooms – although not quite as long as some other machines available.
Like other Miele cleaners, this one features a 890W motor which gives good suction – and is generally regarded to be just as good as the older higher wattage models.

Type: Cylinder
Container: Bagless
Power: Mains
Capacity: 2 litre
Weight: 6.5 kg
Price: £300

14. Miele Complete C3 Cat&Dog PowerLine – SGEF3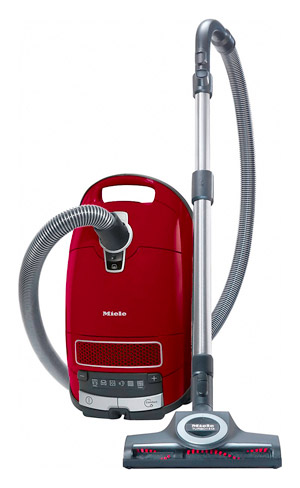 Miele has a reputation for producing very good quality appliances, including vacuum cleaners. The Complete C3 Cat&Dog doesn't disappoint, and has several features that make it ideal for pet owners.
The first one to note is the Turbteq head, which removes hair and lint with a spinning roller. This vacuum also comes with a mini Turbo brush for those harder to reach areas. You also get an upholstery nozzle, dusting brush, and crevice tool, all of which are conveniently stored inside the body of the vacuum cleaner.
This Miele cleaner stands out from most of the other cleaners in our review, as it uses a bag. The bag has a self-closing mechanism with hygienic dust seal, and 9 stage microfibre filtration. This retains more fine dust and small particles than a typical dust bag. Replacement bags can be found here.
This vacuum also has an Active AirClean Filter, which uses active charcoal to help absorb unpleasant odours.
Mains power, and a 890W motor give this cleaner a lot of suction power. The 8.5m long power cord and long suction tube mean it has a large 12m cleaning radius, so you don't need to be too close to a mains socket.
While not particularly cheap, you get what you pay for with this cleaner. With excellent build quality and cleaning performance, it is one to recommend.

Type: Cylinder
Container: Bag
Power: Mains
Capacity: 4.5 litre
Weight: 5.4 kg
Price: £265

15. Neato Robotics Botvac D5 Connected Wi-Fi Navigating Robot Vacuum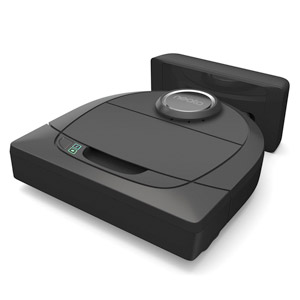 The second robot vacuum cleaner in our list, the Neato Botvac D5 is a more advanced model than the ILIFE V3s, and has a price that reflects that.
Neato Robot vacuum cleaners are different to most robot cleaners in that they have a D-shape design, which means the brush is fitted to the wide, flat end. This allows for a 50% bigger brush than round robots, and allows it to get closer to walls and into corners, and also allows for a bigger dirt bin. The side-brushes also help collect dirt near to the edge of your room.
The Lithium-Ion battery gives a 90 minute run time, and if the area the Botvac is cleaning is very large, it will return to its base mid-clean to recharge. Once fully recharged, it will return to finish where it left off.
This cleaner uses LaserSmart Navigation to help it find its way around, rather than relying on bumping into things. It can also navigate in the dark, making it ideal for cleaning under sofas, or at night. It also comes with 2m of boundary marker tape, which you can place around areas you want the cleaner to avoid.
This particular model sits in the middle of Neato Robotic's range of robot cleaners, and has a couple of features that make it particularly good for pet owners.
It's fitted with a combo cleaning brush which is effective at cleaning pet hair and dust from carpets and hard floors. It also has an Ultra Performance Filter, which has very high cleaning performance and excellent air filtration. This is good for those who suffer from with allergies from pet hair and dander.
Botvac D5 is Wi-Fi enabled so you can connect to the the Neato app on your phone. This lets you control the cleaner via the app, so you can start, stop, pause and schedule from your phone. You can also view cleaning history and statistics from the app dashboard, including a coverage map to see where it has cleaned. You can even control the Neato robot cleaner with smart home devices like Amazon Alexa and Google Home.

Type: Robot
Container: Bagless
Power: Battery (Lithium-Ion)
Capacity: 0.7 litre
Weight: 3.4 kg
Price: £450

16. SEBO 91540GB Automatic X7 Pet Epower Upright Vacuum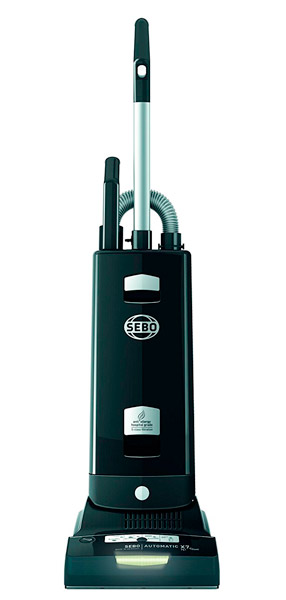 SEBO may not be as well known as the more popular makes such as Dyson, Hoover and Vax, however the 91540GB Automatic X7 Pet Epower is a very highly rated cleaner. Made in Germany, SEBO cleaners are made from high-quality materials, and are well regarded for their excellent performance and reliability.
This particular model has a traditional upright design and is only one of two cleaners in this list to use a bag,
It is well suited for pet owners, as it features a Stair & Upholstery Turbo Brush tool. This is an air-driven brush, which is particularly good at picking up pet hair.
Another feature is the anti-allergy design (approved by the British Allergy Foundation), and activated charcoal integrated into the filter to help remove odours.
The Computer Control System ensures that the cleaning brush is always at the correct height from the floor to give optimum cleaning performance. The brush is also removable for easy cleaning.
The X7 Pet also works when folded completely flat – useful for cleaning under furniture. Other handy features are the lights on the front of the unit, and a very long 10m long power cable. In addition, the 6m hose gives an even longer reach.
With 890W of power, this is one of the most powerful cleaners in this review and gives plenty of suction power. In addition, the 5.3 litre capacity of the dirt bag is the largest in this review, which means you can clean for longer without having to replace the bag. Replacement SEBO bags can be purchased online here.
All in all, this is not a cheap or lightweight cleaner, but if you're looking for something well designed and built, with good performance then this is definitely worth a look. The 5 year guarantee should give peace of mind too.

Type: Upright
Container: Bag
Power: Mains
Capacity: 5.3 litre
Weight: 7.4 kg
Price: £400

17. Shark NV681UKT Powered Lift-Away TruePet Vacuum Cleaner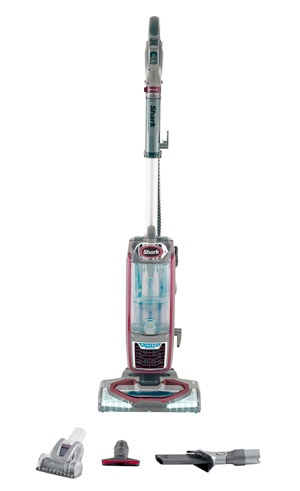 The Shark NV681UKT may not have the most catchy name, but it has some unique features.
The most obvious is one called Lift-Away, which means the main unit can be removed from the cleaning head at the click of a button, turning this upright vacuum into a portable vacuum cleaner. Powered Lift-Away goes one step further, delivering power directly to the cleaning head, driving the brush roll to rotate, unlike other cleaners that rely on suction alone.
This has two advantages – one is that you can get the cleaning head into tighter spots than with the main unit in place. The other is that you can carry just the main unit which weighs just 2.7 kg, making it easier to clean harder to reach areas.
This cleaner gets its TruePet name as it is comes with a motorised brush attachment that helps removes pet hair. This upright cleaner is also fitted with a HEPA filter, as well as Shark's Anti-Allergen Complete Seal Technology. This means the NV681UKT captures 99.9% of dust and allergens 0.3 microns or larger in size.
Although powered by the mains, the 8m power cord and 1.8m hose gives this cleaner a decent range. The mains-powered 750W motor also gives plenty of suction power, although the 1.1 litre dirt container is a little small compared to some competitors.
Like the SEBO vacuum, Shark vacuums also come with a 5 year guarantee.

Type: Upright
Container: Bagless
Power: Mains
Capacity: 1.1 litre
Weight: 6.3 kg
Price: £190

18. Shark HV390UKT DuoClean TruePet Corded Stick Vacuum Cleaner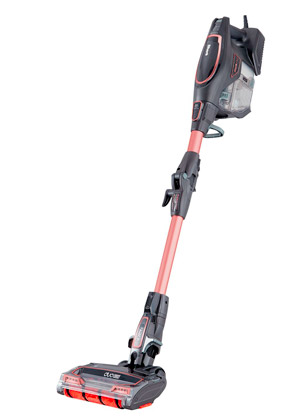 The second vacuum cleaner from Shark in our roundup is the HV390UKT DuoClean. This is unique in that it is the only mains-powered stick vacuum in our review giving the convenience of the stick design, with the cleaning power and endurance of a mains-powered cleaner.
Unique to Shark, DuoClean Technology features 2 brush rolls in one vacuum head. This means you don't need to switch heads when moving from carpet to hard floors.
This cleaner also features what Shark call Flexology – which allows the cleaning wand to bend at the click of a button. This makes the vacuum really easy to use to clean under low furniture, and also to store in small spaces.
Like other stick vacuums, this model can easily convert into a handheld vacuum – although this one is mains powered, so wouldn't be as useful if you wanted to use it outside your home, e.g., cleaning pet hair from your car.
Being a TruePet model, it also includes Shark's Motorised Pet Tool, purposefully designed to remove pet hair from floors and furnishings. It's also fitted with a HEPA filter, so is ideal for people who suffer from pet allergies. The 0.99 litre dirt bin is the largest of all the stick vacuums in our roundup, so although not huge it is good for this type of vacuum.
It uses a 450W motor, and is fitted with a long 10m power cable so although you do need to plug it in to the mains, you have plenty of reach.

Type: Stick
Container: Bagless
Power: Mains
Capacity: 1.5l
Weight: 4.8 kg
Price: £270

19. Vax Air Lift Steerable Pet Upright Vacuum Cleaner UCPESHV1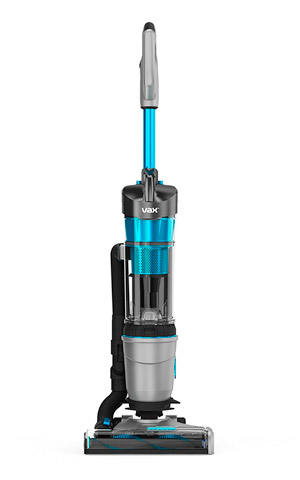 Vax is another well-known name assicated with vacuum cleaners, and this UCPESHV1 Upright is one example from their range designed for pet owners.
The steerable design allows you to twist and turn around your furniture with a flick of the wrist, making cleaning easier.
At 6.2kg in weight, this is relatively light for a mains-powered upright cleaner, and can be made even lighter by removing the main cleaning unit. Simply lift off the cylinder and carry it with you to clean harder to reach places like stairs.
This cleaner also comes with a TurboTool attachment – a powered brush to help remove embedded dirt and pet hair. It also comes with an additional Fur & Fluff tool, designed to tackle pet hair.
The 950W motor gives plenty of suction, and with a 10m power cable and 1.8m hose this cleaner has plenty of reach.

Type: Upright
Container: Bagless
Power: Mains
Capacity: 1.5 litre
Weight: 6.4 kg
Price: £130

20. Vax Air Stretch Pet Cylinder Vacuum Cleaner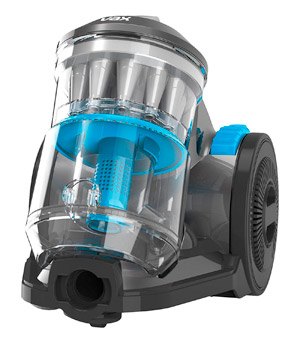 The Air Stretch Pet is the second vacuum cleaner from Vax to appear in our review.
This is quite a basic design, which is reflected in the price – at around £100 it is the cheapest cylinder vacuum cleaner in this review.
It has all the basic features you need though, including Vax's TurboTool attachment – a powered brush to help remove pet hair from carpets and furnishings.
With the 6m long power cord and 4.2m hose extension, this cleaner has a useful 12m reach.
The 850w motor gives decent performance, and the 1.5 litre dirt bin is a decent size, meaning less stops for emptying.

Type: Cylinder
Container: Bagless
Power: Mains
Capacity: 1.5 litre
Weight: 5.5 kg
Price: £100
Please note that the details here are provided for information only, and while we use our best endeavours to ensure they are accurate, you are recommended to check these yourself before making a purchase.