Last updated: June 22nd, 2022
While you are not obliged to have pet insurance, it can be very useful to cover unexpected vets' bills if your pet was to become ill or injured. This is even more important if you don't have enough savings or disposable income to pay for treatment yourself.
Most pet insurance policies offer cover for cats and dogs, and usually rabbits too. Insurance for horses and more exotic pets such as reptiles is also available, but not as common as cat and dog insurance.
It is worth taking the time to compare pet insurance policies to make sure you pick the best one from the start, as it can be difficult to switch policies later on. In this article, we highlight the different types of pet insurance available, and what to look out for when deciding which policy to buy.
Do I Need Pet Insurance?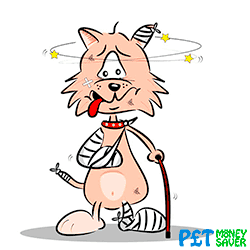 We all hope that nothing will ever happen to our pets, but unfortunately accidents can happen, and your pet may become ill. There is no NHS for pets, so paying for any treatment your pet may require can be expensive. Even a small injury can result in a bill of several hundreds of pounds, and treatment costs of many thousands of pounds are not unheard of, especially if you want to make sure your furry friend gets the best possible treatment available.
Figures from the Association of British Insurers in 2014 show that the average claim made on pet insurance is over £600. An overnight stay at the vets can cost £300, if your cat needs treatment for Cystitis that could cost £500 and treating your dog for Gastric Dilation Volvulus could result in a bill for £2,000. If your pet develops an ongoing condition, treatment can cost many thousands of pounds.
For many of us, coming up with the money to pay these bills at short notice may not be possible, so pet insurance is an effective way to give you peace of mind, and ensure you can get the best treatment for your pet without worrying about the cost.
Pet Insurance Alternatives
If you are in the fortunate position of having sufficient disposable income or savings to pay for any treatment that your pet might need, then you don't necessarily need pet insurance as you could self-insure. However you have to be realistic about how much you will save, and bear in mind that your pet may need treatment before you have saved up enough money to cover it.
If you are on a low income, you may be eligible for subsidised treatment or assistance with vet bills from the PDSA or RSPCA.
As a rough guide, the yearly cost of pet insurance is likely to be in the range of £65 – £260 for a cat, and £300 – £840 for a dog, depending on the level of cover you choose. So if you put the cost of the insurance premium away in a savings account, you will have enough to cover the average vets' bill after 2-3 years. However, if your pet suffers a serious injury or has a long-term illness then paying for an insurance policy would be much better value for money.
For dog owners, one thing to consider is that although you may be able to self-fund vet fees, it would be impossible for most people to cover themselves in the event of a liability claim – for example if your dog ran into the road and caused an accident. Bought by Many offer a Liability Only policy which is a low-cost option to provide liability cover, without the additional cost of vet fees cover.
Different Levels of Pet Insurance Cover
Unlike some types of insurance such as motor insurance, there are a number of different types of pet insurance available, and it's important to make sure you get the right cover.
Most pet insurance policies are one of the three listed below, but some providers also offer Accident Only policies which are cheaper. These are not as useful however as the other types of policy, as you are more likely to require cover for an illness.
Time-Limited (Annual)
Time-Limited pet insurance policies will provide insurance cover up to the specified amount for a maximum period of 1 year. The time runs from when the illness starts, or the accident happens. So if treatment starts part-way through a policy and you renew the policy, it will be covered by the next period of insurance until 12 months from the date the incident or illness first occurred.
The amount covered can be per condition, or a total for the year. However if treatment needs to continue for longer than 12 months, it will not be covered and will be excluded from future policies as a "Pre-existing condition".
Maximum Benefit (Per Condition)
Maximum Benefit pet insurance, also known as "Per Condition" cover is the mid-range level of pet insurance, and gives cover for a set amount per condition as long as the policy is active. So if you continue to renew the policy, you will be able to make multiple claims for a single condition as long as the total claim amount is within the vet fees limit of the policy.
Lifetime
Lifetime pet insurance policies provide the most comprehensive cover, but are also the most expensive. This type of policy will provide cover for conditions such as arthritis which can require treatment over a long period of time, often for life. These policies will provide cover up to the yearly limit as long as the policy continues to be renewed.
The amount of cover provided can be either per condition, or in the majority of cases, a total for the year depending on the particular policy. The cover limits are generally higher than the other types of pet insurance, however these policies have to cover all conditions that may need to be treated during the year.
What is Covered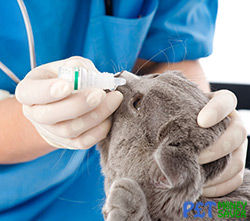 In addition to the basic vet fees cover, pet insurance policies can provide cover for a number of other expenses. For example, some policies will also pay out if your pet dies, is lost or stolen, or damages a third party's property. Certain policies will also provide cover when travelling abroad. The amount of cover provided can vary between policies, so it's important to decide what is important to you, and look for a policy that provides sufficient cover for your requirements.
Accidental Damage – Cover for accidental damage to other people's property is also available with some policies, so if your dog chewed up someone's sofa then you could claim on your policy for the cost of repair or replacement.
Complementary Treatment – many policies will cover treatment such as Acupuncture, Physiotherapy and Hydrotherapy.
Death – Some policies will cover the purchase price of your pet if they die from injury or illness – although these often have upper-age limits, so always check the Terms and Conditions carefully.
Dental Cover – Some policies exclude treatment for dental illnesses and only cover dental treatments related to an injury, while other policies will cover dental treatment only if your pet has a dental exam carried out in the 12 months before the injury or illness was first noted.
Kennel or Cattery Fees – Most policies will pay for the cost of boarding your pet in a licensed kennel or cattery, and/or for a pet minder, if you or a member of your family is admitted to hospital for more than a specified period (usually 4 days), and no other member of your family is able to look after your pet.
Lost or Stolen Pets – Some policies will cover the cost of advertising and a reward to be offered for a lost or stolen pet, and will also pay out if the pet is not found or recovered within a specified timescale.
Pay Vet Fees Direct – Usually when your pet receives treatment, you will be expected to pay the vet yourself, and then submit a claim to your insurance company to reimburse you for the costs, minus any excess. If the treatment is expensive, then this could be difficult for you to pay – after all, you took out insurance so you wouldn't have to suddently find several thousand pounds! Fortunately, some insurance companies will pay the vets directly, although this also depends on the vet you are using, as some will require the fees paid upfront. You will always need to check beforehand that both your insurance company, and your vet will allow the insurance company to pay the vet directly.
Put to Sleep – Some policies won't pay out to put your pet to sleep or be cremated, but others including John Lewis and MORE TH>N will cover these fees up to a specified amount.
Third Party Liability – This will cover any damages or costs if your dog causes injury or death to another person, or loss or damage to their property. This is not applicable to cats as they are considered to be 'free spirits' and therefore their owners cannot be held accountable for their actions. It is important to have this cover, as for example if your dog runs out into the road and causes a car to swerve into another car, your dog would be held responsible, and a potentially expensive claim could be lodged against you for personal injury and damage. In the most extreme example, if someone was severely injured or killed, the claim against you could be very expensive. Some household insurance policies also provide this cover though, so it's worth checking so you don't end up being covered twice. A cheaper alternative is to join the Dogs Trust, as they offer third-party only cover as part of their membership benefits which costs just £25 per year.
Travel – the more comprehensive pet insurance policies will also include travel cover for your pet if you take them abroad with you, as long as you comply with the United Kingdom Government Pet Travel Scheme – otherwise known as PETS. You can find more information about the PETS scheme here. Foreign travel cover usually has limits on the amount of time you can be outside of the UK, and these can vary between policies. For example, John Lewis Plus and Premier policies will provide cover for 3 trips up to a maximum of 60 days per trip, and Petplan provides 90 days cover in total, with no restriction on the number of trips you make. Some policies will also pay out if you have to cancel or cut-short a trip because your pet goes missing, dies or requires life-saving treatment shortly before you leave.
What is NOT Covered
Most policies have a number of exclusions that are common to almost every insurance provider.
Pre-Existing Conditions
Probably the most common exclusion is that pre-existing conditions will not be covered, so if your pet is already ill when you take out a policy, then treatment for that condition will not be covered.This however doesn't always mean that once you have claimed for a condition you won't be able to claim for the same condition again if you change insurer. For example, injuries from accidents aren't usually excluded, so if your pet was treated for a broken leg, and you then changed insurance policy you should still be covered under the new policy if your pet was unfortunate enough to break a leg again. However, there may be exclusions placed on the leg that was originally broken so future complications from the original injury would not be covered.
It may also be possible to claim again for conditions that have been claimed for previously, as the exclusions for some illnesses can be lifted after a certain amount of time free from the illness. Different insurance companies will have different policies on this, so if you are thinking of changing insurer you should always contact them to confirm whether they would cover a condition that you have previously claimed for.
Another thing to bear in mind is that if you take out one of the lifetime policies and claim for an ongoing condition, it will still be covered for future treatment if you continue to renew the existing policy (subject to claim limits specified in the Terms and Conditions), but if you move to another insurer then treatment for that condition would be excluded from the new policy, so always consider this if you are thinking of changing pet insurance providers.
One pet insurance policy that is the exception to this is the Pre-Existing policy from Bought by Many. This covers conditions that have not received treatment or advice within 3 months prior to the start of the policy.
Routine and Preventative Treatment
Pet insurance policies will usually not cover routine and preventative treatments, such as vaccinations, flea or worming treatments, nail clipping or grooming.
Other Exclusions
These include the age of the pet (usually the pet has to be at least 8 weeks old when cover starts), and any illness that starts in the first 14 days of cover. Commonly, dogs registered under the Dangerous Dogs Act, or used for racing, commercial breeding, or security purposes are also excluded. Some pet insurance policies also exclude paying out for food, even if it prescribed by your vet to treat a condition.
How Much Cover Do I Need?
The level of cover available for each policy type varies considerably, so how do you know which one to choose? For example, Maximum Benefit policies range from £1,000 to £7,500 cover per condition, and Lifetime policies range from £3,000 to £12,000 per year.
It is worth speaking to your vet to get a indication of how much you should cover your pet for, as certain pets are more susceptible to particular conditions. For example, some breeds are prone to hereditary conditions which would mean a higher risk of illness. On average, claims for dogs are higher than for cats.
It is suggested that you have at least £6,000 of cover per year for a Lifetime policy for a dog, and £3-4,000 for a cat. These figures are just a guide though, but if you choose cover that is too low, you could still find yourself having to pay several thousands of pounds on top of what is covered by your policy.
How Much Will Pet Insurance Cost?
The cost of your policy will vary depending on a number of factors. The type and breed of animal is a big factor, as is the age of your pet, and also where you live. Pet owners in London for example will usually pay more than owners in cheaper parts of the country, due to vet fees being higher in the capital. Pedigree breeds are generally most expensive to insure than crossbreeds, and breeds that are prone to particular medical conditions that are expensive to treat will have higher premiums too. Older pets are more likely to require treatment, so it's not unusual for premiums to rise as your pet gets older to reflect the increased risk of incurring vet fees. The sex of your pet can also influence the cost of insurance cover, for example male cats are often more expensive to insure than females as they are more prone to suffering from blocked bladders.
The cost of a pet insurance policy can start at a figure of as little as several pounds per month, but the more comprehensive policies can be ten times that amount, and in rare cases have been known to be as high as several hundred pounds per month. The best way to find out the cost is to decide what level of cover you require, and take a look through the policies listed on this site to see which ones offer that level of cover. Then click on the link to visit the websites of the companies you think offer the policies that match what you want, and fill in their online quote forms to get a price. It's always a good idea to read the detailed Terms and Conditions for the policy on their website too.
Who Actually Insures My Pet?
When you are looking to choose a pet insurance policy, it's useful to know who will actually pay out in the event of a claim. The underwriter is the insurance company who will provide the cover, but most of the time there will also be another company (or two) who sells and/or administers the policy. A small number of pet insurance companies are owned by large insurance companies – Petplan is owned by Allianz, and MORE TH>N is owned by RSA (formerly known as Royal & Sun Alliance).
Other companies such as John Lewis, the Co-Op and Sainsbury's sell policies that are arranged, administered and underwritten by the insurance company (most commonly Allianz or RSA). Things get a little more complicated however when you look at companies such as Protect Your Bubble and Argos, as these act as an intermediary to a broker (for example BDML Connect Limited) who arrange and administer the policy, which is underwritten by the insurance company.
Even if you are comparing policies from two companies who use the same underwriter, it's always worth checking the small print as the policies are often slightly different.
Excess
As with most other types of insurance, you will usually be required to pay an excess when you make a claim on your pet insurance policy. This amount can vary, with some policies requiring you to pay a fixed amount, some require a percentage of the final bill, and others being a combination of the two. The excess can also vary with the age of your pet, with some policies charging a higher excess once your pet is over a specified age.
One policy that does not require you to pay an excess is the Regular policy by Bought by Many.
Pet Insurance for Older Cats and Dogs
If your pet is above a certain age, don't worry – it is still possible to take out a new pet insurance policy for them. However there is less choice as some insurers will only allow you to take out new policies if your pet is under a certain age. This is usually 10 years for cats, and 8 years for dogs (5 years for certain "select" breeds).
Once the insurance is in place, it will continue to cover your pet for life, provided you continue to renew the policy. The one caveat is that cover for Death by Illness will stop once your pet reaches a certain age, however all other cover will remain in place.
Cheaper Pet Insurance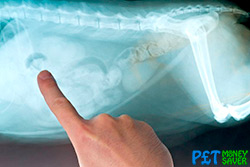 The amount you pay will mostly be based on the age and breed of your pet, and the area you live in. Other factors, such as the sex of your pet can make a difference too – for example male cats are often more expensive to insure than females as they suffer more from blocked bladders.
Pedigree breeds, or breeds that are prone to particular medical conditions will usually cost more to insure than crossbreeds. Older pets will also cost more, as they are more likely to require treatment. Your location makes a difference too, as vet fees in certain parts of the country (e.g., London) are higher than other areas.
Shop Around
It is possible to save money by shopping around and getting quotes from several different providers, as they may calculate the risk of paying out for your particular pet differently to others. In addition, you can save money by looking for a pet insurance policy that doesn't include cover that you don't need.
It is also worth researching which providers commonly increase premiums if you make a claim. Petplan are one of the few who don't include claims history when they calculate premium increases for renewals. So although they can appear expensive initially, it may work out cheaper in the long run compare to a policy that becomes a lot more expensive in future years.
First Year Discount
Many insurers offer an attractive discount for the first year if you buy online. However, you should bear in mind that a higher introductory discount may seem appealing to start with, but it will mean that premiums in future years are that much more expensive once the discount is removed.
Additional Benefits
Many providers provide additional discounts when you insure multiple pets with them, or give additional benefits if you have a different financial product from their parent company. For example, M&S Cardholders will receive up to 3,000 M&S points when they take out a new pet insurance policy, and MORE TH>N offer an additional 15% discount if you are an existing customer. Bought by Many also offer a MoneyBack policy where you get 20% of the premium back if you don't have a paid claim in the year.
Pet Insurance Top Tips
Regular/preventative treatment such as annual vaccinations is not covered; however, you will need to keep up with these otherwise you won't be covered for certain illnesses.
Take out insurance when your pet is young and healthy. If you wait until they are older, some insurers won't take out new policies once pets reach a certain age, and existing conditions may not be covered.
Choose the best pet insurance policy from the start. If you don't have sufficient cover, you may not be able to claim for conditions that need expensive, or long-term treatment.
Shop around, and don't pay for cover you don't need.
When you take out a policy, double-check your Terms and Conditions, and Certificate of Insurance to understand exactly what your policy covers, and how to make a claim.
Find the Best Pet Insurance for Your Cat or Dog
If you would like to compare pet insurance policies from leading pet insurance providers, and view their policies side-by-side, then check out our Pet Insurance Comparison tool.