Last updated: September 6th, 2020
As a dog owner, you will know how hard it is to find a tough dog toy that actually lives up to its name. Visit any online pet shop, and you'll find dog toys being advertised as "Tough" and "Indestructible" but so many of them last just a few minutes. To help you find out which toys live up to their name, and which ones aren't as tough as they claim we have pulled together 15 of the best and toughest dog toys.
Dog toys can help you build a trusting relationship with your pet and promote exercise and activity for both you and your dog. So it is important to find a toy that will survive a lot of playtime, and give lots of enjoyment to you and your pet.
Dogs have incredibly powerful jaws which come in a variety of shapes and sizes, and are armed with numerous teeth which have evolved to chew through just about anything, so it's not surprising that many dog toys don't last very long. Plenty of dog owners know that many so-called "tough toys" won't last 5 minutes, and claims of "indestructible dog toys" are just not true. However some toys are designed to be as close to indestructible as possible, and this article will help you find the toughest dog toys available to buy online.
Safety
It's important to buy toys that are safe, and gentle on your dog's teeth. Some chew toys are too hard and can cause dental problems for your dog. Also some dogs will be able to destroy toys that most others can't, so while the toys listed below are tough – they are not always indestructible! Keep an eye on your dog when they are playing with toys, and remove the toy if they start to damage it.
Choosing the Right Tough Dog Toy
Every dog is different, so when choosing a tough dog toy you need to take into account your dog's habits and personality. Some dogs love to chew, while others love to chase and play fetch, so you need to think about how you plan to use the toy with your dog.
The hardest chewing happens at the back of a dog's mouth. A toy that is appropriately sized will last longer, as your dog won't be able to get it to the back of their jaw. So it's important to choose a toy that is the appropriate size and shape for your dog (most toys come in a variety of sizes to suit dogs of various sizes) and always supervise your dog's use of their toys.
Tough dog toys can be split into two main categories depending on how they are designed to be played with – interactive play toys, or chew toys.
Interactive Dog Toys
These hard-wearing toys are designed for interactive play with your dog, and are tough enough to be thrown, fetched, bitten and even used for games of tug-o-war. They are not designed to be chew toys however, so will most likely be damaged very quickly if you leave your dog to chew on them for any length of time.
Skinneeez Big Bite Bear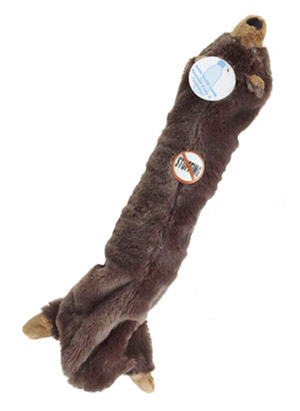 The Big Bite Bear dog toy from Skinneeez is part of their excellent range of stuffing-free soft toys which are great for bringing out the natural hunting instincts of your dog.
These cute soft toys are perfect for your dog to chase and shake, and are designed to be long and floppy so are easy for almost any dog to grab and carry around. They are also ideal if you are fed up with other toys leaving stuffing everywhere.
The lack of internal stuffing and squeakers is definitely one of their plus points, and these toys hold up very well to most dogs biting and tossing the toy around.
This toy adds an exciting new dimension to the usual soft dog toy, as hidden inside the plush toy is a plastic water bottle, which adds extra crunch and noise to your dog's play! The toy has a velcro fastener which keeps the bottle secure, and when the bottle has been crushed, simply undo the velcro and replace with a new (used!) water bottle. So not only is this a tough dog toy, but it also gives empty water bottles another purpose in life!


Zogoflex Bumi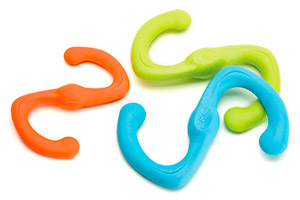 Made from West Paw Design's extremely pliable material called Zogoflex, the versatile Zogoflex Bumi toy is bound to give your favourite dog hours of enjoyment. As you stretch Bumi it will flex out to twice its length, and then bounce back to its curved "S" shape. This toy is also guaranteed tough! West Paw Design are so confident in the durability of their toys, if your dog can damage it, you can get a one-time free replacement or refund from your retailer!
While no toy is indestructible, the Zogoflex Bumi is able to withstand the jaws of most dogs, although it can be vulnerable to the determined chewer, and the inside edges of the "U" where the toy stretches can split if your dog is one of the few who is able to damage the toy. For such dogs, something like the Zogoflex Hurley would be a better choice.


Boomer Ball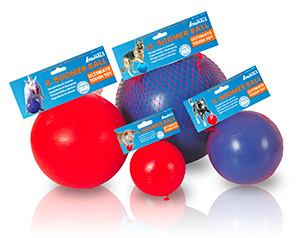 The Boomer Ball from Company of Animals is one of the toughest dog toys available.
It is a simple ball toy, but is made from tough polyethylene which means it is virtually indestructible and most dogs can't puncture the ball or rip it to shreds.
It is available in several sizes, and is designed not to be picked up by the dog so should be a size bigger than your dog can carry in their jaw. The 4″ ball is recommended for breeds like the Dachshund, Jack Russell and Terrier. The 6″ version is recommended for breeds such as the Bulldog, Collie and Poodle. The 8″ version is ideal for breeds like the Boxer, Labrador and Staffordshire Bull Terrier. The 10″ ball is recommended for larger breeds like the German Shepherd and Rottweiler.


Tuffy Mega Ring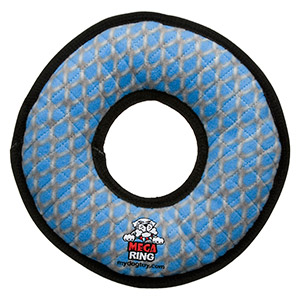 If you are looking for a tough soft dog toy, then this Tuffy Mega Ring is definitely worth considering. You may have seen some of the Tuffy range already, as they sell a variety of toys including farmyard animals, dinosaurs and sea creatures, however the toughest of the tough is their Mega range. Tuffy give each of their toys a score on the Tuff Scale, with most toys measuring between 5 and 8, however this Mega Ring gets the maximum 10!
This toy may feel soft to the touch, but it is tough enough to withstand rough fetch and tug games. It also floats, squeaks and is machine washable.
Most Tuffy toys are made up of 4 layers of material, however this Mega Ring is made from 7! It is constructed from 3 layers of 600 Denier industrial grade material, 3 layers of plastic coating and finally 1 layer of soft fleece. All 7 layers are rolled and sewn together, and then additional industrial grade luggage material is sewn around the outside edge with 3 rows of stitching to cover and protect the first 4 rows of stitching. Lots of layers and stitching mean one thing – tough!
Underneath the 7 layers of material, the squeakers are sewn into a nylon safety pocket for added safety.


Kong Wubba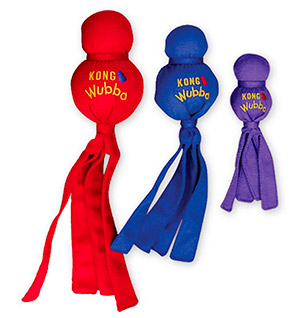 The Kong Wubba is a fun and interactive throw and tug toy for your dog. The unique patented shape, with long material tails will provide hours of interactive fun for owner and dog. Durable reinforced nylon fabric covers two balls, and the long tails make the Kong Wubba easy to pick up and throw. Dogs love to squeak the Wubba, and shake the flapping tails back and forth.
Kong is one of the best known manufacturers of dog toys, and the Wubba is a classic dog toy which has a well-deserved reputation for toughness.
One advantage of this toy is that it isn't filled with stuffing, so if your dog manages to damage it, it won't make a huge mess everywhere.
The Kong Wubba dog toy isn't designed for chewers, so if your dog does like to chew then it probably won't last that long. However for dogs who like to chase and play fetch, this toy is perfect and it generally gets excellent reviews. When you feel the quality of the material you can see why – the tough nylon outer material lasts for ages, and this durable dog toy will provide your dog with fun for a long time.
It is available in several sizes, and a variety of colours to suit pretty much every dog.


Zogoflex Toppl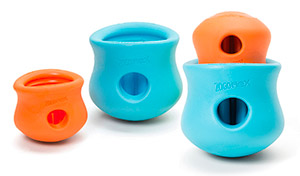 The Toppl from West Paw Design is another of their Zogoflex toys, and this one is a tough puzzle toy to keep dogs entertained and challenged. The Toppl lives up to its name with it's wibbly wobbly behaviour, and like their Tux treat toy, you can stuff it with treats to make playtime more fun and entertaining for your dog.
The Toppl toy comes in two sizes, and you can interlock them both together to make playtime even more challenging for your dog.
Like the other toys in the Zogoflex range, the Toppl is tough, recyclable and safe for your pet. It is also dishwasher-safe for easy cleaning. If your dog does manage to damage or destroy it, you can get a one-time replacement or refund.


Kong Safe Stix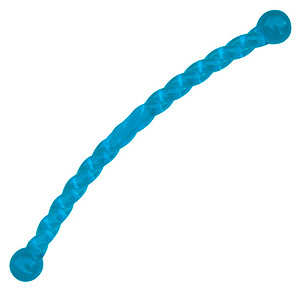 The Safe Stix is a durable and safe toy from Kong that is ideal for throw and fetch games. Playing fetch with wooden sticks can be dangerous for your dog, as it can cause mouth and throat damage, so the Safe Stix gives all of the fun without any of the risk of injury.
Kong are well known for producing good quality and durable dog toys, and this one is no exception.
The Safe Stix is bendy and flexible, and floats too. While it isn't primarily designed as a chew toy, it does withstand chewing very well. It is available in several different colours, and 3 sizes – from 30cm up to 70cm in length.


Kong Jumbler Football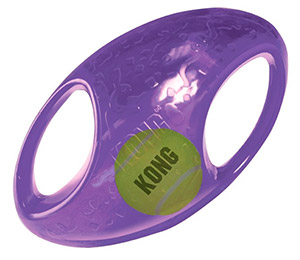 The Kong Jumbler is a relatively new toy design from Kong, who have a well-deserved reputation for making durable dog toys. This one is pretty unique in that it is a two-in-one ball toy. It has two handles, a tennis ball inside, and it squeaks too.
The handles mean it's a great toy for playing games of fetch or tug with your dog, and the shape of it along with the tennis ball inside means it bounces randomly. This makes it more challenging for your dog to chase.
This toy is meant to be used as an interactive toy, rather than for chewing but it is sturdy enough to stand up to tough play.
It is available in two sizes, and two different designs – a round ball, and an oblong rugby-ball shape.


Zogoflex Zisc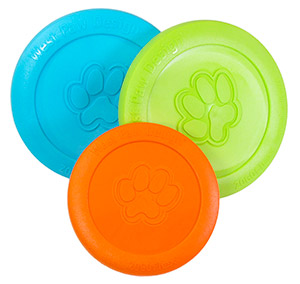 If your dog enjoys playing frisbee, then the Zogoflex Zisc is what you need. Unlike normal plastic frisbees, the Zisc is made from a softer, more flexible material but still flies like a hard plastic frisbee. The pliable material means it's easier for your dog to pick up from flat surfaces, and it is also safer, as it will not hurt them or damage their mouth when they catch it.
Like the other Zogoflex toys reviewed in this article, this toy is non-toxic and dishwasher safe for easy cleaning. It also floats too – ideal if your dog likes playing fetch from water!
This toy is not designed to be a chew toy, but it is durable and resistant to being punctured. It is covered by the same guarantee as other Zogoflex toys, so if your dog damages it you can return it for a one-time replacement or refund.
It is available in two sizes, and several colours including a glow-in-the-dark version.


Chew Toys
While some tough dog toys are not built to withstand lots of chewing, there are toys which are designed to be chewed by puppies and adult dogs. The act of chewing can be soothing, and assists puppies in easing toothing pain. It can also help with bored dogs as they can spend hours occupying themselves with chewing a toy, and it can also distract them from chewing on other items such as your shoes and furniture. They also assist in helping to maintain healthy teeth. Some of these toys are designed to be stuffed with treats to add to your dog's enjoyment.
For the most aggressive chewers, it is recommended that you choose a toy that is perfectly round, and large enough so your dog can't get it to the back of their jaw.
Zogoflex Jive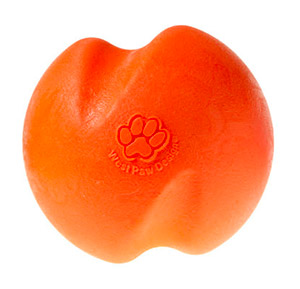 The Zogoflex Jive is West Paw Design's take on the popular dog ball. It's made from their tough Zogoflex material, so is very durable as well as being gentle on your dog's teeth. Unlike some dog balls, the Jive is solid so is quite hard and heavy compared to some – something to bear in mind if your dog likes to play catch. This does however mean it is very durable, and from personal experience these toys are hard to beat for toughness!
The Jive is available in several bright colours, and 3 different sizes. The Mini is around the size of a golfball, the Small is similar to the size of a tennis ball and the Large is over 3 inches wide.
This toy bounces, floats in water and is dishwasher safe too for easy cleaning – just what you need when the toy is covered in dog slobber! Like the other Zogoflex toys, it is recyclable and non-toxic. This toy is also guaranteed tough – if your dog does manage to damage it, you can claim a one-time replacement or refund.


Happy Pet Grubber
The Grubber from Happy Pet is a fun, brightly coloured rubber ball dog toy. It is ideal for playing games of tug or fetch with your dog, and the unique design makes it easy for your dog to pick up and carry.
The Grubber is made from a soft yet durable rubber with little bits sticking out that are specially designed to massage your dog's gums, and help clean their teeth.
The toy is available in two shapes – an orange round ball, and a green rugby ball shape which gives an erratic bounce to entertain your dog.
It is quite a large, heavy toy though, so is more suited to medium and large breed dogs.


Zogoflex Hurley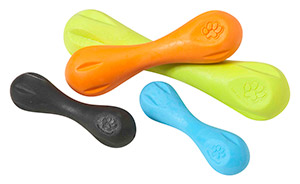 The Zogoflex Hurley is a guaranteed tough dog toy,  with all the fun of a ball and bone in one durable dog toy. Made from West Paw Design's extremely pliable material called Zogoflex, this versatile tough dog toy is designed to bounce, bend and float. A lot of toys are advertised as being indestructible, but West Paw Design are so sure that this toy really is tough, they guarantee it! If your dog can damage it, you can get a one-time replacement or refund.
This dog toy definitely lives up to its claims to being tough, and despite being bouncy and gentle on your dog's teeth, it is also very tough. And if your dog happens to be one of the very small number of dogs who can damage it, then you can take advantage of the one-time replace or refund guarantee.
Like the other toys in the Zogoflex range, the Hurley comes in a variety of sizes and colours, so you'll be able to find one to suit your dog.


Kong Original Extreme Dog Chew Toy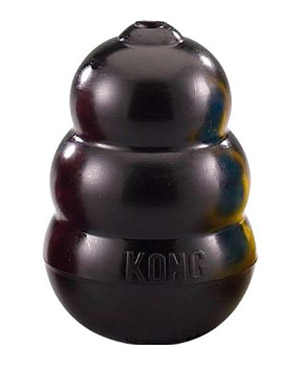 Kong have a well-deserved reputation for making some of the best quality dog toys available, and usually the classic range is tough enough for most dogs. However if your dog needs something even tougher, then you need to look at the Kong Extreme range.
The Extreme is their most durable range of toys, and this chew toy is made from ultra-strong and ultra-durable rubber to survive even the most determined chewers. This chew toy can be stuffed with treats, and is also designed to bounce in an unpredictable way for games of throw and fetch.
Like the Ford Model-T, this toy is available in any colour you want as long as it's black but you can chose from 5 different sizes – from Small up to XX-Large.


Zogoflex Tux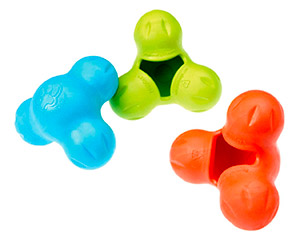 The Zogoflex Tux is the perfect combination of dog treat chew toy and guaranteed-tough Zogoflex. Just like other Zogoflex dog toys, Tux is flexible, durable, non-toxic, recyclable, and it floats too. It is even dishwasher safe for easy cleaning.
Simply stuff your dog's favourite treat into the cavity of Tux and let them play! Peanut butter, biscuits, and even meaty treats can be stuffed inside the toy to add to your dog's enjoyment. Tux is an interactive treat toy and was designed to withstand chewing, so it will give your dog plenty of fun – with or without a treat inside!
No dog toy can claim to be 100% indestructible, but Tux is pretty close to it, and West Paw Design are so sure of their toy's durability they offer a one-time replacement or refund guarantee! Just get in touch with your retailer to find out more.
Like the other toys in the Zogoflex range, the Zogoflex Tux is very tough, and lives up to the manufacturer's claims. It's a simple toy, and doesn't have the weak spots that some other so-called tough toys have, so stands up well to even the most determined chewers. It is well rated by other dog owners too, and scores very highly for toughness.
As with all other toys, some dogs do have a knack for destroying it, but this is relatively rare with the Tux. So if you're looking for a tough treat toy, the Tux is highly recommended.


Planet Dog Orbee-Tuff Diamond Plate Ball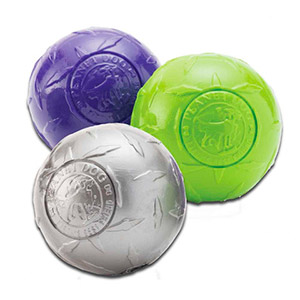 There are quite a few dog ball toys on the market, but the Orbee-Tuff ball from Planet Dog is one of the best, and has won awards from multiple magazines. This version is the Diamond Plate ball, which is one of their most durable versions of this popular toy. Planet Dog rate their toys on their own Durability Scale, and this one is rated the maximum score of 5 out of 5.
The mint-scented Diamond Plate ball is fairly bouncy, durable and it floats too. The inside is hollow, which gives the ball a bit of give when chewed. This squidgy-ness is soothing for your dog, and helps the toy last longer. You can also stuff the hollow part with treats for added enjoyment for your dog.
The toy is recyclable and made from non-toxic materials so is safe for your pet.
The Diamond Plate ball is only available in one size (3.25″ in diameter), but other designs of the ball are available in different sizes and colours.