Last updated: July 27th, 2023
These days, there seems to be an app for everything. With just a few taps on your phone, you can get food delivered from your favourite restaurant, order a taxi and track your fitness. Did you know though that there are a number of apps and smart tech pet products that make your pet's life even easier?
We have been researching the latest high-tech pet gadgets, and have put together this review of what we think are some of the best available to buy right now.
What is a Smart Pet Product
Smart pet products are devices for pets that link up to your smart phone to provide additional functionality. Typically they connect to your phone via WiFI or Bluetooth, and require an app to be downloaded.
Best Smart Pet Products Review
Furbo Dog Camera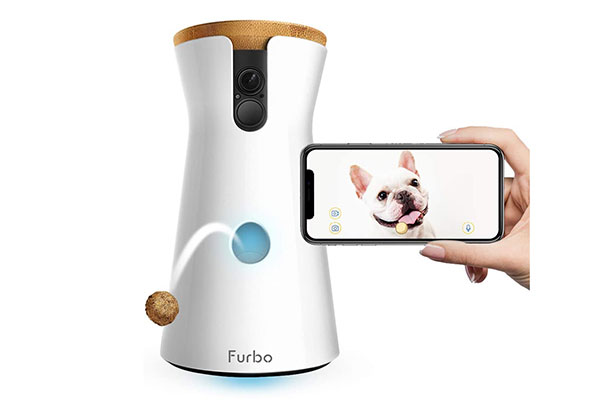 The Furbo Dog Camera isn't just a dog camera – it's a dog camera with several high-tech features. Not only can you watch your pet in high-quality video, but by downloading the Furbo app you can also speak to your dog via the built-in 2-way audio, be alerted via your phone when your dog is barking and even toss treats to your dog remotely.
The main part of Furbo is a full 1080p HD camera with 160° wide-angle, 4x zoom and night-vision. It also has a high-quality microphone and built-in speaker, so not only can you hear your dog but they can hear you too! If Furbo detects your dog barking, it can send alerts to your phone. This enables you to then talk to your dog and calm them down.
It's also possible to toss treats to your pet via the app – Furbo has storage capacity for approx. 100 treats, and will take most common treats as long as they are small enough to fit through the dispenser (up to 1cm diameter work best).
Furbo also works with Amazon Alexa, so you can request Furbo to toss a treat just by asking Alexa.
In addition, you can take out a subscription to Furbo Dog Nanny, which offers additional features including recording on the cloud, so you can play back moments you may have missed. It will also send alerts if it detects a person in view, and records a daily doggy diary of your dog's activities.
Specifications:
Size: 22.5cm (H) x 12cm (D)
Weight: 948g
Power Supply: USB (2m cable supplied)

Petkit Smart Cozy Pet Bed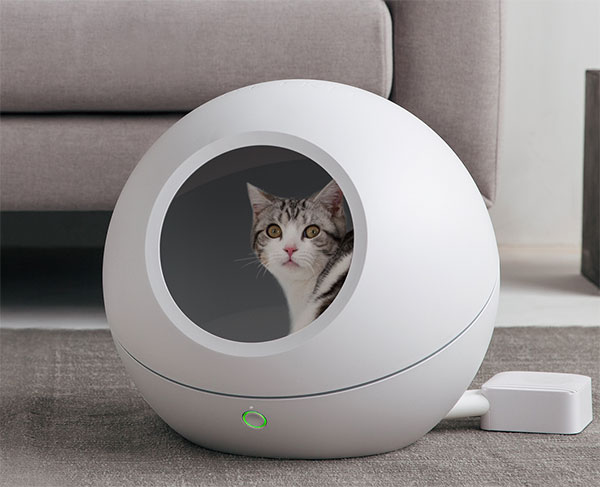 The Petkit Smart Cozy Pet House bed isn't just a cat bed. It's probably the most high-tech luxury cat bed on the market, and ideal for tech-loving cats and their owners. It's made by a company called Petkit, who are a high-tech company dedicated to designing and producing smart products for pets.
This smart cat bed is both cooled and heated, and integrates with the Petkit app (which you can download to your smartphone).
The bed is plugged into the the mains using a 6V transformer, so the voltage inside the bed is very low. There are 7 temperature settings ranging from cool to warm, and you can select these from within the app, so you can control the temperature remotely. The bed will heat up in winter, and cool down in summer to ensure your pet always has the most comfortable temperature. The app will also display the current temperature inside the bed as well as the room outside.
It also features a hidden infrared sensor within the bed that monitor the times your pet spends inside. This is recorded within the app, so you can monitor your pet's sleeping patterns.
The simple yet sleek design is very modern, and the outer shell is made from high quality plastic. The top section can also be removed if your pet prefers a more open style of bed.
The internal cushion is removable, reversible and can be wiped clean or machine washed (just don't tumble dry).
Size: 48cm (H), 48cm (W), 49cm (D)
Power: 18W

PitPat Dog Activity Monitor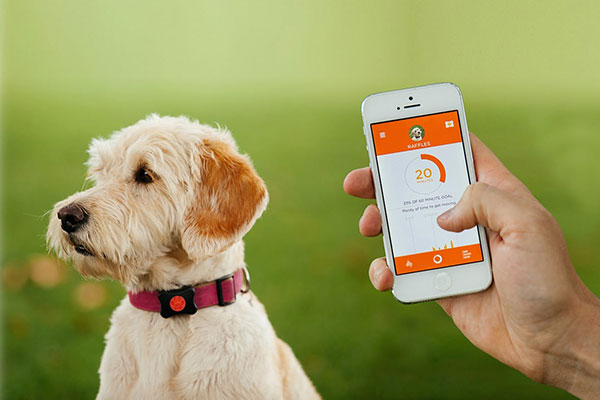 The PitPat dog activity monitor is like a Fitbit for dogs. It attaches to your dog's collar or harness with a velcro strap, and communicates with an app installed on your smartphone.
First, you'll need to downloaded the app, which is available on the Apple App Store and Google Play for iOS and Android devices respectively. Once installed, you'll be prompted to enter details about your dog, including breed, date of birth and weight. From this, the app can calculate recommended daily exercise goals specific to your dog, and can also more accurately calculate calories burned.
You'll then need to pair the app with the PitPat device, which is done within the app – your phone needs to be within Bluetooth range for this to work. You're then ready to start tracking your dog's activity!
The three-axis accelerometer within the device captures your dog's movement, and stores it for up to a week. When you want to send this to the app, simply press the "Fetch Data" icon within the app and then press the orange paw button on the PitPat to transmit any data it has recorded. Once transferred to the app, it will keep a record of all data and displays a summary of activity over time.
The app gives you a daily breakdown of your dog's activity by time, showing how much time they've spent resting, walking, running or playing. It also provides an estimate of how many calories your dog has burned, and how far they have walked or run.
It also suggests exercise recommendations based on your dog's details and you can set and track targets too.
The PitPat uses a replaceable CR2032 battery, and this will last for up to a year which is very good compared to similar devices.
If you have more than one dog, then you can register multiple PitPats in the app so you can track them all on your phone.
Specifications:
Tracker technology: Three-axis Accelerometer
Size: 34mm x 32mm x 15mm

Weight: 16g

Waterproof: Yes (IP67)
Battery Life: 1 year
Recharge Time: N/A
Removable Battery: Yes (CR2032)

SureFlap Microchip Cat Flap Connect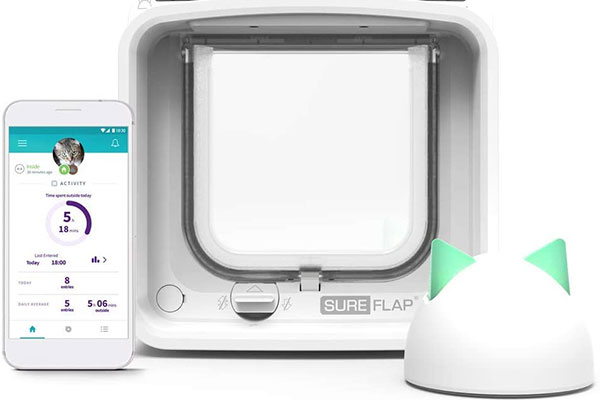 The Cat Flap Connect from SureFlap is quite possibly the most advanced cat flap available to buy at the moment. Not only does it allow exit and entry to only your pets (up to 32 different cats) based on their microchip, but it also connects to the Sure Petcare app for even more features.
The SureFlap connects to your home router via the supplied hub, which enables it to send information to the Sure Petcare app. The app allows you to do a number of things. You can lock and unlock the door remotely – ideal if the weather forecast is bad and you want to keep your cat inside. You can create a schedule for when the door is unlocked, and adjust this from anywhere via your phone, and also set different exit permissions for each cat. For example if one cat is ill and has to remain inside, you can configure the flap to not allow them to exit, however other cats would be able to leave freely. There is a "curfew" mode which during the specified time only allows your cats to enter, but not leave.
The app also gives you insights into how often the are going outside, and for how long which is a useful tool to monitor their health long-term. You can receive notifications when your cat enters or leaves your house via the SureFlap, and also see if any other animals have been trying unsuccessfully to gain access.
The SureFlap works with all common microchips, and will also work with SureFlap RFID collar tags if your pet doesn't have a microchip fitted. It requires 4 x AA batteries to operate, which last for up to 6 months.
Specifications:
Flap dimensions: 142mm (W) x 120mm (H)

Battery Life: 6 Months

Weenect Cat and Dog GPS Tracker
One of the most useful smart devices you can buy is a GPS tracker for your pet, and the Weenect tracker is one of the best we've found. You can find a review of other pet trackers here.
Weenect sell two very similar GPS trackers for cats and dogs – the Cat GPS, and the Dog GPS. Despite the different names, they have exactly the same functionality, and only the colour and branding is different. It's a small and light device, and securely attaches to your pet's collar or harness with the supplied silicone rubber case.
The tracker uses GPS for location tracking, combined with a 2G cellular data connection which means you can track your pet from anywhere in the world, as long as you have a data connection for your phone.
It comes supplied with an in-built SIM card that enables it to connect to any 2G data connection. To use it, you'll need to sign up to a subscription package with Weenect (from €3.75 to €7.90 a month depending on how long you sign up for).
You'll also need to download the Weenect GPS app, which is available for iOS and Android. It offers live location tracking with a map view, and also an augmented reality view which is a feature not many other trackers offer. This overlays an icon showing the distance and direction of your pet over a live view from your phone's camera.
You can also see where your pet has been, with a location history. This tracker has a feature where it also shows you how long your pet has been in a particular spot – handy for seeing where your cat likes to nap.
It's also possible to set up an unlimited number of Geofence security zones, so you'll be notified by the app if your cat or dog enters or leaves this area.
The Weenect tracker has some other really cool features too. By pressing a button in the app on your phone, you can make the device vibrate or ring. By associating this vibration or sound with food, you can train your cat to come home at the press of a button. The ringing noise also makes it easier to locate your cat or dog if they are hiding nearby. This is also handy if your pet loses their collar, as it makes it easy to find even if the collar is hidden under a bush for example.
Another feature allows you to call the device and have a two-way conversation with your cat or dog! Or more likely, to talk to anyone nearby if your pet becomes lost.
The battery lasts for up to 4 days, and is charged by placing the tracker in the charging cradle, which is powered via USB.
The app allows you to track more than one pet, although you'd need to purchase additional devices, and pay the subscription fee for each one.
Specifications
Tracker technology: GPS + Cellular
Size: 58mm x 23mm x 10mm
Weight: 25g
Waterproof: Yes (IP67)
Battery Life: 4 days
Price: £50 + Subscription (approx £3.20 to £7.20 per month)