Last updated: October 12th, 2020
Everyone knows that cats like to sleep (find out more in our blog post about why cats like to sleep). In fact, they spend an average of 16 hours a day sleeping so if anyone needs a good bed, it is our furry feline friends. However finding a cat bed that they like is easier said than done! There are so many different cat beds available to buy, with a wide range of styles, sizes and prices. Although cats seem quite happy to sleep anywhere, they will always appreciate having a comfortable cat bed they can call their own, so it's well worth spending some time trying to find the right bed.
To help you in this search for the purr-fect bed for your pet, we have put together this review of the best cat beds available to buy online in the UK at suppliers such as Amazon, Pets at Home and zooplus. Even the most fussy cat will find it hard to resist one of the fantastic cat beds that we have found – check them out, and see what you think!
Contents
Types of Cat Bed
What to Look for When Buying a Cat Bed
Tips to Help Your Cat Sleep in Its Bed
Frequently Asked Questions
Best Cat Cave Beds
Best Heated Cat Beds
Best Donut Cat Beds
Best Radiator Cat Beds
Best Window Cat Beds

Types of Cat Bed
Cat beds are available in a range of different styles and sizes, so before you invest in a new bed, first you need to decide which type to buy. There are several different varieties of cat bed, each with their own advantages.
Cat Cave or Igloo
Cats like to sleep in enclosed spaces, as it helps them feel warm, safe and secure. Cat caves, dens, pods or igloo beds are ideal for this, as they are fully enclosed, with just one opening. This type of bed can have a soft or hard outer shell, and usually have additional padding inside to give your cat a comfortable resting place.
These beds can vary in size, so if your cat is larger than average, double-check to make sure they can fit in it.
Jump to read our review of the Best Cat Cave Beds.
Heated Cat Bed
There are three main types of heated cat bed. Electric heated cat beds are warmed by a small electric heater. Self-heated cat beds don't require any external source of heat, but instead use the warmth from your cat's body to warm them up. You can also buy microwaveable pads, which will retain heat for anything from 30 minutes to a number of hours. These are typically placed under a blanket or bed cushion to provide additional warmth.
These beds are ideal for elderly cats, or cats who suffer from sore joints or arthritis. They are also a great idea if your house is particularly cold during the winter, and also useful for cat breeds such as the Sphynx who lack a fur coat.
These can also help save money too – if you're out at work during the day, it doesn't make sense to keep the heating on just for your cat. It's more efficient to just heat your cat's bed instead.
You can also buy cooling mats for cats, which as the name suggest help keep your cat cool – these are ideal for hot summer days.
Jump to read our review of the Best Heated Cat Beds.
Marshmallow or Donut Cat Bed
Marshmallow or Donut cat beds look a bit like giant marshmallows or donuts. They are also as comfortable as you would imagine sleeping on a giant marshmallow would be. They can be a flat bed, or have raised sides so your cat can curl up surrounded by the outer ring of the bed.
This type of bed is ideal for cats who like to sleep without a roof over their heads,
They come in a range of different sizes, so go for one suitable for the size of your cat. If it's too big, they won't get the advantage of being able to curl up and feel snug resting against the side. If it's too small, they will end up hanging over the edge.
Jump to read our review of the Best Donut Cat Beds.
Radiator Cat Bed
As the name suggests, cat radiator beds are designed to clip on to radiators. This has two advantages – they are warm places to sleep when the radiator is on, and they are also raised off the ground. Cats like being up high as it helps make them feel secure, which comes from their instinct to protect themselves. A high sleeping position gives them an advantage for spotting any potential dangers around them.
There are two main types of radiator cat beds – simple platforms made from a frame covered in fabric, or enclosed tubes with padded bedding inside.
Jump to read our review of the Best Radiator Cat Beds.
Window Cat Bed
Window cat beds are designed to be attached to a window, and give your cat a raised platform for sleeping, sunbathing and also to sit and watch the world go by outside. Like radiator cat beds, these are great in that they give your cat an elevated position to sit or sleep on, which helps them feel safe. For indoor cats, these can be really beneficial as it allows them to check out what happens outside from the safety of indoors.
These are available in a few different forms. The simplest is the cat window perch or hammock, which is usually a frame covered in fabric. You can also buy box beds that are enclosed, and also more futuristic pods.
Most window cat beds attach to the window with rubber suckers, although some also attach to the window sill. Most of these beds have a maximum weight capacity, so bear this in mind if your cat is a little on the chunky side, or a large breed.
Jump to read our review of the Best Window Cat Beds.

What to Look for When Buying a Cat Bed
Cost
While we all want to give our cats the best, for most of us we need to work to a budget and get the best value for money. Cat beds can range in price from under £10 to well over £100 for a luxury cat bed so it's good to have a budget in mind.
While the low price point of cheap cat beds may seem appealing, you often get what you pay for. If you compare two beds of the same style with different prices, the cheaper one may lack the quality of the more expensive version.
Material
Luxury cat beds are made from higher quality materials that will generally last longer, and be more comfortable. It's also good to buy beds made from material that is non-looped, so your cat doesn't get their claws caught in it.
Size
Cat beds come in various sizes to suit all types of cat, so it's good to double-check the size of the cat bed you're purchasing to make sure it's a good fit.
A raised or elevated cat bed is great for cats who don't feel comfortable sleeping on floor level. However they may not be so suitable for elderly cats who can't get in to it so easily.
Washable
Cat beds will also get dirty over time, so it's a good idea to look out for beds made from washable materials. Some beds can be washed as they are, while others are fitted with removable cushions or covers. Usually this is mentioned in the advert for the bed, and there will also be a label on the material with washing instructions. Some beds may only be suitable for hand-washing, but this should be made clear in the description.

Tips to Help Your Cat Sleep in Its Bed
As cat owners, it's an all too familiar feeling to buy your cat a new item, whether it's a toy, bed or scratching post and they seem more interested in the packaging it comes in. Having spent your money buying your cat a comfortable new cat bed, how can you be sure they will actually use it?
If your cat has a favourite spot already, try placing the bed there. This is likely to be somewhere quiet and warm.
Place your cat's favourite blanket onto the bed (if they have one), as the unfamiliar smell of the new bed may put them off. You can also try putting some of their favourite toys into, or near the bed.
If the bed has a removable cushion, try placing this in your cat's favourite sleeping spot so they become familiar with the smell. Once they start sleeping on the cushion and it smells of them, you can try putting it back in the bed.
Try positioning the bed off the ground, as cats generally like to sleep high up. Always make sure it's secure though, and that it won't fall off if they jump into or out of the bed.
Don't force your cat to sleep in the bed, as they will associate the bed with this stressful behaviour, and will be even less likely to sleep in it.
Be patient – sometimes cats will take a while to get used to a new bed, but once they become comfortable with this new item they will be curious to try it out.
Frequently Asked Questions
What is the Best Bed for Older Cats?
As cats get older, their requirements for a bed change slightly. Older cats aren't able to rush around so quickly, so prefer a bed where they feel safe and secure. Enclosed beds such as cat caves or igloos are ideal for this. Beds with easy access are also ideal for older cats who may not be as mobile as they used to be, so look for beds that aren't raised off the ground or have high sides. Older cats can also suffer from conditions like arthritis, and may benefit from a heated cat bed.
Where Should I Put My Cat's Bed?
You can start by putting your cat's new bed in their favourite location for sleeping. The ideal location is somewhere quiet, warm, and secure.
Are Heated Cat Beds Safe?
Of the three types of heated cat beds, self-heated cat beds are very safe as they only rely on reflecting your cat's body heat back to them. If you're using heating pads, these are very safe too, but you should always check the temperature after heating it to make sure it's not too hot. Electric heated beds in general are also very safe for cats. They usually have built-in thermostats to regulate the temperature, and the power outputs are also very low. One thing to be careful of though is if your cat likes to chew cables, so it's a good idea to supervise your cat when they first use the bed to make sure they aren't likely to damage it.
Best Cat Cave or Igloo Cat Beds
Karlie Banana Leaf Sleeping Den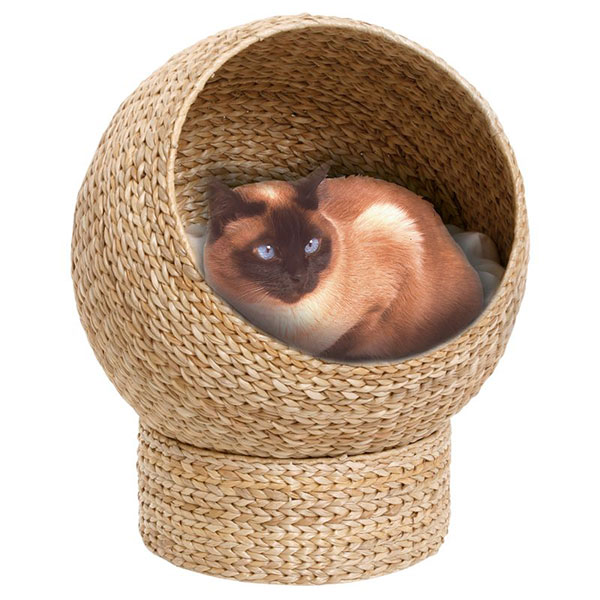 This stylish Banana Leaf Sleeping Den from Karlie is made from natural Banana leaf material, which is woven together by hand. It is robust and scratch-resistant, as well as having a warm and natural look which will look good in any room.
This den is raised 15cm off the ground, so ideal for cats who generally like to sleep in a raised position so they can feel secure. The wide base also makes this bed very stable.
The enclosed sleeping den will give your cat a safe and secure place to sleep and relax, and comes complete with a linen cushion (60cm diameter) for added comfort. The cushion is removable, and washable at up to 30°C.
Size: 53.5cm (D), 61cm (H)
Price: £60

Retro Pet Nest Cat Bed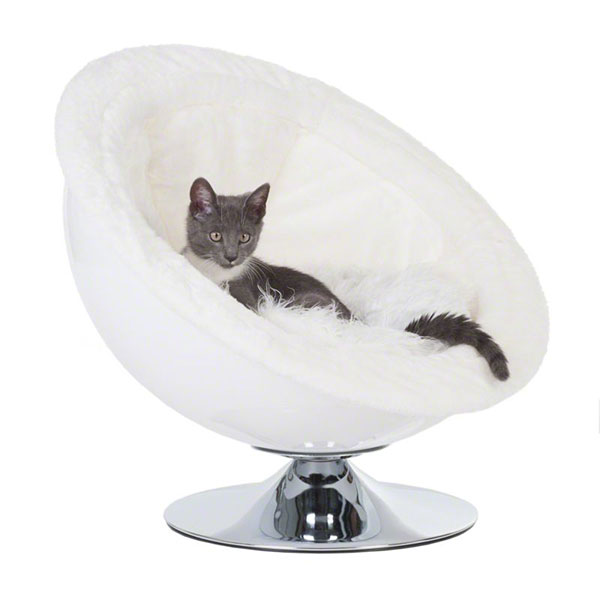 Does your cat dig funky and cool stuff? If so, this Retro Pet Nest is the perfect cat bed for them! It is a 70's style lounge chair, and is the ultimate in stylish cat beds. The white or grey acrylic shell on a chrome stand provides a large and comfortable sleeping area, as well as plenty of designer style.
The bed comes with a comfortable cushion (fitted with four suction pads on the base, so it doesn't slip on the smooth surface), and a soft, long-pile plush cover for even more comfort. It has a maximum load capacity of 25kg, so is ideal for even the largest cats.
The shell and chrome stand can be easily wiped clean, and the cover and cushion are washable at up to 30°C.
Size: 60 cm (D), 23 cm (entry height)
Price: £80

Rosewood Luxury Soft Fabric Teddy Bear Cat Cave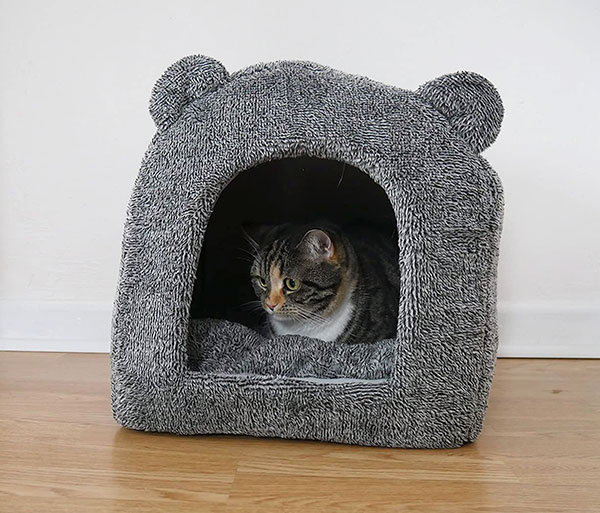 This Rosewood Cat Cave Bed is an ideal bed for cats, as they like to curl up in enclosed spaces, which helps them feel more secure and safe.
The bed is a decent size, suitable for all cats, and has a nice padded cushion inside. The cushion is removable, and can be washed.
The base is non-slip, to prevent it sliding around when your cat jumps in and out. Made from really soft material, it offers a really comfortable place for your cat to sleep.
As well as being super comfy for your cat, how can you resist the cute looks with the little teddy bear ears on the top?
It's available in two colours – grey or brown.
Size: 38 x 38 x 40 cm
Price: £20

Wicker Two Tier Cat Basket Bed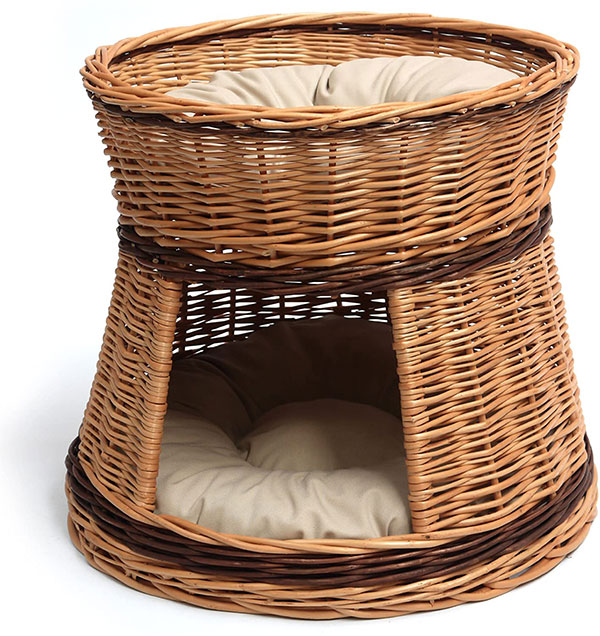 This rather lovely Wicker Two Tier Cat House Basket is hand crafted out of high quality European grown chemical-free wicker, and looks good enough to grace any room in your house. Your cat can choose from either the snug and secure lower tier, or the raised upper level which is the perfect location for them to rest and watch the world go by in comfort.
It's big enough for even large cats to curl up in, and sturdy enough to resist cats jumping on and off.
It comes with two thick and cosy pillows to provide a comfortable place for your cats to snuggle up on and rest.
Size: 46cm (D) x 44cm (H)
Price: £60

VERTAST Cat Cave Bed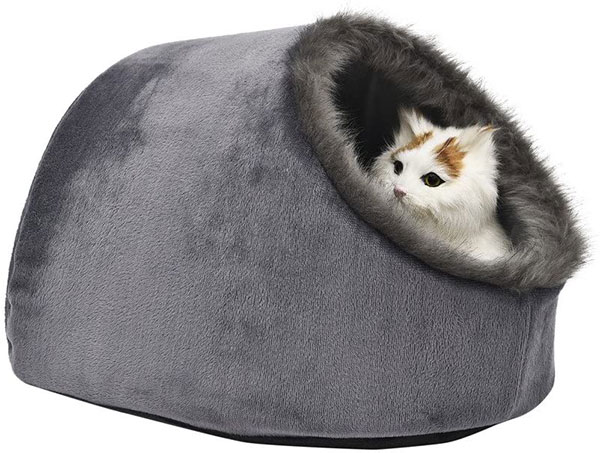 This Cat Igloo bed from Vertast is a good value bed that provides everything your sleepy kitty wants. It offers a really comfortable and snug place for your cat to sleep, and is good value too.
Made from a super soft material, it features a thick cushion for extra comfort that is removable for easy washing. Talking of washing, the whole bed is machine washable too. It also features little rubber dots on the base to help prevent it slipping on smooth floors.
All in all, if you're looking for a good value cat igloo bed, then this comes highly recommended!
Size: 40 x 35 x 25 cm
Price: £20

Best Heated Cat Beds
Petkit Smart Cozy Pet Bed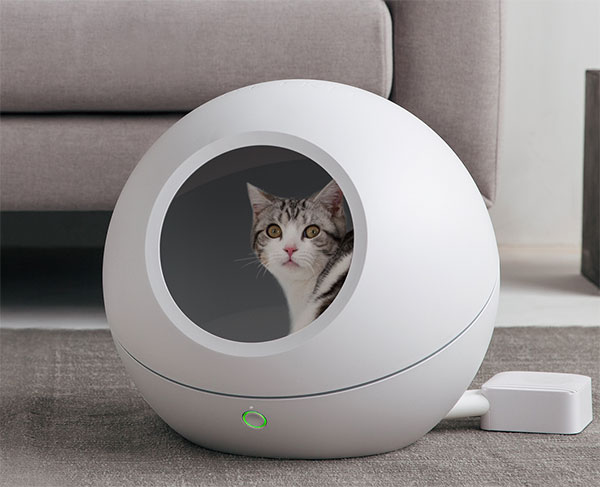 The Petkit Smart Cozy Pet House bed isn't just a cat bed. It's probably the most high-tech luxury cat bed on the market, and ideal for tech-loving cats and their owners. It's made by a company called Petkit, who are a high-tech company dedicated to designing and producing smart products for pets.
This smart cat bed is both cooled and heated, and integrates with the Petkit app (which you can download to your smartphone). It also features a hidden infrared sensor within the bed that monitor the times your pet spends inside. This is recorded within the app, so you can monitor your pet's sleeping patterns.
The bed is plugged into the the mains using a 6V transformer, so the voltage inside the bed is very low. There are 7 temperature settings ranging from cool to warm, selectable from within the app, so you can control the temperature. The bed will heat up in winter, and cool down in summer to ensure your pet always has the most comfortable temperature. The app will also display the current temperature inside the bed as well as the room outside.
The simple yet sleek design is very modern, and the outer shell is made from high quality plastic. The top section can also be removed if your pet prefers a more open style of bed.
The internal cushion is removable, reversible and can be wiped clean or machine washed (just don't tumble dry).
Size: 48cm (H), 48cm (W), 49cm (D)
Power: 18W
Price: £135

Petmate Self-Warming Cat Bed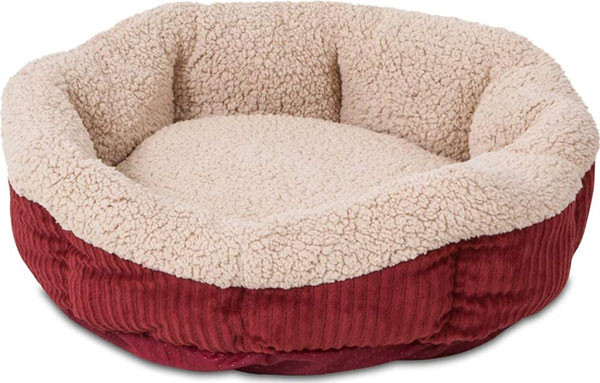 This self-warming cat bed from Petmate doesn't require any external power, so no plug or electricity is required. It uses the same heat-reflecting technology found in Mylar space blankets, and is lined with a layer of material that radiates warmth by reflecting your pet's own body heat. This makes it a very safe and convenient way to provide your cat with a warm place to sleep.
The bed itself is made from a soft and cozy lambswool plush, with the exterior made from corduroy fabric. There is a non-slip bottom too, which helps keep it in place on the floor. The sides of the bed have extra padding to provide your cat with additional support to rest their head on.
The bed is machine washable for easy cleaning.
Size: 49cm (D), 18cm (H)
Price: £25

Petnap 12V Electric Cat Heat Mat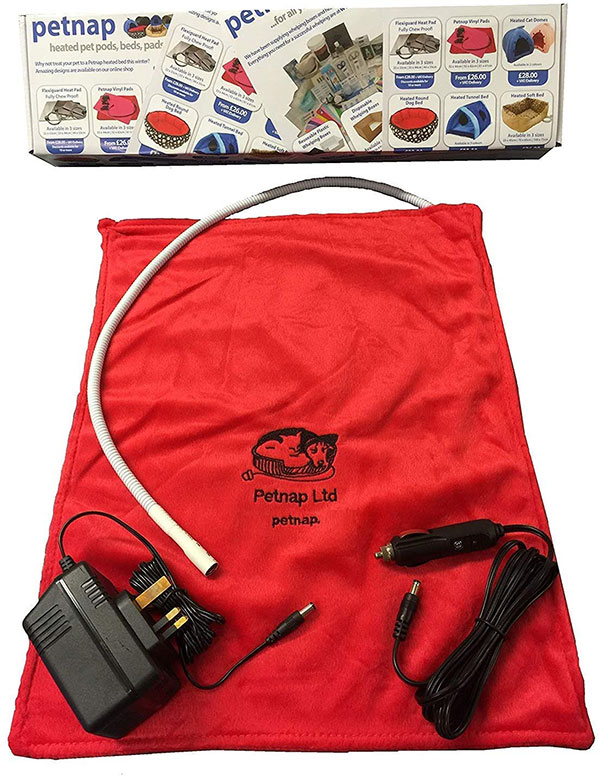 The 12V electric Heat Mat from Petnap is a heated mat that is powered by either a mains or car adaptor – both are supplied. The car adaptor makes this mat stand out from other similar mats, as it means you can use it to keep your pet warm on trips to the vet, or when you travel with them.
The vinyl pad should be used with a thin layer of material covering it.  This can either be something like a tea towel or a thin pet blanket, or the supplied fleece cover. This cover is machine washable, and easily removed. Spare covers are also available to buy here.
The first 80cm of the power cable is armoured to help protect from chewing, and this plugs in to the mains or car adaptors (these aren't protected against chewing).
The bed is IPx4 rated for waterproofness, which means it will safely handle any accidents your cat might have, but it isn't designed to be fully immersed in water.
Size: 33cm x 44cm
Power: 18 Watts
Price: £30

Rosewood Thermo-Kitty Cat Bed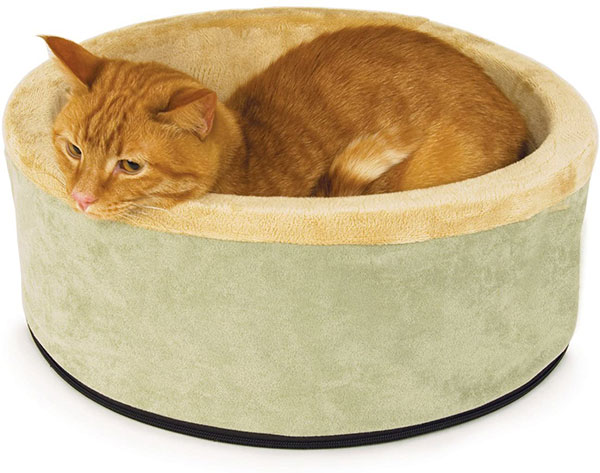 The Thermo-Kitty heated cat bed from Rosewood contains a 4 watt heating unit to give your cat a warm place to sleep. The heating unit is located deep inside thick, soft, orthopaedic foam base, and is just the right amount of power to warm the bed gently, without being too hot for your cat.
The eco-mode means the heater only heats up when your pet rests on it, so doesn't waste heat when your cat isn't using the bed. When in use, it warms the surface to around 10-15 degrees C above ambient air temperature.
The soft cover is easily removable for easy cleaning.
This bed is available in both small and large sizes, and also two different colours (Sage and Mocha).
Size: 51cm (D), 15cm (H) – Large
Heater Output: 4 watts
Price: £40-45

SnuggleSafe Microwave Heatpad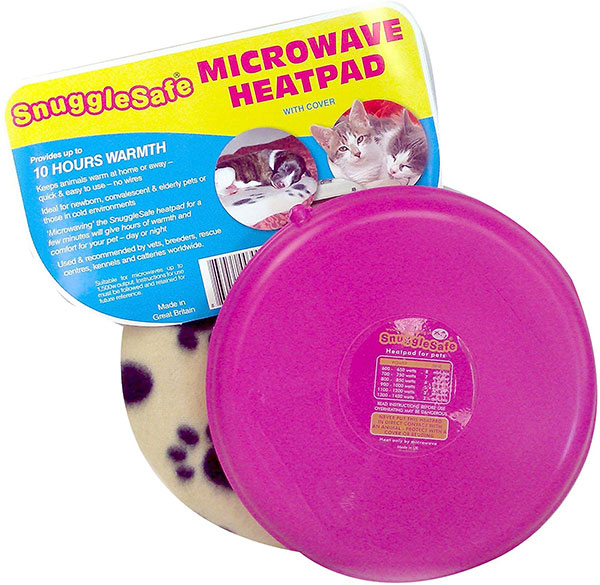 The Microwave heatpad from SnuggleSafe is a safe and affordable way to keep your cat warm. Just warm the headpad in your microwave (heating times are shown on the pad itself), place the warmed disc in its cover, and then in your cat's bed or favourite sleeping area. It takes just minutes to warm up, but retains its heat for up to 10 hours.
There are no cables to worry about, which makes it very simple and safe.
With a diameter of 22cm (9 inches) It's not particularly large, so is best to use under a blanket or in a cat bed.
Size: 22cm x 22cm x 2.5cm
Price: £14

Best Marshmallow or Donut Cat Beds
Me & My Pets Circular Woven Basket Bed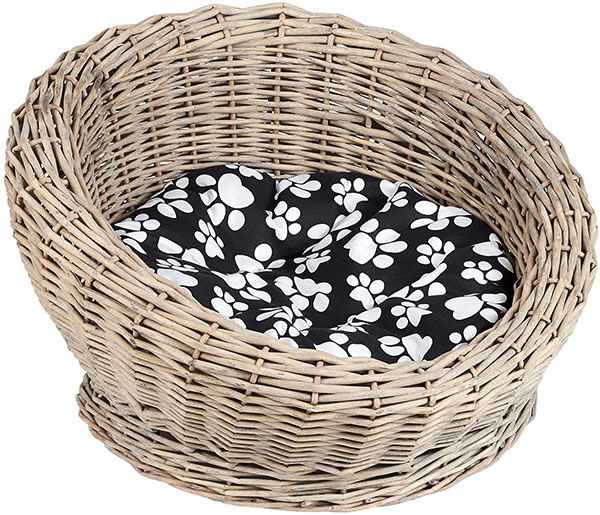 This luxury woven circular cat bed is ideal for cats who like a bit more support than a soft raised bed can provide, and it looks stylish too.
Made from wicker, the outer bed is very sturdy, and is fitted with a soft cushion (32cm diameter) inside featuring a cute paw print design. The cushion is easy to remove, and is easily washed.
The bed is slightly raised off the ground, and the front of the bed is slightly lower than the rear which gives your cat easier access – especially useful for small kittens or elderly cats with less mobility.
Size: 28cm (H) x 53cm (W) x 49cm (D)
Price: £30

Pets at Home Ripple Donut Cat Bed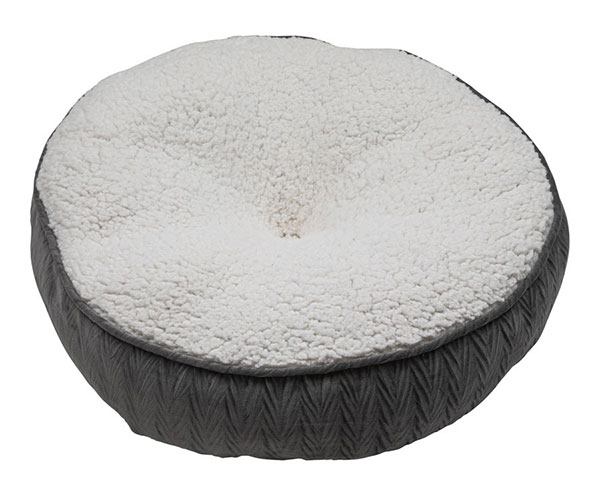 For cats who like a round donut bed, but aren't so keen to be enveloped in one with high sides, this donut cat bed from Pets at Home is purrfect.
A simple round donut bed, it provides your cat a soft and cosy resting place to sleep without any high sides to restrict access or their view. The deep padding is soft enough to be comfortable yet firm enough to keep its shape.
The whole bed is machine washable, so is really easy to keep clean.
Size: 50cm (D) x 15cm (H)
Price: £19

Tigga Towers Round Doughnut Cat Bed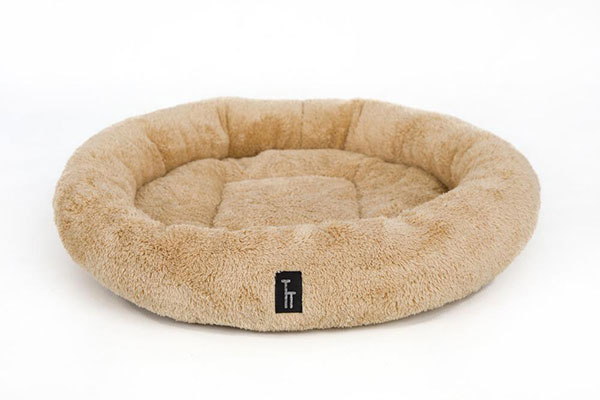 The Round Doughnut Bed is a popular style of cat bed and there are a number of versions available to choose from, but this one from Tigga Towers is one of the best we've found.
It is just the right size for a cat to curl up in, and is also designed to fit perfectly onto the wicker cat basket and wicket cat igloo that feature on the high quality cat trees Tigga Towers are best known for.
It is made from a very soft and luxurious fabric which is non-looped, so your cat doesn't get their claws caught in it when they knead it in pleasure, before settling down for some serious cat-napping. The padded base gives your cat a really comfortable place to sleep, and although it isn't removable the whole bed is machine washable at 30°C.
This doughnut bed is available in several colours, including limited edition seasonal colours at certain times of the year.
Size: 50cm (D)
Price: £29
Find out more at Tigga Towers
Trixie Plush Cat Bed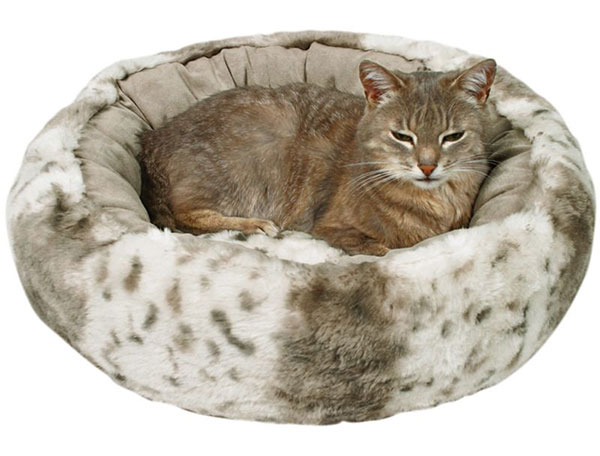 This plush donut cat bed from Trixie is another great choice if you're looking for a comfortable and cosy round donut bed for your cat.
The plush cover is super comfy, while the internal padding makes this a really comfortable place for your cat to sleep. You can unzip the cover to remove the internal padding for easy cleaning – it's machine washable too (at 30 °C).
Size: 50cm (D)
Price: £16

Vanilla Pet Bed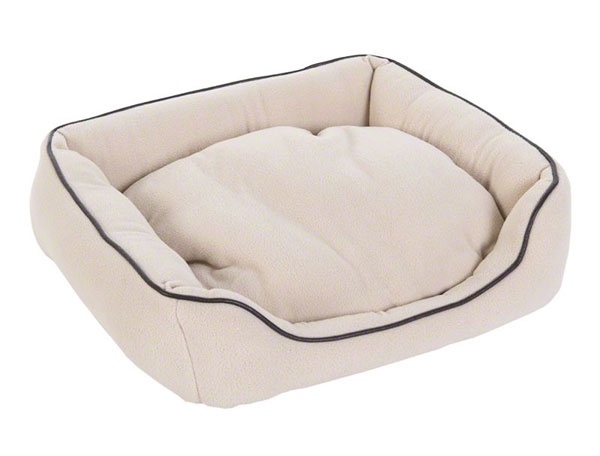 If you're looking for a good quality and comfortable yet cheap cat bed, this vanilla pet bed ticks all the right boxes and all for a bargain price – it's one of the lowest price cat beds in this review, but certainly not lacking in quality.
While it's not really donut shape (who's ever seen a rectangular donut?), it still gives your cat a warm and cosy bed to snuggle up in. The raised padded sides help your pet feel more secure and cosy, and the padded base provides a comfortable resting place.
The base is not only removable for easy cleaning, but its reversible too so you can alter the look of the bed by using either the beige or brown side. The bed also includes anti-slip material on the base to prevent it from sliding around your floor.
The front of the bed isn't raised, so kittens with short legs and older cats who are less mobile can easily climb in.
Size: 50cm (L) x 45cm (W) x 12cm (H)
Price: £9

Best Radiator Cat Beds
Cleo Deluxe Large Radiator Cat Bed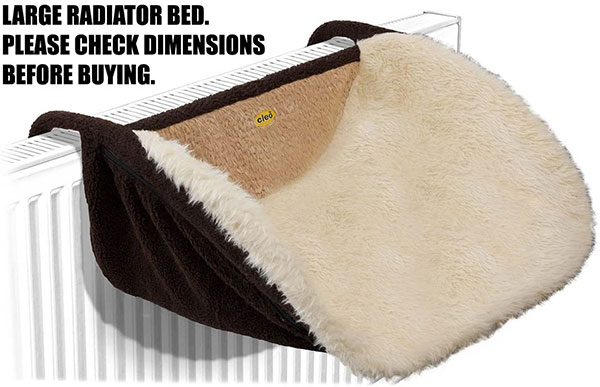 If you're looking for a radiator cat bed suitable for large cats, then the Cleo Deluxe Large Radiator Cat Bed is just for you!  The large size of this bed (did we mention it is large!) is ideal for breeds like the Maine Coon, or if you have two cats who like to share. The size of this bed does mean you need to double-check you have the space to install it, as it sticks out 50cm from the edge radiator.
It's also better to hang from a double radiator, as the 10cm depth of the hooks may be too large for thin single radiators.
The sturdy metal frame is covered with a thick, soft zip-on cover made from faux sheepskin, that can be removed for washing (at 30 degrees). Spare covers are available to buy online here.
Unlike most other radiator beds, this design has raised sides as well as the back, so is more enclosed for your cat – providing a greater sense of security for them as well as keeping them more snug.
This bed is also available in a smaller size here.
Size: 65cm (W) x 63cm (D) x 30cm (H)
Price: £34

Rosewood Bamboo Radiator Cat Bed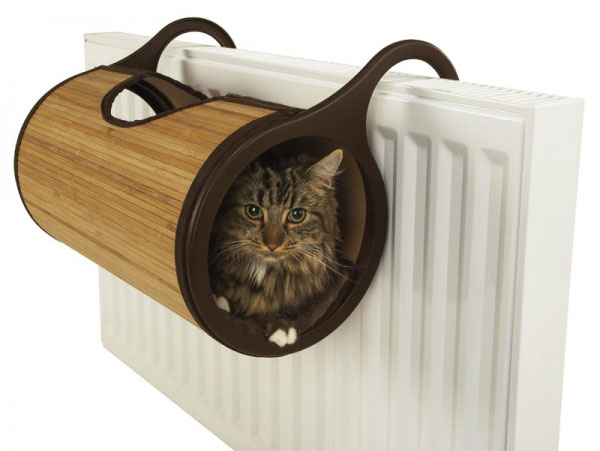 This stylish Bamboo Radiator Bed from Rosewood's Jolly Moggy range is purr-fect for your cat if they like to have somewhere warm, cosy and raised off the ground to sleep. Made from bamboo and eco-fibres, it is environmentally friendly as well as being comfortable for your cat to snuggle up inside.
A removable soft, plush cushion fits perfectly inside the curves of the bed, and is easily removed for cleaning. The bed is designed to fit most radiators with a max. depth of approx. 10mm, and is easily assembled using velcro tabs, so you don't even need any tools!
This bed is designed to clip on to most conventional radiators.
Size: 48cm (L) x 33cm (W) x 39.5cm (H)
Price: £18

Rosewood Luxury Cat Tunnel Radiator Bed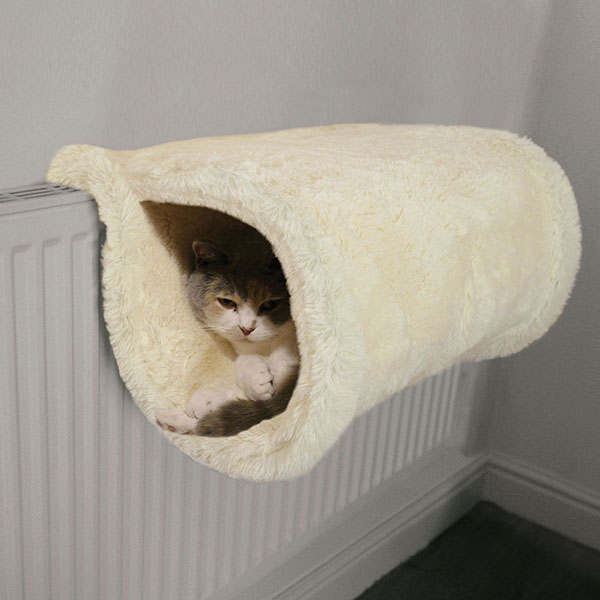 Another cat bed from Rosewood, this luxury cat tunnel radiator bed is a cosy place for your cat to sleep. Made from a strong metal frame, covered in a warm luxurious deep faux fur cover, it is designed to hang off a radiator, however can also be floor standing if desired.
Being totally enclosed in the soft fur cover, this will be a really snug and warm place for your cats to sleep, especially when your heating is on. It also offers a safe and secure location, raised above the floor, for your cat to sleep.
Size: 46cm (L) x 38cm (W) x 27cm (H)
Price: £15

Soft Radiator Cat Bed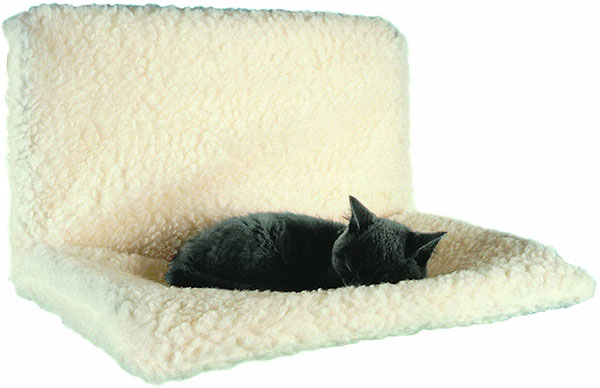 If you're looking for a good value, no-frills radiator cat bed that does the job, then this soft radiator cat bed is ideal.
It consists of a metal frame, and soft fabric cover. Once assembled, you simply hook the frame over the top of your radiator to provide your cat with a comfy bed that's raised off the ground. The hooks are wide enough to fit over most conventional radiators.
The fabric cover is rather thin, so you may want to add an extra blanket to provide more padding.
Size: 46cm x 31cm
Price: £10

Trixie Cuddly Radiator Bag Bed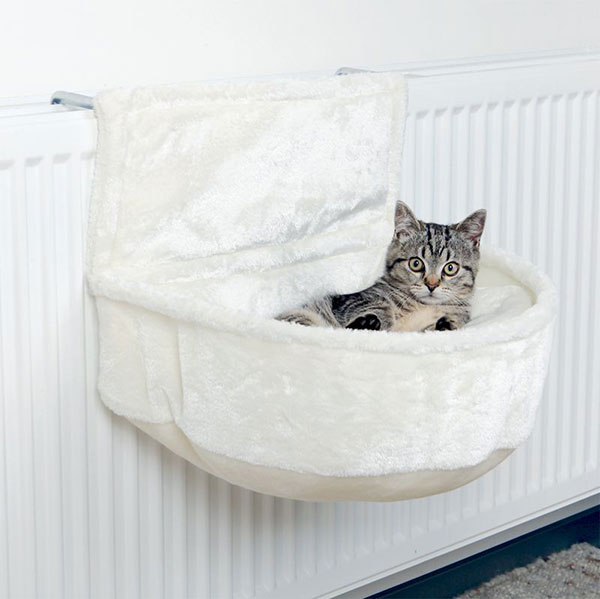 The Cuddly Radiator Bag Bed from Trixie gives your cat the best of both worlds. Not only is it a raised cat bed that clips on to your radiator, but it's also a deep cosy bed to give them the added security of being surrounded.
The sturdy metal frame is suitable for all conventional radiators, and simply hooks on to the top. The bag is made from a soft and plush material, and the bed also features a padded cushion, with a removable cover for easy cleaning (machine washable up to 30°C).
Size: 45 x 33 x 30 cm (L x W x H)
Price: £22

Best Window Cat Beds
JZK Window Mounted Cat Window Hammock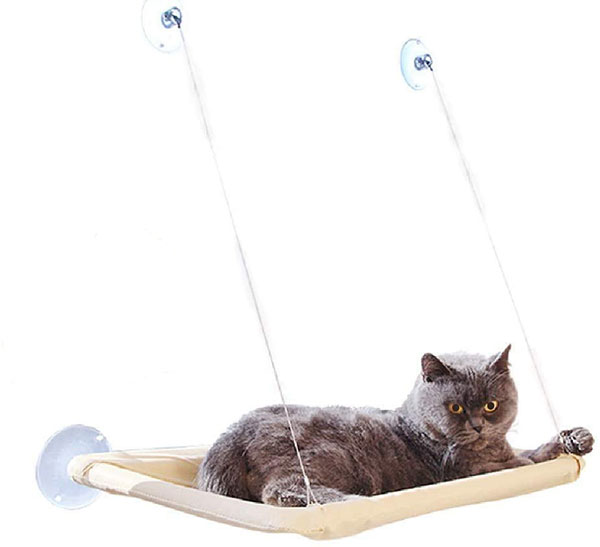 If your cat's second favourite activity after sleeping is sitting at the window watching the world go by, then this Window Mounted Cat Hammock is the perfect bed for them!
The 4 suction cups attach the bed platform to the window allowing your cat to comfortably watch out the window from a elevated position. The grey soft cover is washable too, and the bed is designed to safely support the weight of cats up to 12kg.
If you're looking for a cheap window cat bed, without compromising on quality then this is highly recommended.

K&H Double-Layer Cat Window Bed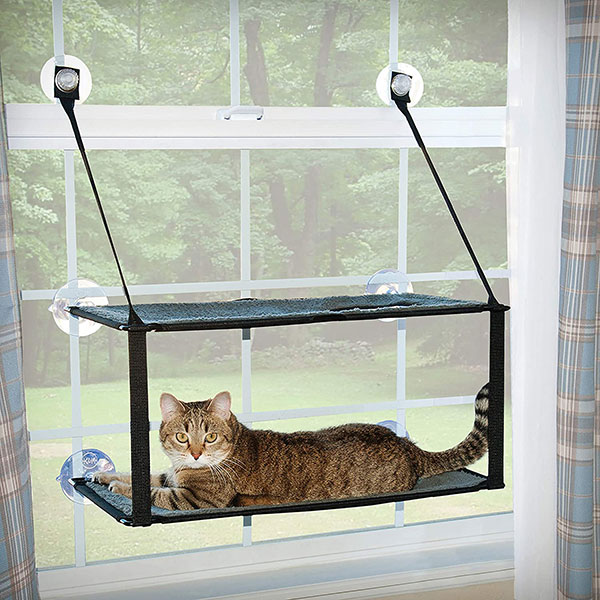 If you have more than one cat, this twin-level window cat bed is the ideal solution to stop them fighting over who gets the best perch at the window. With two levels, this bed will allow two cats to enjoy spending their day snoozing in the sun and checking out what goes on outside.
The bed is made from a sturdy steel frame covered in a soft removable cover, and attaches to the window with six strong suction cups. The bed can hold up to 45kg, which is enough for even two of the heaviest cats to safely use. The top level has a hole in it so your cat can climb up from the lower level.
The design of the bed means you can fold it up without removing it, so you can easily close the blinds or curtains. The cover can also be removed for cleaning without removing the bed from the window.
This bed is also available as a single-level bed.
Size: 58.5cm (W) x 36cm (D) x 56-62cm (H)
Price: £20

K&H EZ Mount KittyFace Window Bed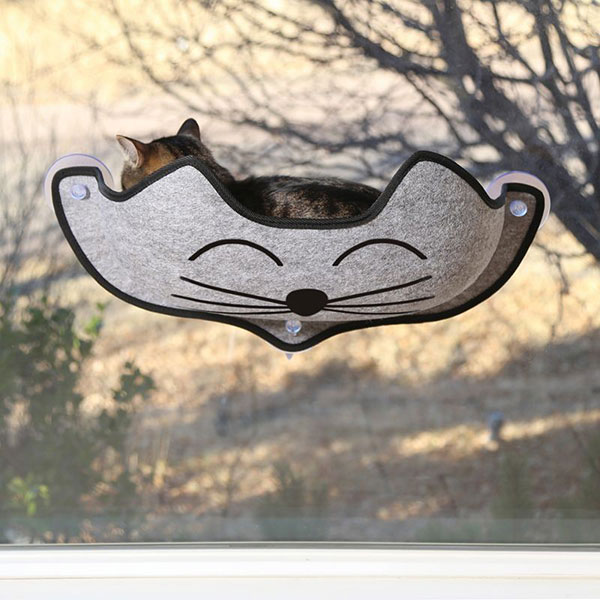 The EZ Mount KittyFace Window Bed from K&K is the ideal platform for your cat to relax and keep an eye on everything going on outside the window while basking in the sun. The design of the bed makes it ideal for your cat to look out the window and also feel snug and secure. It also features a fun cat-face design.
The bed itself is made from a 4mm thick fluffy felt polyester material, and retains its shape even when a cat is sleeping in it. The bed comes with a soft cushion for extra comfort. The cushion is easy to remove, and can be machine-washed (cold wash) for easy of cleaning.
The bed attaches to window over 69cm wide, and is secured by three suction cups that twist to secure them to the window. The bed has a maximum capacity of 27kg, which is more than enough for even the heaviest cat.
Size: 69cm (L) x 20cm (W) x 28cm (H)
Price: £22

Trixie Window Sill Cat Bed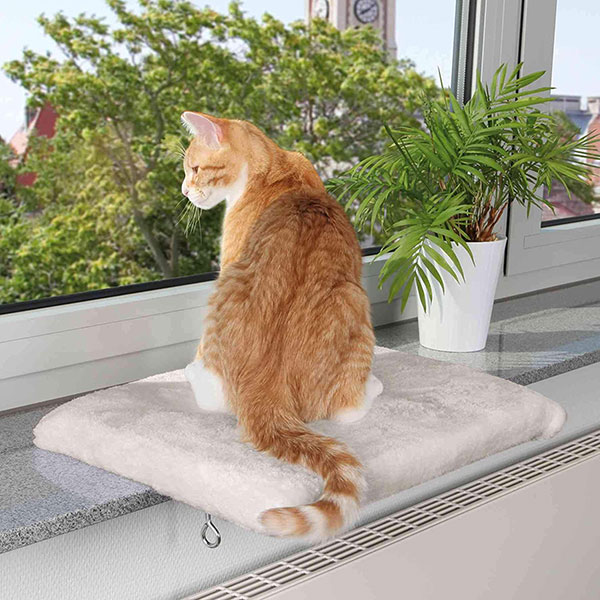 Unlike most of the cat window beds in this review, the Window Sill Cat Bed from Trixie doesn't actually attach to the window. Instead it is designed to fit onto a window sill and provide a larger, comfortable place for your cat to sit or sleep. Once fitted, your cat can relax on the soft padded board, and sunbath while watching life outside the window.
If your cat enjoys sitting on your window sill, but doesn't have enough space to curl up, then this bed is what they need!
The bed is easy to attach to a window sill with the supplied clamps – it just needs an inch or so of window sill to protrude, and a flat surface. Once secured, it is strong enough to hold most regular to large cats.
Size: 51cm (L) x 36cm (W)
Price: £20

Pecute Window Cat Bubble Bed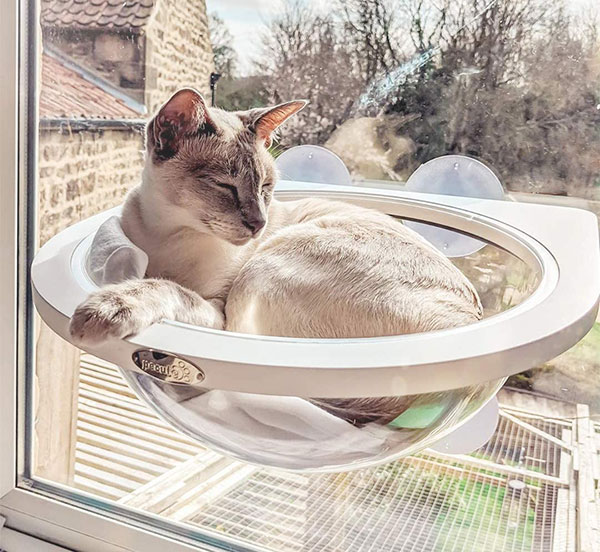 This stylish and unique cat window bed is made from wood and plexiglass for a modern, sturdy design. We really like the look of this bed, and the unique design looks like something a space cat from the future would sleep in. Cats love to sleep up high, and this window bed is the perfect place for them to sleep securely, and also  watch the world go by outside the window.
The transparent 30cm diameter bubble is made from 3mm thick plexiglass, and is attached to a sturdy 15mm MDF board frame. This is attached to a window with a 5mm steel bracket, and 4 large suction cups. It is able to support up to 10kg in weight, so suitable for almost all cats.
The bubble is easy to clean, and you can add a blanket or cushion of your choice to make things even more comfortable for your cat.
Size: 38.5cm x 35.8cm x 16.4cm
Price: £35