As we've just returned from our two-month road trip, a welcoming escape from lockdown and taking advantage of safely following government guidelines, it got me thinking just how dog friendly each country was when we visited. If, like us, your dog is a core member of your family, you might be considering taking them on holiday. If you're happy to take the extra baggage and make the extra payments, taking your dog along with you makes the adventure all the more fun. Believe us.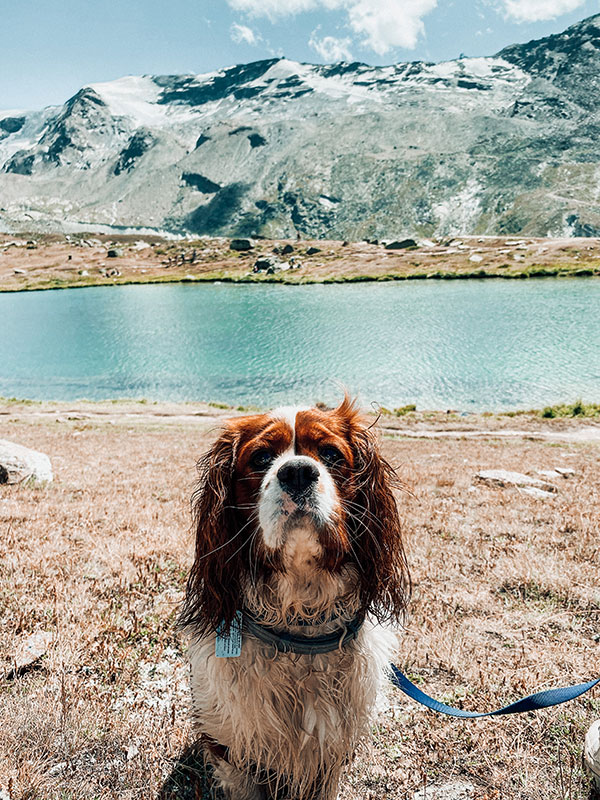 We visited eleven countries during our road trip, one being England and the other being Spain. For obvious reasons, I won't go too much into England, but I will cover our now home country of Spain. Just to touch on it slightly, we did find that England was possibly one of the least dog friendly places we visited, so if you're able to go out and about in the U.K, I'm more or less guaranteeing that you can do the same, if not more in Europe. If you're somebody who feels a little restricted back in the U.K, especially when it comes to mealtimes, the good news is, you will find a much easier experience across the channel.
Spain
I'll start with Spain, which before embarking on this road trip, I was convinced was the most dog friendly place ever. In general, there are many hotels that will accept your less than 10Kg or well-behaved dog, restaurants will pop out a bowl of water and generally make a fuss of Rio and there are a few dog-friendly parks and beaches scattered around, though now we come to realize, not that many.
Dog owners in Spain do tend to keep a distance and there are lots of dogs that aren't properly socialised with other dogs. Of course, this could just be the experiences that we've had, but three times in three different areas of Spain, our Cavalier King Charles Spaniel has been happily wandering along the pavement on his leash when dogs, not on their leashes, have either ran down the street trying to bite him or another time when a PPE dog wasn't wearing a muzzle and leash on the beach as instructed by law (only for PPE dogs) and ran to try to attack our dog, leaving Rio once more afraid, shaken up and fortunately with only little grazes.
Spain is dog friendly, you won't have an issue sitting outside on a terrace having breakfast lunch or dinner and you'll find varying star levels of hotels allowing the dog in the room and reception area. Dogs can travel on some metros and trains but must be in a cage or with a muzzle and leash, which makes me sad. There are a handful of boat trips that allow dogs but very few. You'll also be able to find dog beaches for them in the area, but if you are going in summer, please be extra careful and mindful of your dog. Dogs that grow up in Spain are much more used to the heat and the pavements.
For more tips about taking your dog to the beach, check out our blog article.
 France
I was pleasantly surprised with France. If I'm honest, I thought it was going to be relatively similar to Spain, however it was better. In Cannes, we were able to take a boat tour over to Saint Marguerite which is a dog-friendly island made famous by all the celebrities, like David Beckham, who dine there. Rio was able to travel on the boat, at no extra cost without needing a muzzle or a cage. He was able to splash about on the beach and play with the sticks in the water.
We also found the restaurants to be super pet-friendly, with most even letting Rio sit inside, not just outside. We stayed at four- and five-star hotels in France and the recurring theme was that dogs under 10kg, sometimes 5kg, or well-behaved and quiet were allowed for around 15€ additional cost for cleaning and couldn't go in the pool area, though he was allowed in the hotel restaurants on the terrace. We also found that in these hotels, most of them laid out a blanket, bowls and treats for Rio on his arrival in the room.
We were also told that in France, pretty much all of the beaches are open to dogs in the winter, spring and autumn months, which is a real bonus.
Monaco
We didn't spend a lot of time in Monaco, but we did manage to do everything we wanted to do without Rio "holding us back". We stayed at Columbus Hotel in Monte-Carlo, which provided an excellent welcome for Rio. They had placed a blanket, with Hotel Columbus Monte Carlo, embellished on the blanket, treats, dentasticks and two bowls for Rio on his arrival. The hotel charges you 25€ optional if you'd like to keep these for a souvenir, which we did. We also had to pay a small cleaning fee for Rio, which was added to our bill. We managed to eat out just fine in Monaco, opting for a terrace to sit out on.
Italy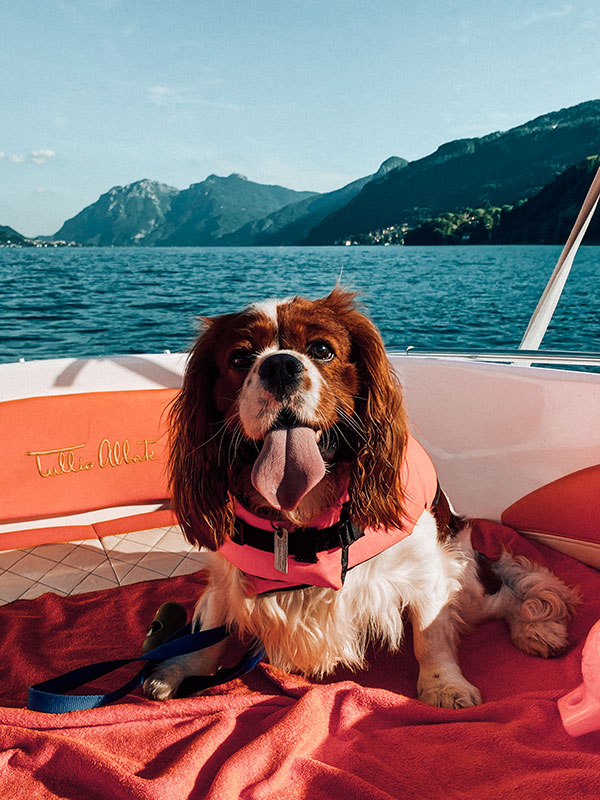 Similar to France, Italy was super dog-friendly and a great choice for a summer holiday. We rented a powered boat with boat2go which was completely dog-friendly over Lake Como, and if he wanted to, Rio could have got out and had a swim in the lake. We stayed in four-star hotels, our hotel in Desenzano del Garda was one which came with no additional fee for Rio. Our hotel in Bellagio, Lake Como charged a small additional fee. We found that in the restaurants, Rio was more than welcome with water placed for him. In Bellagio, the restaurant owner even gave Rio some homemade pasta.
 Switzerland
If you're going to aim for anywhere to take your dog during summer, it's Switzerland. The most dog friendly place we have ever been to and will be sure to return time and time again with our Rio. In most hotels, there wasn't a restriction on size but would carry a small cleaning fee. When we were searching for a hotel, we didn't find many hotels that didn't allow dogs. We stayed at luxury hotels, like Hotel des Balances in Lucerne, Royal Plaza Spa in Montreux, the Swissotel in Zurich and ski style cabins in Zermatt. We took Rio on hiking adventures and he was allowed on all modes of transport, for no extra cost most of the time.
With the cooler weather, Rio and ourselves were able to fully enjoy our time and make the most of it, not having to avoid the middle of the day. Rio was able to run around in the snow at JungFrauJoch, the Top of Europe, for around £25, for the three trains, play in the lakes and travel by cable car and funicular up to the viewpoint of the Matterhorn for no additional cost. He just generally loved wandering around Switzerland where everybody seemed to make an extra fuss of him. Restaurants, of course, were welcoming and each restaurant we visited allowed Rio both outside on the terrace or inside.
Germany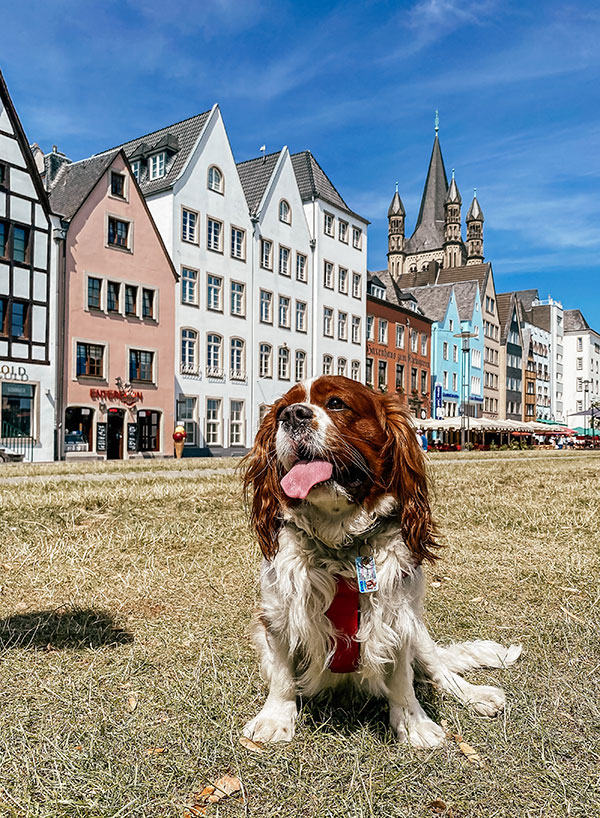 We loved Germany for similar reasons to why we loved Switzerland. We stayed at Hilton Hotels in Cologne and Munich and both were extremely dog friendly. He carried a small cleaning fee, again costing less than a dog sitter for the night, and both made extra care and arrangements so we could enjoy breakfast altogether. In Munich, we were able to dine on their terrace with Rio, and on the rainy days, they let us set up camp on one of the tables in the lobby. In Cologne, they did the same. Allowing us to enjoy breakfast together in the lobby, which as dog owners, if you've ever had to do the 1 in 1 out breakfast sittings to make sure the dog isn't alone in the room, it's not the most fun of breakfast experiences!
We visited Neuschwanstein Castle, where Rio was allowed on the grounds of the hotel and around to Marienbrücke, the viewpoint of the castle. He joined us on the terraces of restaurants and was able to sit in the beer gardens with us indulging on burgers and hot dogs.
The Netherlands
We didn't get much of a chance to test out The Netherlands, only crossing through. But, saying that, we did have lunch in Maastricht and we found that all the restaurants were welcoming to the dogs who were sat outside with their bowls of water close by. The weather is a major plus for taking dogs on holiday.
Although taking your dog on holiday incurs some additional fees, we actually found that we didn't spend any more than we normally would on holiday. Our dog sitter charges 15€ per night, meaning that we were either spending out the same, or less, for taking Rio with us. We also found that he settled in really quickly to eating breakfast and dinner in a new place every day, taking a couple of days or so to get into the routine.
Taking your dog on holiday is a real rewarding experience, and provides some amazing memories (and photo opportunities!). We hope this blog helps you to make the decision on where to take your dog on holiday.
Article by Lauren Bate (diaryofaspanglishgirl.com)