Last updated: March 26th, 2019
Wouldn't it be great if, when ordering pet food online, you could request your order to be delivered at a specific time most convenient to you? Ordering from most online stores is very quick and easy, but it can be so frustrating having to wait around all day for a courier to turn up. And even more frustrating when they don't!
Wouldn't it also be great if you could save money with cheap prices, and get top quality products too? And even better, what if you could save a further 15% on these already competitive prices with a discount code for your first order?
You might think that sounds too good to be true, but that is exactly what you can get if you shop at Fetch.co.uk! Fetch is the new online pet store from the well-known, award-winning online grocery supermarket Ocado. They launched Fetch in the UK at the end of 2013, and have been expanding their product offering ever since.
Using the Fetch Website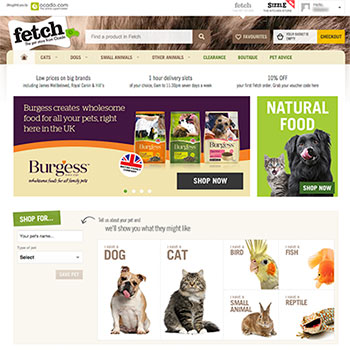 The Fetch website is easy to use, with products separated into different areas for the different types of pet. It is easy to navigate the different product categories, and filter down to what you want. For example, you can select foods for specific health conditions as well as the usual search filter options of age, flavour etc…
The only downside is that the website doesn't have a mobile-friendly version, so it's best to use on a tablet or bigger computer.
One useful feature is that you can add details of your pets (type of animal, date of birth, health conditions) and you will be shown a list of recommended products suitable for your pet. For example, if your cat is under a year old, you'll be shown products suitable for kittens.
Products and Prices
Fetch sell a wide range of cat and dog products including food from the well-known brands like Applaws, Burns, Hills, Iams, and Lily's Kitchen. They also sell a wide variety of toys, bedding and accessories for your cat or dog.
Smaller pets are catered for too, with a selection of food, bedding, toys and accessories for small animals. More exotic pets aren't neglected either – with a range of products for birds, fish and reptiles.
Prices are generally very competitive – cheaper in some cases than the cheapest prices found at Amazon and zooplus!
For pets with slightly more exclusive tastes, you can find a range of luxury products in the Fetch Pet Boutique. Here you can buy handmade leather dog collars, grooming products to pamper your pooch and fashionable dog clothing.
Delivery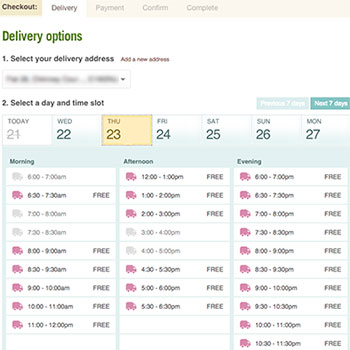 Fetch has probably the most convenient delivery options of all the major online pet stores. You can pick a one hour delivery slot of your choice, seven days a week, from 6.00am-11.30pm. This option is FREE when you spend £29 or more, or just £2.99 on orders under £29. Fetch deliveries are sent out on Ocado's delivery rounds so you benefit from their specialist delivery network. This means you can also get your pet supplies delivered for free at the same time as your Ocado groceries!
Some items are a bit too bulky to fit in the Ocado vans however, so these are sent out via courier for next day delivery.
Recommendation
As a regular customer of Ocado for over 10 years, I can wholeheartedly recommend their delivery service based on my own experience. Most of the time they do deliver exactly when you request, however on the very few occasions where they are delayed, for example due to heavy traffic, the delivery driver will call in advance and warn you.
Another benefit of using the Ocado delivery vans is that your order won't be bashed around in courier sorting depots, so will always reach you in excellent condition. No more bashed boxes, and pet food being spoiled due to damaged packaging!
Extra Savings!
If the great prices, and convenient delivery options wasn't enough – you can save an additional 15% off your first order by entering voucher code WELCOME15 when you checkout!
If you want to check out their great prices for yourself, head on over to their website at fetch.co.uk