Is your cat one of the 60% of cats who reacts to catnip (aka Kitty Crack)?
If so, this list of the best catnip cat toys is for you! After some extensive research and testing, we've come up with this selection of affordable catnip toys your cat will love!
1. Beco Millie the Mouse Catnip Toy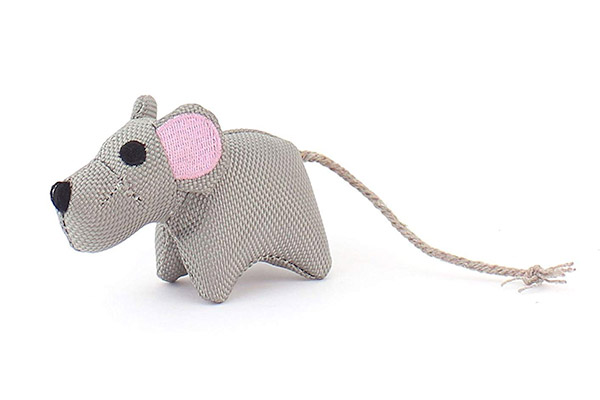 Millie the Mouse is a catnip mouse toy made by the eco-friendly pet company Beco Pets. Unusually for pet toys, this is made from recycled plastic bottles. The material is used for both the cover and the filling for these soft and cuddly toys.
The toys are also double-stitched on the seams to help them last for longer, and resist sharp teeth and claws of playful cats.
The mouse is also stuffed full of North American catnip to make them irresistible to cats!
Millie is part of a small family of catnip toys, and you can also buy Freddie the Fish and Bertie the Budgie.

2. Catnip Veggies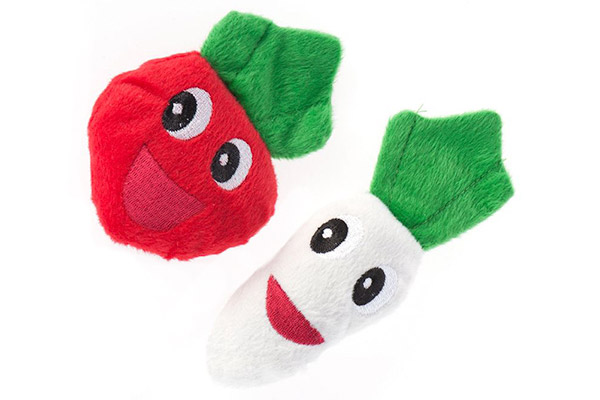 These catnip veggies from zooplus are cheeky fun toys, and a nice colourful alternative to the more common catnip mice toys. This set contains two soft toys, which have embroidered faces and are made with a soft plush material.
The cuddly beetroot and leek are filled with 100% Canadian catnip. They also feature a rustle foil layer in the leaves to make them even more appealing to your cat.

3. Cosmic Catnip Sack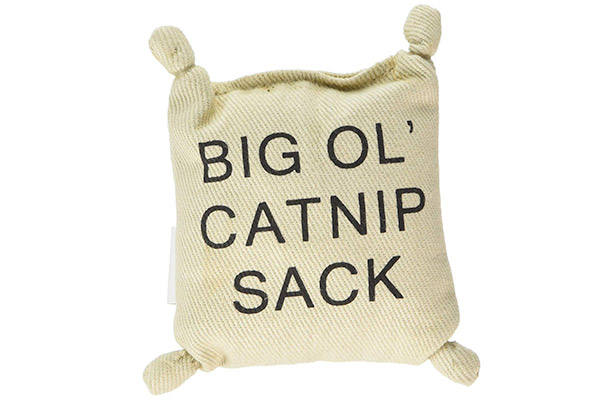 This Big ol' Catnip Sack is a simple toy, but sometimes simple is good. Made from sturdy cotton polyester, this little sack of catnip delight is stuffed full of 100% natural North American catnip.
At around 7cm x 7cm x 2.5cm deep, it is the perfect size for your cat to throw around and lie on.

4. Jolly Moggy Catnip Play Fish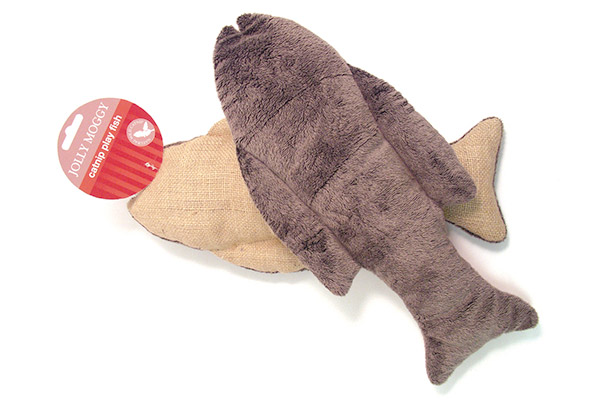 The Catnip Play Fish from Jolly Moggy is larger than most catnip toys at 35cm long. This makes it ideal for larger cats, or those who like to cuddle up to their toys after play. The large size makes it great for rolling around with, wrestling and kicking.
Each side is made from a different material, and the toy is stuffed full of catnip. The back is a soft plush material that is ideal for snoozing on. The front is made from a tougher, woven material ideal for scratching.
5. KONG Kickeroo Cuddler Catnip Cat Toy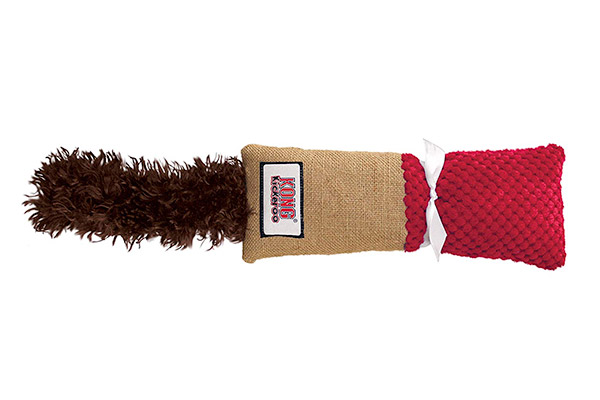 KONG is one of the best-known and well-regarded pet toy manufacturers, and for good reason. Their Kickeroo Cuddler catnip toy is very popular, and it's easy to see why.
The design is familiar, but this version has three different textures to make it even more enjoyable. There is a soft fabric material on the top section, which is easy for your cat to grab with their front claws. Next is a rough burlap fabric that is ideal for scratching, and finally there is a soft fluffy tail.
The toy is also stuffed full of crinkle material and premium North American catnip.
These features are combined with the excellent quality that Kong are known for, making this a really good choice.

6. KONG Refillable Catnip Feather Top Carrot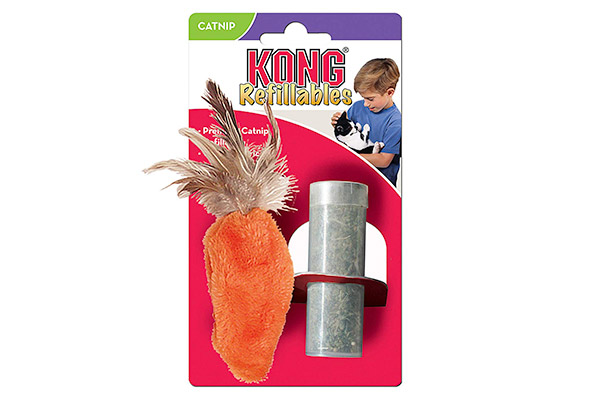 Another toy from KONG, this Feather Top Carrot Toy is one of our favourites. The brightly coloured carrot is made from a soft plush material, and has feathers attached to the end.
The body of the carrot has a Velcro pouch on the underside, which holds a large pinch of the supplied catnip. As this toy is refillable, you can replace the catnip when it starts to fade. The toy comes with a plastic tube full of KONG's premium North American catnip that will last quite a while. As the toy is used, the catnip inside gradually falls out – but it doesn't make a visible mess.
The carrot body itself is about 4 inches in length, and the feathers add another 2-3 inches. It's also well made, and will survive rough play. It's small enough to be thrown around by a playful cat, and large enough for them to use as a pillow or snuggle up to.

7. Molly's Mice Handmade Catnip Mouse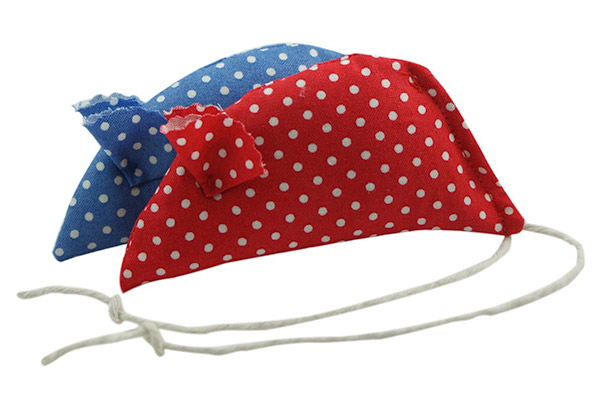 If you're looking for something that isn't mass-produced, then these handmade catnip mice from Molly's Mice are ideal. Handmade in England, they are filled with maximum strength 100% Canadian leaf and flower catnip, with no extra stuffing material.
The outer material is made from a tough craft grade cotton, and is durable yet soft. The mice also have a little cotton twine tail attached.
As the mice are handmade, the colours and designs may vary from those shown, but you'll be guaranteed to have something that is unique!

8. Moppi Sheep & Hedgehog Catnip Cat Toys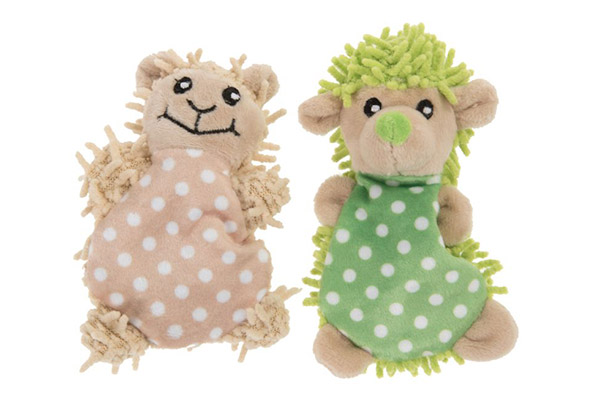 These sheep and hedgehog catnip cat toys from zooplus are very cute, and are designed to encourage your pet to snuggle as well as play.
The bodies are soft, and on the back there is a 1cm long microfleece fringe that is lovely to snuggle and rub up against. The toys also have foil integrated inside, so they rustle too.
The heads are filled with catnip, to make these even more irresistible to cats.

9. Petstages Catnip Chew Mice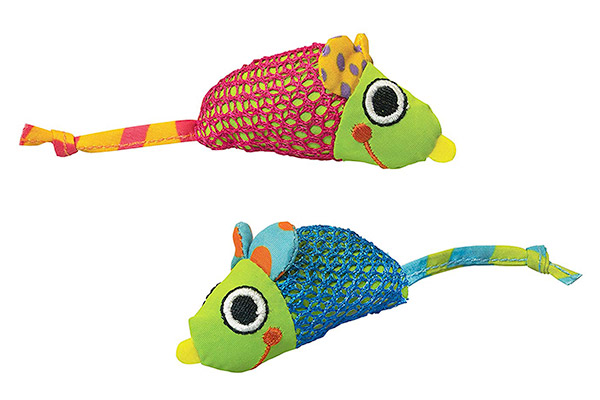 These Catnip Chew Mice from Petstages are not just catnip toys. They are also designed to help clean your cat's teeth while they play.
The body of the mouse has a plastic netting on the outside, and as your cat chews the toy, their teeth and gums get a gentle massage from the netting. This has the added benefit of helping to remove soft tartar and improving dental hygiene.
The toys are brightly coloured, and have loose ribbon tails to make them even more fun to play with. They are also filled with good quality catnip.
They are quite small and light, so are ideal for smaller cats and kittens, and cats who like to throw their toys in the air, or carry them in their mouths. You might want to order more than 2 though, as they can have a habit of disappearing underneath sofas!

10. Yeowww Catnip Banana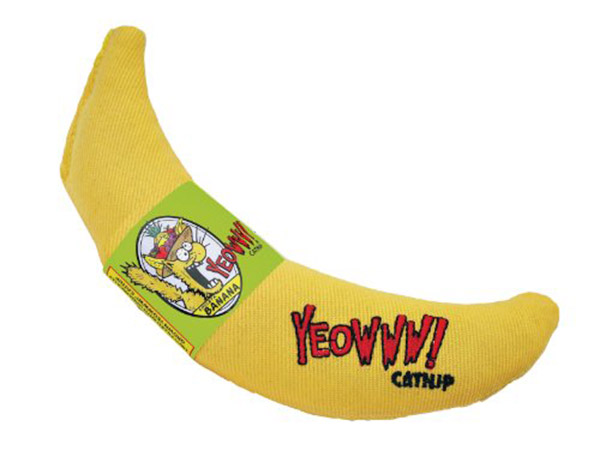 Yeowww catnip toys are loved by many cats, and this Catnip Banana is no exception! It's been a favourite of ours for many years due to the excellent quality construction and high quality catnip.
The bright yellow toy is made from heavy duty cotton, and is stuffed full of 100% organically grown American catnip. There is no other filling used – it's completely full of catnip! You can tell these catnip toys are high quality by the smell of catnip – it's noticeably stronger than many other toys.
The toy itself is larger than average at 7 inches long, so the ideal size for cats to bite and grip with their front paws, and kick with their back legs.
Even if your cat isn't particularly impressed by other catnip toys, if any toy will get them excited it is this one!

11. Yeowww Stinkies Catnip Sardines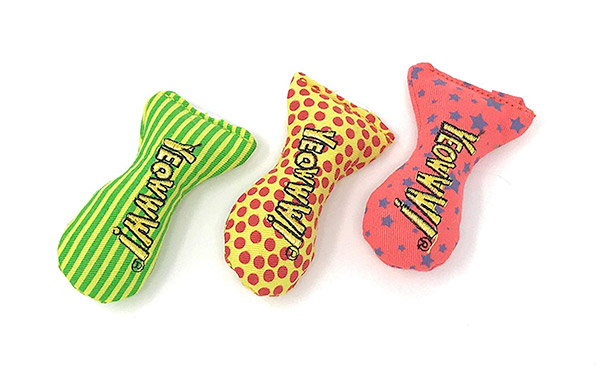 We love Yeowww catnip toys so much, we had to include another one from their range – the Stinkies Catnip Sardines. With this toy, you get 3 brightly coloured sardines in a storage tin.
They are smaller than some of the other Yeowww range, so if your cat prefers something a bit smaller than the banana mentioned above, then these toys are ideal.
They feature the same high-quality construction, being made from heavy-duty cotton. They are also packed full of top-quality organically grown American catnip.
The Yeowww toys may seem a bit expensive compared to other catnip toys, however they are very good quality and you get what you pay for.

How to Refresh Catnip Toys
After a period of time, the effect of the catnip in any catnip toy will start to fade. Catnip is actually sensitive to UV light, and will fade when exposed to light and heat. However, if your cat loses interest in their catnip toys there is a solution!
You can refresh catnip toys by either refilling them with fresh catnip, or spraying them with catnip spray. You can also place your cat's toys in a sealed container (such as a glass jar with a secure lid) with some fresh catnip.
Here are some suggestions for supplies of catnip:
Why do Cats Like Catnip?
Cats like catnip as it contains an oil called nepetalactone, which is a mild hallucinogen found in the leaves and the stem of the plant. Not all cats react to catnip however – only 50-60% of them are responsive to it, and young kittens usually don't respond to catnip until they are about 3 months old.
What Does Catnip do to Cats?
When sniffed, catnip will stimulate a cat and produce a high that lasts between 5 and 10 minutes. Usually, the reaction of affected cats includes rubbing, licking or attempting to eat the catnip, rolling around in pleasure and sometimes drooling!
Once the cat has had its hit, it soon goes back to normal with no ill-effects, but it can then take another hour or two before it's ready for the next one.