Article by Lauren Bate (diaryofaspanglishgirl.com)
After the summer sun has fizzled away, the leaves start to fall off the trees and the autumnal wind settles in, most dog owners and their dog's find that this time of year is the perfect time for adventures, long walks and more quality time to enjoy together. Let's face it, the long summer days might be perfect for a beach day or two, but when it all comes down to it, most dogs hate being too hot. Whereas Autumn, autumn weather is a dream.
When it comes to Autumn, lots of us have tons of ideas of what we want to do, but what about extending some of that fun to the dogs in our lives? A Dog's Autumn Bucket List could be the answer to ticking off all the fun activities that you can do together before the winter nights draw in and we find ourselves cuddling our dogs on the sofa watching Netflix with a cup of hot chocolate every night.
We're even treating you to a FREE dog's autumn bucket list printable at the end of this post which is perfect for popping on the fridge or sticking on your Instagram story. But, for now, let's get down to business and find out more about what to do with your dog this October and November.
Visit a Pumpkin Patch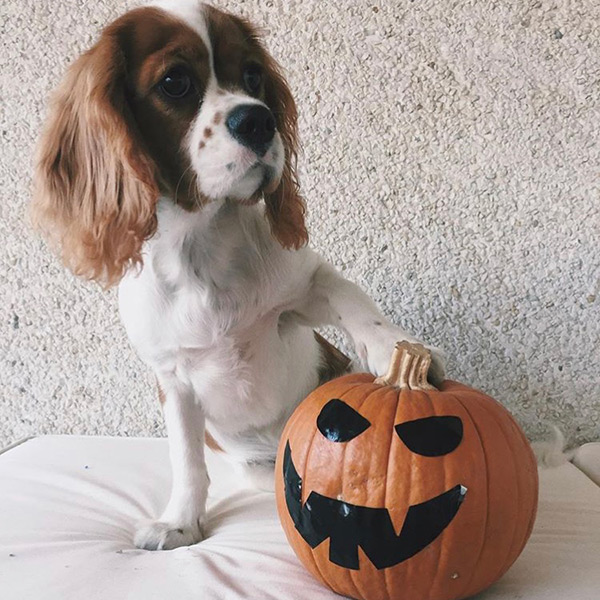 If you've got a farm or a pumpkin patch nearby then we guarantee this will be one of your favourite autumn activities, ever. Most farms are pet-friendly as long as your dog stays on their lead and is well behaved. Don't take our word for it though as lots of farms have different rules and regulations so make sure you check with your local farm before making the journey.
Do an Autumnal Photoshoot
This is probably my favourite activity with Rio, purely because I love taking photos of him to share on Instagram. Sorting out some autumnal foliage, getting the lighting right, adding a filter or two and seeing him looking so cute next to pumpkins or in his halloween costume is something I look forward to. Not all dogs like wearing clothes so be sure to be courteous of your dog, you know them best! 
Bake Pumpkin Treats
It's not just the humans who love a slice of pumpkin loaf and a pumpkin spiced latte in autumn, the dogs love them too! Ok, maybe save the pumpkin spiced latte for the humans, but the pumpkin treats are definitely a big hit with dogs. There are lots of different pumpkin dog recipes online so be sure to give them a try. 
Autumnal Picnic at the Park
Oh how we love sitting at the park with our favourite nibbles at hand and a vintage picnic basket to go with it. Now, add your dog and it's perfect. The best part, it doesn't matter if you've got a date or not, because who needs a date when you've got your best friend? Lay out a picnic blanket and share some scrumptious treats with your four-legged friend (how about taking those pumpkin treats you've just baked?) and then have a fun game of fetch after! Be sure to check the weather first, we know what Britain is like for a good autumnal downpour! 
Pet Halloween Costume Shopping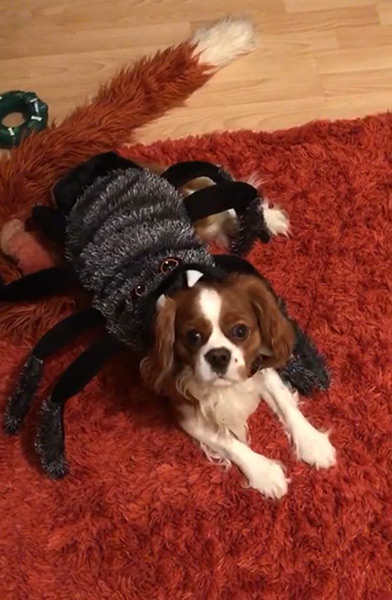 Halloween is just around the corner, what's your pal going as this year? Rio absolutely loves clothes, so much so, that he cries when we take them off. Past years he's been a pumpkin, a ghost and this year we're trying to find him a costume that fits! We tried Mike Wazowski but it was too small, perhaps this year he'll be a spider like Marley, or a pumpkin again!
Go Apple Bobbing
If your dog is anything like Rio, he'll stare at the apples wondering why they're floating around the bowl. But, if your dog is much more playful, he'll love diving face first to grab some treats. This one can get messy so this might be best played outside! 
Bake Apple Treats
As we've all got lots of apples spare from not putting them all out for apple bobbing, why not bake some apple treats that your dog is sure to love? Apples are a good source of fibre as well as being packed in vitamin A and C. They'll also help to clean residue off of their teeth and freshen their breath. Winning all round! 
Take a Long Autumnal Walk
Now that the weather is cool, long walks are back on the agenda. Be at one with nature and take a long stroll and find the crispiest leaves to step on. The best part is you don't have to worry about your dog getting too hot or too cold. Just don't forget to pack some water and your camera! We always take a travel dog water bottle with us that attaches on to Rio's lead.  
Go to a Dog-Friendly Café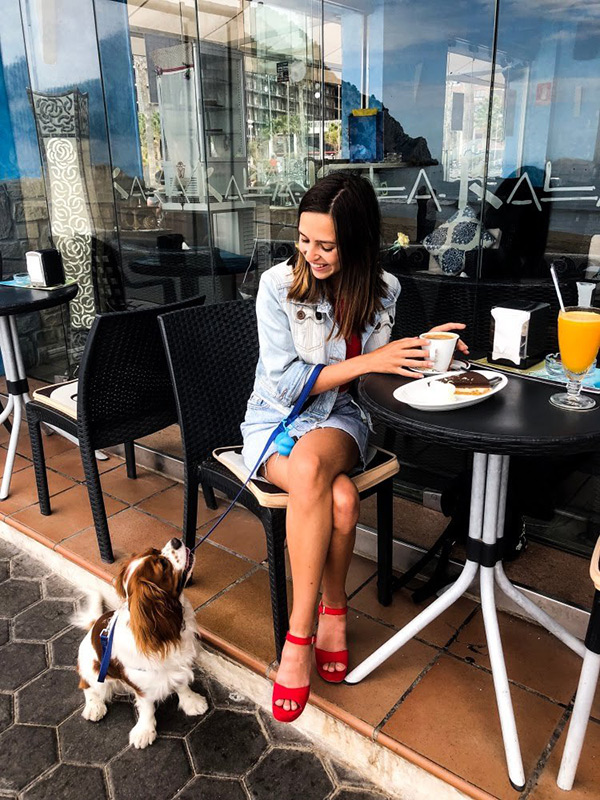 We're so lucky to be surrounded by heaps of cafés that are more than happy to welcome Rio in. We love taking him for a coffee and a cake lost weekends, but it just feels so much nicer in Autumn. To sit out in a cosy jumper hearing the waves of the sea crash on the shore, it's pure bliss. Rio loves coming along for a bowl of water and a nibble or two of what we're munching on. It's so easy to pass a few hours just sitting together and people watching. Head to a dog-friendly café this autumn, you're sure to love it.
We hope you have a wonderful Autumn with your pets, enjoy the time together. Make sure you venture out and make the best use of the perfect temperatures.
As promised, here's the FREE printable!
Free Printable – A Dog's Autumn Bucket List
Here is a free printable of a dog's autumn bucket list for dogs and their owners. Feel free to pop your dog(s) name on the dotted line. Feel free to print the printable and tick them off as you do them. It would be perfect placed on the fridge as a little reminder of all the fun you can have and already have had this autumn with your dogs. The sizing has also been optimised for Instagram stories, so feel free to document your Autumn Bucket List over there and be sure to tag us in so we can see it! We're over at instagram.com/petmoneysaver